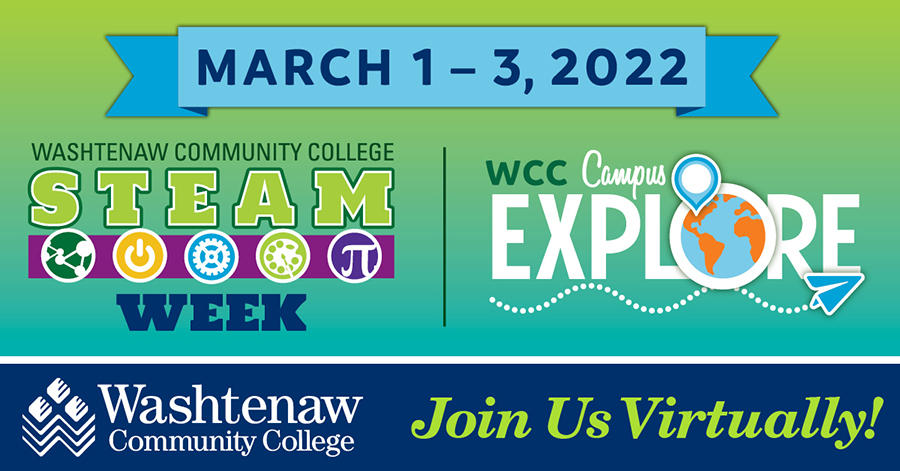 The exciting world of STEM and STEAM careers and the educational opportunities that prepare students for them will be highlighted at Washtenaw Community College (WCC) March 1-3.
Hundreds of students from WCC and local high schools, as well as other community members interested in exploring science, technology, engineering, arts and math careers, will attend the virtual STEAM Week events. All events are free, and registration remains open.
This year's event brings together WCC's university and industry partners along with the WCC community to share inspiring stories and lead interactive workshops and career presentations.
WCC's Campus Explore event, which offers prospective students the opportunity to learn more about specific academic programs, will run concurrently throughout STEAM Week this year. High school teachers are invited to a special session from 6:30-9:20 p.m. Tuesday, March 1, that will feature nursing simulations, an ACE cybersecurity discussion and a virtual tour of WCC's transportation and manufacturing facilities.
STEAM Week events at WCC were developed in conjunction with MiSTEM Region 2, which works to integrate K-12 education with businesses throughout the region. MiSTEM closely partners with WCC throughout the year to help to create and develop career exploration programs, provide teacher professional learning and support the development of high-quality STEM Experiences for students in the region.
U.S. Sen. Gary Peters is expected to deliver remarks during the event.
Day 1
WCC alumna Aisha Bowe, CEO of STEM Board; Dr. Kimberly Hurns, WCC Executive Vice President of Instruction and Academics; and Victor Vega, WCC Dean of Math, Science, and Engineering Technology, and will kick off the three-day event on Tuesday, March 1, with keynote addresses.
Other topics Tuesday include a "Mobility and the Future" discussion and Esports, forensic chemistry, computer science and other career presentations.
Day 2
Wednesday, March 2, features keynote presentations from the University of Michigan's Schools of Engineering and Information/Computer Science.
An afternoon session features the award-winning documentary "Gunda" and a presentation from WCC's STEM Scholars who will highlight their summer research experiences and discuss how they transferred from Washtenaw Community College to the University of Michigan.
Day 3
Thursday, Day 3, features keynote messages from Richard Chang, CEO of NewFoundry; Adam Zemke, president at Launch Michigan; and Shamar Herron, Executive Director of Michigan Works! Southeast.
Inspirational stories from WCC alumni who've gone on to successful STEM careers will also be presented, along with an engineering and manufacturing discussion panel.
A separate STEM Educator of the Year and WCC STEM Scholarship Awards Banquet on March 3 will be cohosted by WCC and President Dr. Rose Bellanca and MiSTEM. High school and elementary teachers from Region 2 will be honored by MiSTEM for their classroom leadership, and WCC will award STEM Scholarships to high school students.
Visit the STEAM Week webpage to view the full schedule of events and to register.
STEAM WEEK AT WCC
What: STEAM Week highlights the exciting world of STEM and STEAM careers and educational opportunities.
When: March 1-3
Where: Virtually
Who: Open to high school students and others who are interested in pursuing a STEM/STEAM career.
Webpage: wccnet.edu/steam
Tags: STEAM, STEAM Week, STEM, STEM Scholars Program