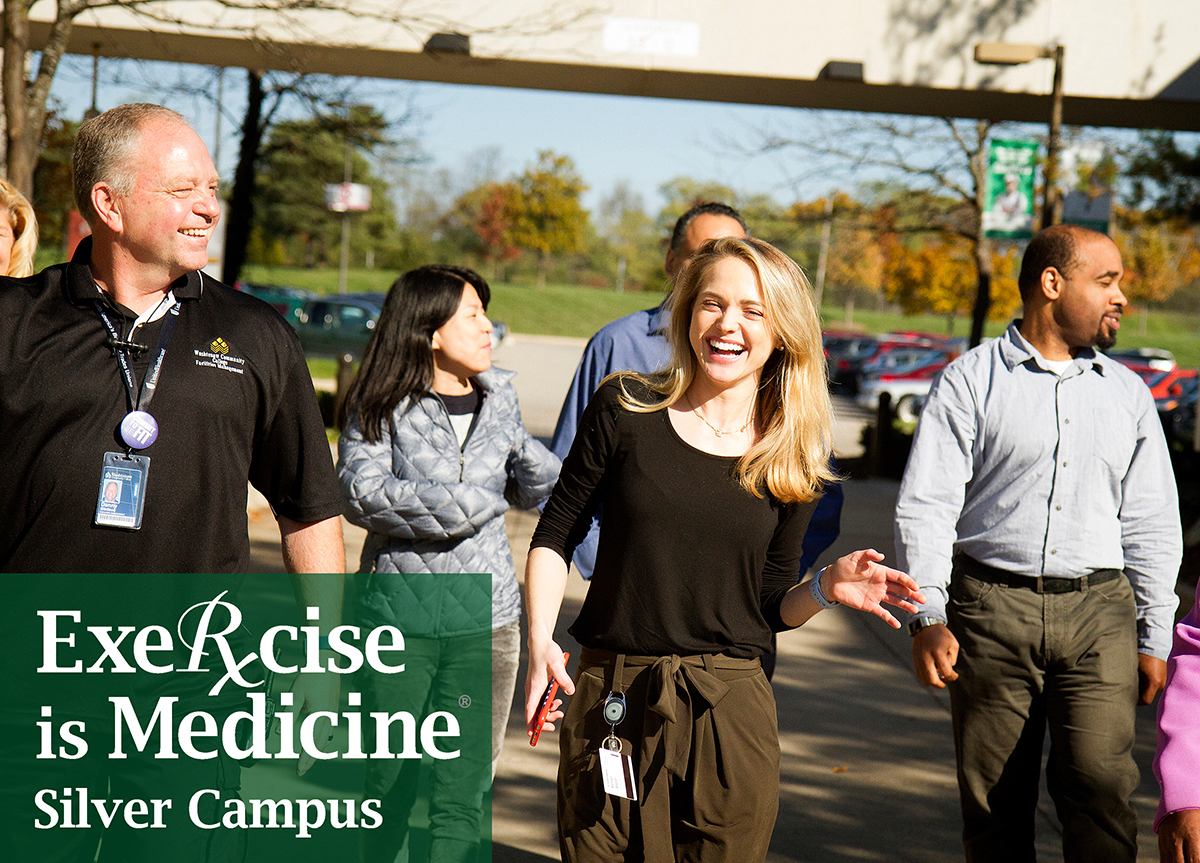 Washtenaw Community College is one of 156 colleges and universities around the country recently honored by the American College of Sports Medicine (ACSM) Exercise is Medicine initiative for its efforts to create a culture of wellness on campus.
The 2022 honor marks the fourth consecutive year WCC has earned silver-level designation from the Exercise is Medicine On Campus (EIM-OC) program. EIM-OC calls upon higher education institutions to promote physical activity as a vital sign of health and encourages faculty, staff and students to work together to improve the health and well-being of the campus community.
The college will be officially recognized during the 2022 Exercise is Medicine World Congress in San Diego on June 1.
"We are thrilled to recognize these campuses' commitment to make movement a part of daily campus culture and give students the tools to cultivate physical activity habits that will benefit them throughout their lives," said Robyn Stuhr, Vice President of Exercise is Medicine. "These campus programs are nurturing future leaders who will advance a key tenet of Exercise is Medicine: making physical activity assessment and promotion a standard in health care."
Marvin Boluyt, a Biology faculty member in WCC's Math, Science & Engineering Technology Division, developed the Exercise Science program at WCC and has been a member of the American College of Sports Medicine for more than 30 years.
WCC's exercise and health programs have been in place long before applying for the award. According to Boluyt, this demonstrates the "intrinsic commitment that WCC has to promoting physical and mental health through physical activity."
WCC continues to strive for gold in 2023. They plan to do this by putting new measures in place that will target a larger number of students, staff and faculty.
These initiatives include incorporating the Exercise Vital Sign (EVS), a brief physical activity questionnaire, into the intake survey that clients take at the WCC Dental Clinic, Counseling Services and the WCC Health & Fitness Center. Additionally, incorporating the EVS into student opinion surveys on campus would allow WCC to collect anonymous data on the physical activity of nearly the entire student body.
According to Boluyt, the EVS is "the single most informative question we can ask about a person's health prognosis" and could be used to assess the needs of specific populations to more accurately determine whether new campus initiatives have had an impact.
Together, Boluyt believes these new approaches will create a strong case for WCC to be considered for a gold award in 2023.
Tags: American College of Sports Medicine (ACSM), Awards, Exercise, Marvin Boluyt