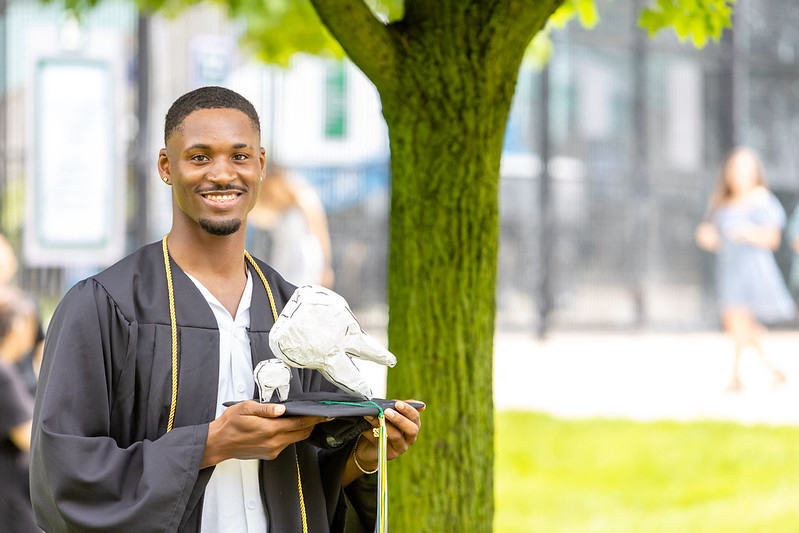 Extravagantly decorated caps are always a highlight at the WCC Commencement. In fact, a cap decorating station was a popular stop at the rehearsal on the eve of ceremony held Saturday, May 21 at the Eastern Michigan University Gervin GameAbove Center.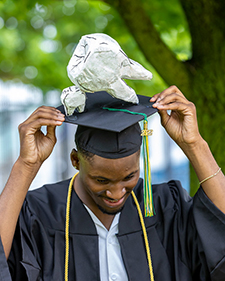 But few have ever stood out — literally and figuratively — quite like Ta'Varus Lumpkin's cap stood out.
Lumpkin, who earned a Dental Assisting certificate, said the inspiration behind the extra large molar on his cap (which was supported by a smaller molar) was simple: "I wanted something exciting that would allow my family to spot me," he said.
Mission accomplished!
Lumpkin is continuing his clinical rotations before taking his dental assisting. board exam in July.
The Inkster resident then plans to continue his education while working as a dental assistant, with a goal of becoming a dentist or orthodontist.
"I love learning," Lumpkin said. "I never want to stop learning new things."
Tags: Class of 2022, Commencement, Graduation, June 2022, On The Record, Student Profile