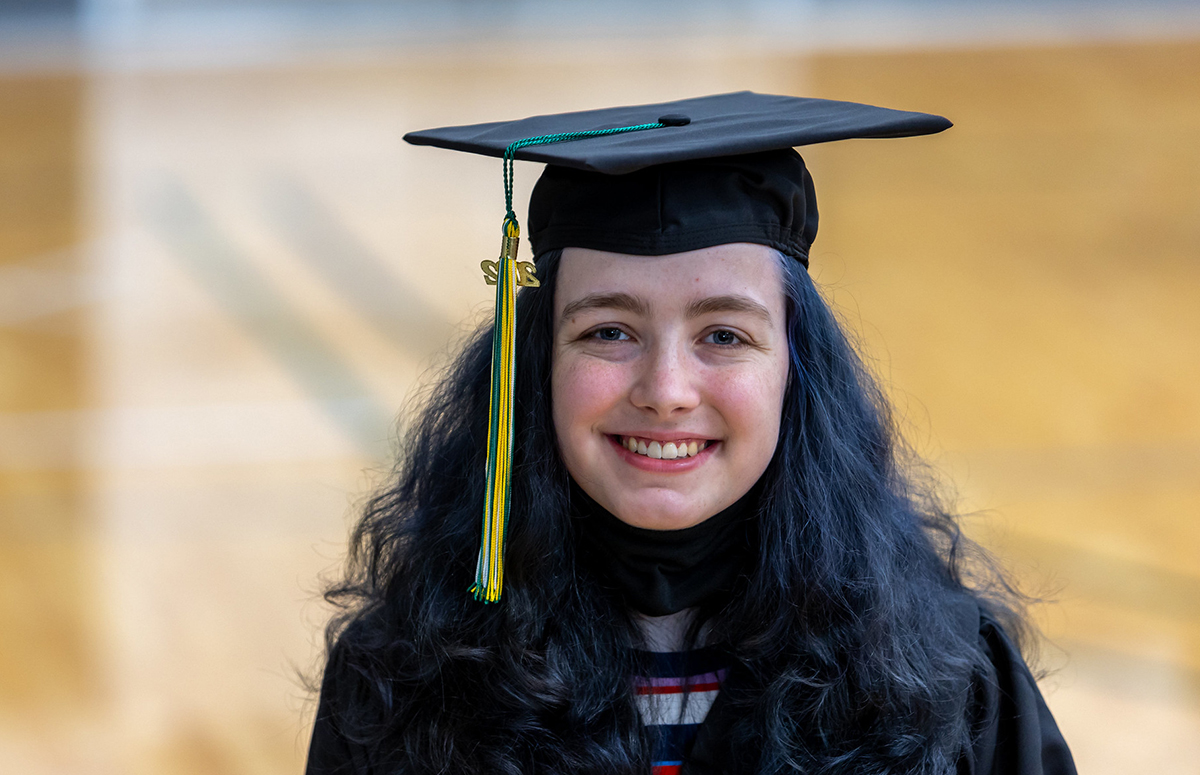 Kimberly Schamberger has Hollywood dreams.
A high honors graduate of Washtenaw Community College's Film Studies program, the 19-year-old Saline resident plans to attend film school next year at New York University, Savannah College of Art and Design or Syracuse University with a goal of becoming a Hollywood-based director, editor or producer.
Before she hits the stage at the Oscars or Emmys, Schamberger already has one impressive award in her back pocket. She claimed first place in the Michigan Association of Broadcasters (MAB) Student Broadcast Awards in the Radio PSA category.
(Listen to Schamberger's award-winning PSA)
The project, in which two robotic voices discuss how humanity could have been saved had they only followed COVID-19 protocols, was created for WCC's Introduction to Radio Production class. She admits to taking on the project begrudgingly at first.
"We were about to hit finals and I wanted to focus on those instead," Schamberger says. "On top of that, I felt like I was about to hit burn out. But I sucked it up and thought of how I could make a good piece."
After committing roughly eight hours to creating the 60-second spot, it ended up being more than just "a good piece" to MAB judges. She was the only student from a two-year college to win a first-place prize in the contest.
"I was shocked when I found out I won," Schamberger said. "And I had no idea I was the only student at a two-year college who won a first place award. It's impossible not to see this as a huge accomplishment."
Another WCC project created by the team of Kristy King, R.J. Hunt, Paul Bailey and Ella Sota earned third-place in the same category.
"As a former judge for this category, I can tell you there is anywhere between 40 and 50 entries submitted annually, from all of the two-year and four-year institutions across the state," said WCC Broadcast Media Arts instructor Dena Blair. "So, it's a big deal to be in the top three."
Despite starting her higher education journey in the midst of a pandemic after graduating from Saline High School in 2020, Schamberger said she enjoyed her time at WCC.
"I've had some memorable moments, even with Zoom classes," she said. "The only thing I regret is not connecting with more people, but that's partly due to the pandemic and the fact that I'm an introvert. I still have more growing to do, both in film and within myself, but WCC has definitely helped get that ball forward rolling."
Tags: Class of 2022, Commencement, Graduation, June 2022, On The Record, Student Profile