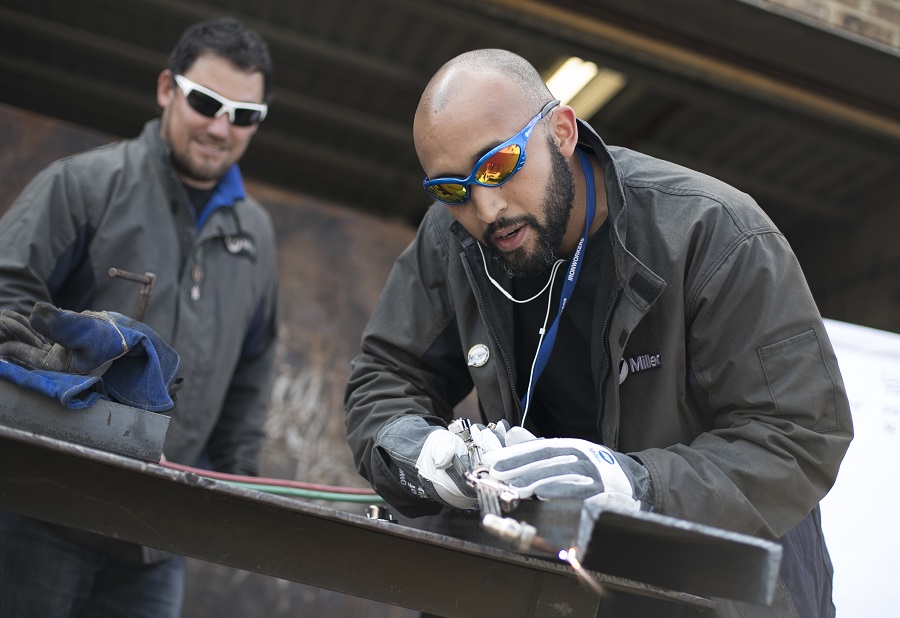 Washtenaw Community College will welcome nearly 4,000 trainers from four national and international skilled trades organizations to campus this summer.
WCC's partnerships with skilled trades groups have been growing for decades, with the United Union of Roofers, Waterproofers and Allied Workers hosting its first-ever training event on campus last year.
Approximately 175 roofers, waterproofers and allied workers have kicked off the summer series of skilled trades training sessions at WCC this week. Topics range from basic computer skills, fall prevention and safety to crane signaling and the latest approaches in installation, maintenance and repair of single-ply roofing systems.
"Train the Trainer" events at WCC will continue in July, with 110 members of the Operational Plasterers and Cement Masons International Association and up to 650 members of the International Association of Bridge, Structural, Ornamental and Reinforcing Iron Workers Union.
Training weeks will conclude in mid August with an estimated 3,000 members of the United Association of Journeymen and Apprentices of the Plumbing and Pipefitting Industry of the United States and Canada converging on campus.
For the United Association visit, Destination Ann Arbor is hosting a block party with live entertainment and sidewalk dining downtown the evening of August 15, as well as the 10th annual UA 5K Run.
"We are thrilled to welcome back to campus so many of our valued trades partners," said WCC President Dr. Rose B. Bellanca. "The skilled trades play an essential and important role in supporting and building better communities, and we are very proud of the relationships we've built with these organizations."
Union trainers typically spend a week on campus enrolled in classroom credit classes and hands-on laboratory instructional training to stay up-to-date on their skills and the technological developments within their industries. Trainers then return home to train their members based all over the country.

United Union of Roofers, Waterproofers and Allied Workers
June 13-17
175 attendees
Operational Plasterers and Cement Masons International Association
July 11-15
110 attendees
Ironworkers (International Association of Bridge, Structural, Ornamental and Reinforcing Iron Workers Union)
July 18-22
600-650 attendees
United Association of Plumbers and Pipefitters
August 13-19
3,000+ attendees
Tags: Ironworkers, OPCIMA, Roofers Union, Skilled Trades, United Association