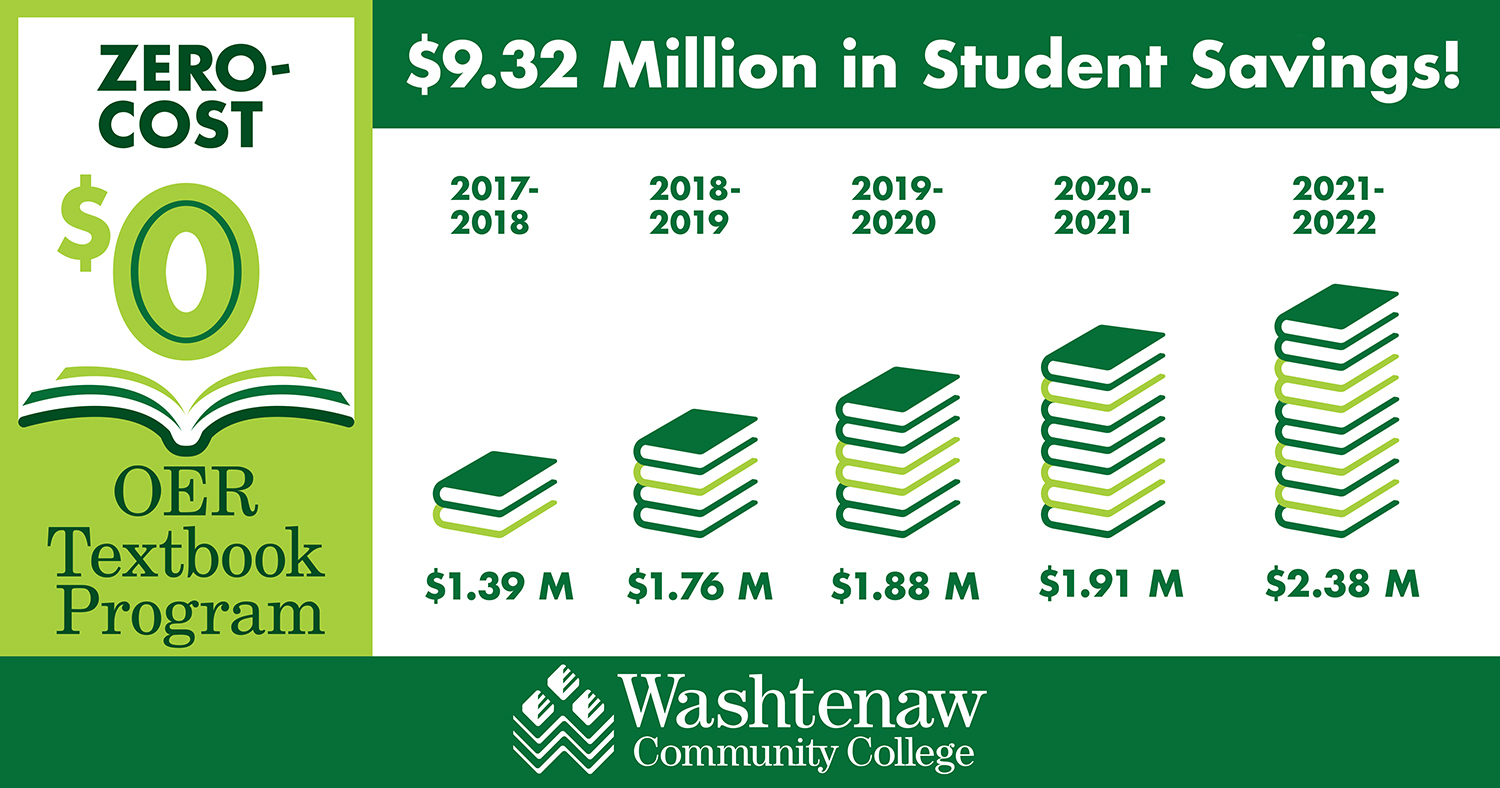 Continuing its commitment to keep higher education affordable, Washtenaw Community College has made it possible for a student to earn an associate degree without ever purchasing a textbook.
Beginning with the Fall 2022 semester, the college's General Studies in Math and Natural Sciences program recently became the first "Z-Degree" at WCC, meaning all 60 credits of course requirements can be fulfilled by enrolling in classes that use Open Education Resources (OER) or other textbook alternatives that are free to students.
With several certificate programs already offered with zero textbook costs, the college exceeded its own institutional goal of providing a "Z-Degree" associate degree by 2023.
"WCC is committed to providing an excellent and affordable education to all students, and this first Z-Degree is the result of years of hard work by many people across our organization toward that commitment," said WCC President Dr. Rose B. Bellanca. "Our growing zero textbook cost efforts help tremendously with affordability, and students can be assured that the quality and content of the materials is exceptional."
The Z-Degree is a result of WCC's longtime focus on providing alternatives to costly textbooks, which add an average of $1,460 in expenses at two-year public colleges, according to College Board. Since 2017, WCC faculty and staff have created textbook alternatives for 47 different courses, saving students $9.32 million in the process.
The annual savings has increased steadily since students saved $1.39 million in the 2017-18 academic year, up to $2.38 million in the recently completed 2021-22 academic year.
All students benefit from zero-cost textbook courses, even if they aren't specifically working in a Z-Degree or certificate program. When building a course schedule, students can search for course sections with a "no book costs" designation.
"This is a game changer for our students, some of whom struggle to purchase class materials, particularly textbooks. This comes at a time that our student most need it," said WCC interim Vice President for Instruction Dr. Victor Vega. "And it's just the beginning. We will continue to adopt and develop courses and full degree programs with no textbook costs."
Every year, cohorts of WCC faculty members work with the college's library professionals to bring new zero-cost textbooks online for students.
"I am absolutely thrilled that we were able to achieve a Z-Degree pathway at WCC. Getting here took over four years, with eight cohorts of faculty adopting, adapting and creating Open Educational Resources, plus additional faculty finding ways to switch from traditional textbooks to no-cost alternatives," said Molly Ledermann, a professional librarian at WCC's Bailey Library who leads the faculty cohorts dedicated to the OER effort.
"A Z-Degree is not an easy achievement," Ledermann added. "It is a testament to WCC's commitment to putting students first that we were able to put in the time and hard work to make it happen."
Tags: Affordability, On The Record, Open Education Resources, September 2022, Z-Degree