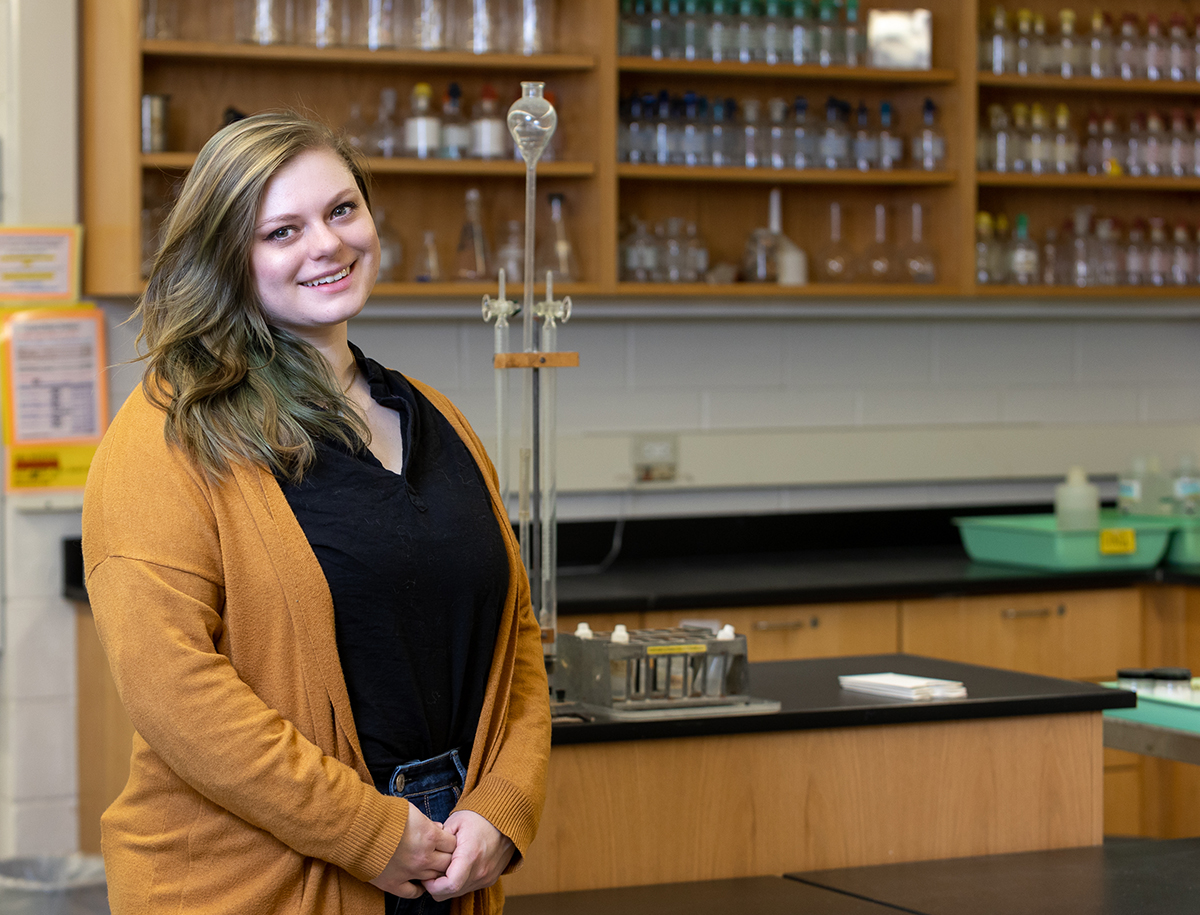 From a NASA rocket scientist to a cybersecurity CEO, Washtenaw Community College's commitment to STEAM education is evident in the outcomes.
One needs to look no further than recent alumna Alex Chumney's achievements to see WCC's relevance in bringing up the next generation of STEM and STEAM leaders. After earning her associate degree in Math and Natural Science with high honors in 2019, Chumney transferred to Eastern Michigan University to pursue a bachelor's degree in Biology with a concentration in Ecology, Organismal Diversity and Evolution through EMU's Honors College.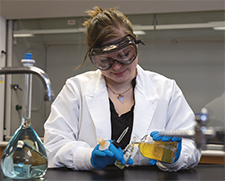 This past spring, Chumney was named a recipient of the prestigious Goldwater Scholarship, a highly competitive national $7,500 award presented to STEM research students.
"We are so proud of Alex and all of her hard work. This exceptional achievement by a WCC graduate says a lot about the quality of instruction and our commitment to being a STEAM destination," says WCC President Dr. Rose B. Bellanca. "STEAM crosses into many occupations and we know the 'A' for arts is important for the creativity and communication skills that bring it all together."
From Robotics and Radiography to Web Design and Health Administration, more than half of WCC's academic programs are considered a STEAM discipline.
Data shows that STEM and STEAM jobs are high-demand and high-wage, and WCC's focus to attract students to STEAM is paying off. Over the last five years, enrollment in the math, science and engineering divisions has increased 6.2%, and in the last year alone the number of STEAM credit hours taken by students has jumped 9.3% compared to the previous year.
In 2018, WCC launched the STEM Scholars program to mentor and support students through a variety of networking and skill-building opportunities, with interest in the program quadrupling in four years.
According to the Bureau of Labor Statistics (BLS), STEM occupations are expected to grow 8% by 2029, more than two times faster than the total for all occupations in the next decade. In the Fall of 2021, STEM occupations earned an annual median wage of $98,340, according to the BLS.
GOLDWATER PRESTIGE
Chumney is one of only 14 Goldwater scholars throughout the state of Michigan this year, with the majority coming from big universities.
Chumney's research focuses on restoring grass-land prairies, and she has been conducting seedling experiments at the Lloyd and Mabel Johnson Preserve, run through the Legacy Land Conservancy, to understand this ecosystem. Her findings could potentially assist with restoration practices. In addition to improving ecological diversity, prairies help decrease erosion, filter water and absorb floodwater.
Applying for the Goldwater in and of itself was an honor, as Chumney was first. interviewed by EMU just to proceed with the submission, which included a primary essay, seven mini essays, grades and three references.
"At one point in my life, getting beyond a bachelor's just never really felt feasible to me. And now the Goldwater will get me into the field doing what I'm passionate about," Chumney said.
After graduating from Pinckney High School, Chumney originally attended a costly undergraduate liberal arts institution. She performed well academically but at the end of her freshman year realized she would be $100,000 in debt by the time she graduated.
Chumney spent two years working as a bank teller to pay off the $25,000 in student debt that accumulated during her first year alone.
In contrast, WCC's tuition for full-time, in-district students averages $2,280 annually.
"Having a place at WCC where I could get my education, and knowing it was affordable, was huge," Chumney said. "It helped me realize I could still pursue my education and dreams without going into insane amounts of debts. It allowed me to focus and also work to take care of my debt and get through."
Serendipitously, WCC also was the stepping stone to a valuable first research opportunity through the University of Michigan's Environmental Science and Biology department.
"It was a very hands-on summer research project focusing on algal biofuel that was competitive and available only to a handful of WCC and EMU students," Chumney said. "I applied for it and was baffl ed when I heard back from them, which was exactly how I felt when I found out about the Goldwater."
Though she's busy with her prairie research and EMU studies, Chumney is not far from her WCC STEM ties, working 20 hours a week in the college's Core Chemistry Laboratory preparing materials for instructors' labs.
"WCC offers a good education and helped me make steps forward and feel like I had some stability in my life after my first year. You can do great things here. You don't have to go to a very expensive four-year university to start in order to achieve your dreams," Chumney says.
NASA CONNECTION
Aisha Bowe's journey from high school student unsure of her future to NASA aerospace engineer leads WCC's growing number of connections to the country's famed agency.
After earning a WCC associate degree in 2006, Bowe went on to earn a bachelor's degree in Aerospace Engineering and a master's degree in Space Systems Engineering from the University of Michigan.
She began her career at NASA, then carried her expertise and experiences into the world of entrepreneurship. In 2013, Bowe founded and became chief executive officer of STEM-Board, a multi-million dollar tech company. She expanded that vision and founded a second company named LINGO, a hands-on, self-paced coding home-based kit for students. LINGO is used by nearly 5,000 students in 10 countries to teach the fundamentals of computer science.
She is a sought-after speaker at global events and has been featured in top-tier media outlets such as Wired, Entrepreneur Magazine, Black Enterprise, Tamron Hall, The Kelly Clarkson Show and is featured in a documentary entitled "In Her Element" currently streaming on Amazon Prime, Apple TV and Google Play.
Bowe returns to campus frequently, advocating for WCC and STEM education through promotional videos and leading hands-on activities with college and K-12 students during STEAM Week, Super STEAM Saturdays and beyond.
Bowe pays it forward through a WCC endowed scholarship she founded to help students transfer into the U-M engineering program.
"As someone who graduated from high school without knowing who I wanted to
be when I grew up, I was attracted to Washtenaw because it provided the opportunity to learn from world-class instructors in a smaller class setting and work with students who are motivated to learn," Bowe said. "And Washtenaw's coursework was affordable and approachable for me at the time."
"The strong foundation I received at WCC helped me be successful," she added.
The college is also building bridges through the NASA Community College Aerospace Scholars program. In the past two years alone, 10 WCC students have participated into the competitive program, which offers a closer look at NASA's unique missions, diverse workforce and world-class facilities, and helps students develop their talents toward a rewarding STEM profession.
Simply being accepted into the program is an honor, and recently at least seven WCC students participated in the program — Philip Stolarski, Justin Washburn, Heide Otto, Bridget Redman, Robert Gonczy, Kristin McGough and Joshua Mehay.
Some have been invited back to participate in "Mission 2" of the program, which provides selected students a deeper look at NASA's missions and careers in science and engineering. Students form teams and design a mission to explore the Moon or Mars.
Otto was recently accepted into a prestigious third level of the program, which includes an all-expense paid trip to NASA's Armstrong Flight Research Center in Edwards, California.
"I came back to Washtenaw to brush up on my writing skills. I needed a science course to finish my associate degree and took astronomy," Otto said. "My instructor encouraged me to apply for the NASA program. It turns out I have an aptitude for science and STEM."
"NASA needs writers, too," Otto said.
CYBERSECURITY LEADER
Cybersecurity education is a growing emphasis at WCC, which offers an associate degree and several certificates, including a specific Automotive Cybersecurity certificate.
Other types of computer science programs and courses are stackable and open a variety of pathways to cyber careers.
WCC grad Anca Pop is one of WCC's most well-respected leaders in the field. Pop is the founder & CEO of 365 Striker, a cybersecurity company that offers information security solutions.
She earned a computer science associate degree from WCC in 2003, followed by a bachelor's degree from EMU, a Master of Business Administration from Vanderbilt University and a doctorate in Computer and Information Systems from Tennessee Technological University.
She is a sought-after expert and has delivered a TEDx talk in Nashville on cryptocurrency.
Much of the increase in cybersecurity occupations in the future is expected to be driven by a society increasingly "dependent on digitized devices and digital goods and services," according to a "Beyond The Numbers" report from the BLS.
"The quantity of electronic data is expected to increase over the next decade in tandem with robust growth in the digital economy, and greater cybersecurity will be needed to protect it and ward off the threat of breaches," the U.S. Bureau of Labor Statistics report says.
---
This story appears in the Fall 2022 edition of Launch magazine. See complete issue.
Tags: Alumni Profile, Automotive Cybersecurity, Launch, Launch Fall 2022, NASA, STEM, STEM Scholars Program, cybersecurity, ousearch_News_Launch Magazine