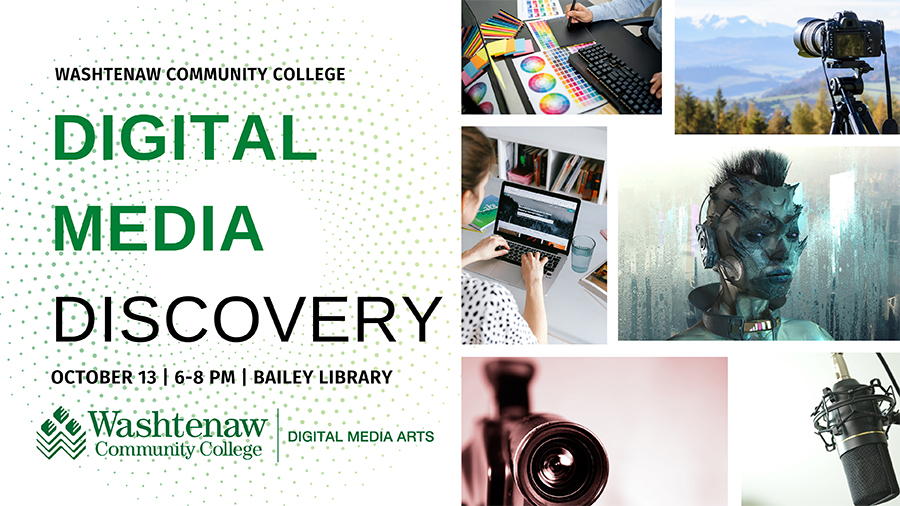 The public is invited to the Washtenaw Community College campus next week to tour labs, visit with instructors and learn more about the college's Digital Media Arts programs.
WCC will host Digital Media Discovery from 6-8 p.m. Thursday, Oct. 13, beginning in the Bailey Library on the first floor of the Gunder Myran Building.
Registration is available online.
The evening is designed to help prospective students and the community learn more about the classes and programming that prepare students for jobs in the audio and visual arts industries.
Visitors are invited to meet with faculty, tour labs and studios, view student work and learn about the courses, certificate programs and degrees that WCC offers in the areas of 3D Animation, Music Production and Audio Engineering, Digital Video, Graphic Design, Photography and Web Design & Development.
According to the U.S. Bureau of Labor Statistics, the current median salary is $59,970 for a graphic designer, $67,090 for a sound engineering technician and $72,520 for a multimedia artist and animator.
"We look forward to this event and being able to provide a great overview of these dynamic programs," said Eva Samulski, Dean of the Business & Computer Technologies Division. "So many of these career fields are fast-growing and a great option for prospective students or returning students looking to learn using the most current technology in industry."
The evening will begin on the first floor of the Gunder Myran Building, in the Bailey Library, and include a walking tour of labs across campus, including the production and printing center, video green screen room, video editing labs, audio engineering lab and recording studio, photography studio and darkroom, 3D animation and game design studio and state-of-the-art digital processing labs.
Tags: 3D Animation, Audio Engineering, Digital Media Arts, Digital Photography, Digital Video Production, Graphic Design, Music Production, Photography, Web Design