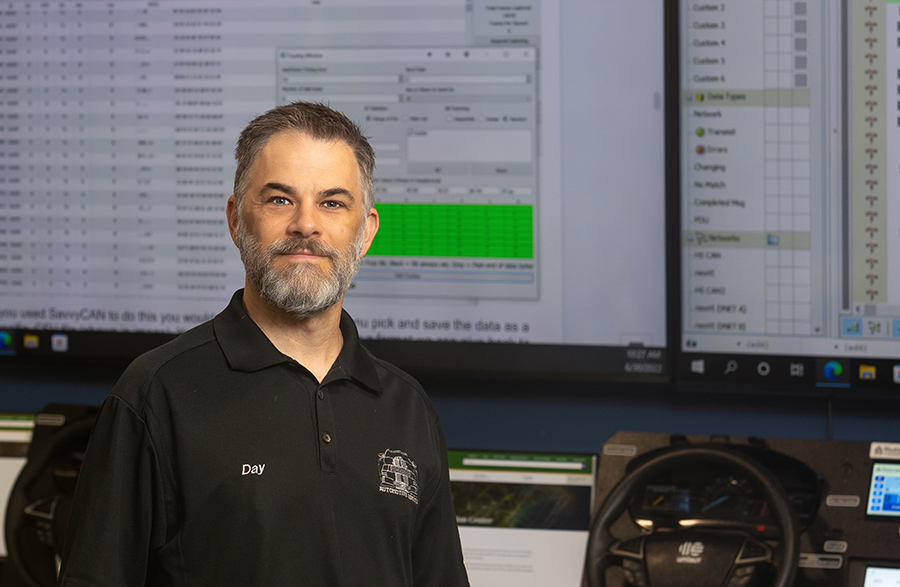 Washtenaw Community College continues to lead in training students for mobility jobs of the future, a position highlighted during a recent international conference on teaching automotive transportation and security technologies.
Allen Day, a 24-year faculty member of WCC's Transportation Technologies department and a member of the college's Advanced Transportation Center, spoke during the International Conference on Innovation, Technology, Artificial Intelligence, and Entrepreneurship Ecosystem (ICIAITEE) held in November.
The college partners closely with business and industry to understand workforce needs and develop programs to educate the mobility workforce. It was the first community college in the state to offer cybersecurity programs in 2004 and this fall debuted its Automotive Cybersecurity Lab featuring state-of-the-art Umlaut workbenches identical to those used in industry.
Since 2017, WCC has been the only community college participating in the Center for Connected and Automated Transportation (CCAT). Its unique role in the consortium is to apply the research and knowledge gained from this partnership in the classroom, leading to occupational readiness.
"We're trying to align ourselves with employers so our students are going into a career where the employers help them move forward and students immediately get something out of it so they can get a gainful job as they complete their degree program," Day said during his presentation, "Digital Cybersecurity in an Autonomous Mobility and EV Environment."
"We don't become just another mechanism of students having to follow a long degree program before they can become employed," he added.
According to a 2002 Bloomberg study, about 1 million people work in cybersecurity in the U.S., but there are nearly 600,000 unfilled positions.
"We knew this was an emerging market," Day said, and the college worked quickly to develop program additions, resources and equipment to prepare students for the job market.
At any given time, the college enrolls 1,000 students in more than 60 automotive and cybersecurity technology career pathways and courses for skill-building and job training.
WCC's programs and pathways include automotive technology, advanced manufacturing, robotics and mechatronics, cybersecurity, data analytics and business intelligence.
Washtenaw plays an important role in helping students excel in the evolving industry, said Lawrence Molnar, recently retired Director of the University of Michigan's Economic Growth Institute who introduced Day at the conference.
"Community colleges are a very important part of the innovation ecosystem," Molnar said. "Washtenaw Community College is known as one of the top community colleges in the country for many different technologies."
Highlights of WCC's efforts in the transportation and mobility landscape in recent years include the 2014 launch of the Advanced Transportation Center, which combined automotive technologies, advanced manufacturing and IT into a holistic curriculum.
Three years later, the college became the only community college to join the University of Michigan-led Center for Connected and Automated Transportation (CCAT). Other CCAT partners are Purdue University, the University of Illinois, University of Akron and Central State University.
In 2020 the college was designated as a National Center of Academic Excellence in Cyber Defense Education by the U.S. National Security Agency and the Department of Homeland Security.
In 2021, WCC was the first community college in the state to acquire the EV Ford Mustang Mach-E to prepare students for the rapidly evolving automotive industry.
The Umlaut workbenches in the college's new Automotive Cybersecurity Lab allow students to complete hands-on exercises to test vehicle communications networks and infrastructure security, helping to protect drivers from cybersecurity attacks.
WCC will host the 2023 CCAT Global Symposium in its newly renovated Morris Lawrence Building.
Tags: Advanced Transportation Center, Automotive Cybersecurity, Faculty Profile, Transportation Technologies