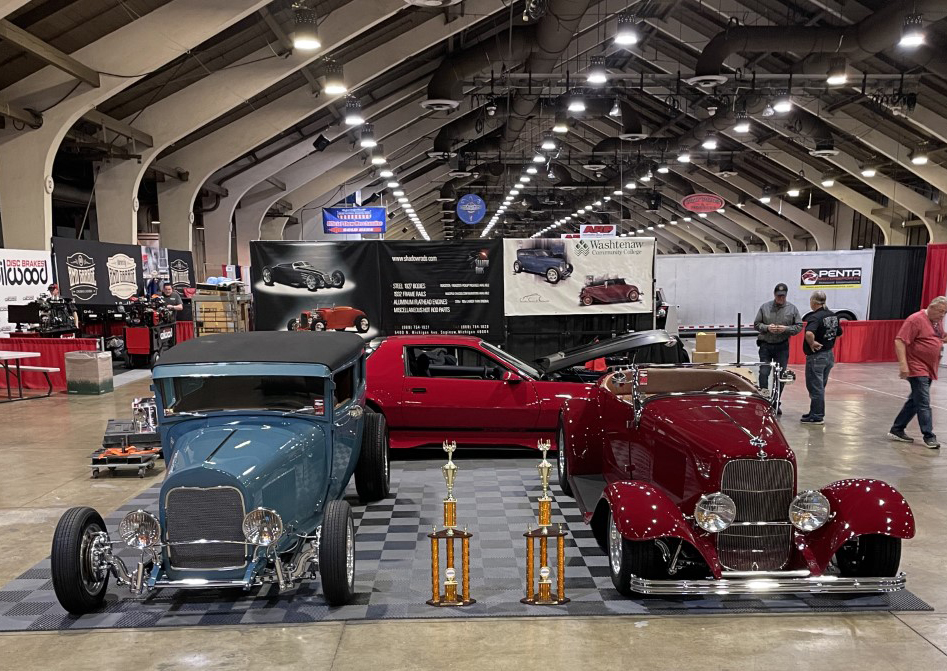 Fresh off two first place prizes at an elite national roadshow earlier this month, Washtenaw Community College will showcase student-built custom cars at the 2023 Autorama in Detroit this weekend.
A 1929 Ford Model A and XL27 1927 Ford Roadster built by WCC's students in its Auto Body Repair and Custom Cars & Concepts programs each won first place at the prestigious Grand National Roadster Show February 3-5 in Pomona, California.
WCC students built the altered vehicles for Jon Hall of Shadow Rods in Saginaw about five years ago, and they've been racking up trophies and ribbons ever since.
Both prize-winning cars, along with a recently customized 1966 Chevrolet Chevelle, will be among the vehicles rolling into the Huntington Place/Cobo Hall arena for the 70th anniversary of Autorama Friday through Sunday.
During Student Career Day on Friday, WCC's Transportation Technologies department will also offer insights on career opportunities and educational pathways through Washtenaw to thousands of visiting high school students from throughout the region. Custom Cars & Concepts is a specialty subset within the Auto Body Repair program of WCC's Transportation Technologies department.
At the Grand National Roadster Show in California, the XL27 Roadster took first place in the "Street T-Roadster Pre-1928" category. The Model A took first place in the "Altered Street Sedan – Pre-1935" category.
In addition to the craftsmanship and quality excellence, WCC faculty member Timothy VanSchoick believes the college and student connection impacted the judging.
"There are very few schools building to the level that we do. We build vehicles for the 'Big Three' and celebrities and are doing things that nobody else is doing. We can place our students anywhere," VanSchoick said.
WCC students built the XL27 Roadster during the 2017-2018 school year and the Model A during 2018-2019 for Shadow Rods, which owns the vehicles and picks which shows to enter.
"It is a great pleasure to be associated with WCC and the programs they offer, which helps to bring students interested in what our industry is doing beyond the collision end of the business," said Shadow Rods business manager Paul Behling. "These are the ones we hope to someday employ."
"While in California, I probably had four to five major hot rod company owners stop by and ask if there were any of the current class of students or previous graduates that may be interested in looking at careers in our industry. That is a great compliment to Tim, the rest of the WCC staff and especially the students who actually did the work," Behling said.
Among multiple other recent industry awards reflective of WCC's work:
National Street Rod Association's Street Rod Nationals -- The XL27 Roadster won "Street Rodder Top 100" in 2018 and the Model A won "Top 100" in 2019.
2020 Detroit Autorama -- The XL27 Roadster won first place in the "Altered T-Roadster Class" and the Model A placed third in the "Altered Street Sedan Pre-1935 Class."

2019 Goodguys 22nd PPG Nationals -- The XL27 Roadster street rod earned a "Builders Choice Top Ten Award."
Other WCC Transportation Technologies programs include an array of associate degrees and certificates for Auto Services, Auto Testing, Powertrain Development and more.
The college is also home to the Advanced Transportation Center, which uniquely combines automotive technologies, advanced manufacturing and IT into a holistic curriculum approach to address emerging mobility needs, and is the only community college in the University of Michigan-led Center for Connected and Automated Transportation (CCAT), which focuses on advancing the U.S. transportation system with technologies that address safety and sustainability.
Tags: Auto Body Repair, Custom Cars and Concepts, Transportation Technologies, hotrods