Washtenaw Community College will host an abridged edition of a groundbreaking national art exhibit that honors, celebrates and sustains the rich traditions of giving within African American communities.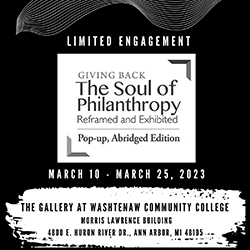 "Giving Back: The Soul of Philanthropy Reframed and Exhibited, Pop-Up, Abridged Edition," will appear in The Gallery inside the Morris Lawrence Building on the WCC campus from March 10 through March 25 (campus map and directions).
The pop-up show is a smaller version of a large-scale exhibit currently running in Chicago and scheduled to appear at the Detroit Historical Museum from June 2 through August 27.
The exhibition is described as presenting "stories of generosity among Americans of African descent. Centuries-old cultural customs and beliefs about giving have long been an integral and transformational force in lives and communities throughout American society. Photography, poetry and prose weave vivid stories and reveal the long and unsung legacy of Black philanthropists—from generous donors of wealth to ingenious givers carving a way out of no way."
Images and narratives from the award-winning book Giving Back: A Tribute to Generations of African American Philanthropists by Valaida Fullwood and photographer Charles W. Thomas Jr inspire the exhibit. Both explore the African American philanthropy experience and giving traditions grounded in faith, mutuality, responsibility and social justice.
The Washtenaw County pop-up event is sponsored by the Ann Arbor Area Community Foundation's African American Endowment Fund and the United Way of Washtenaw County.
The exhibition run includes two private, ticketed events organized by the sponsors: an opening reception and strolling dinner on Friday, March 10 and a community conversation on Wednesday, March 22. The gallery is open to the public from 9 a.m. to 5 p.m. Monday through Friday and 9 a.m. to 2 p.m. on Saturday and Sunday.
Tags: Art Gallery, Exhibit, Fine Arts