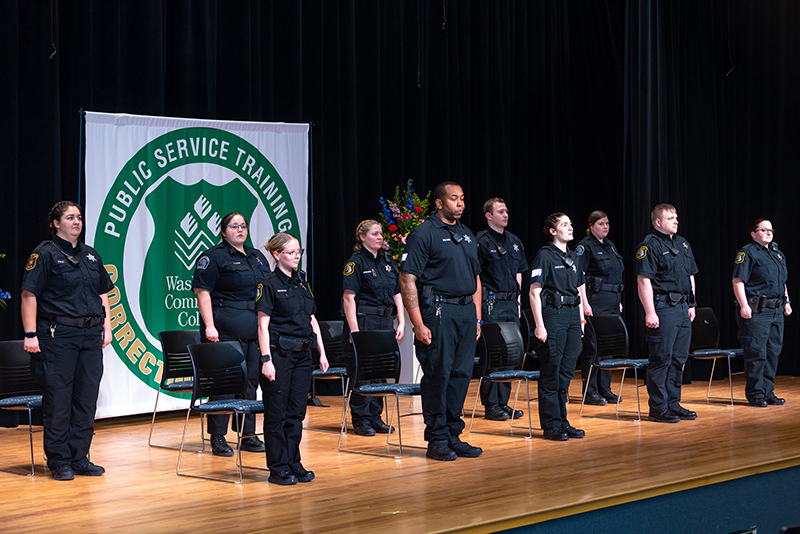 The 10-member Washtenaw Community College Corrections Academy Spring Class of 2023 made quite an impression on its way to Friday's graduation ceremony, particularly on WCC Senior Director of Public Service Training Joyce VanMeter.
"I've been in academy settings as an instructor since 1997 and this is the best group I have ever trained," VanMeter told friends and family gathered in Towsley Auditorium and those watching a live stream of the ceremony.
"Their attention to detail, desire to learn and willingness to go above and beyond were incredible. This group of 10 individuals — 10 team members — has set the bar very high for me."
RELATED: PHOTO GALLERY
Academy enrollees were previously hired as corrections officers at sheriff's offices in Washtenaw, Ingham and Monroe counties. The Michigan Sheriffs' Coordinating & Training Council (MSCTC) requires officers to complete training at an approved academy during the first year of employment.
WCC's Public Service Training Department operates one of 10 approved academies in Michigan and runs two sessions annually.
Keynote speaker Corey Burks, Training Coordinator for the MSCTC, welcomed the graduates to the profession, telling them it's going to be a hard job, but a fulfilling one.
"Corrections is a tough job to do, but I see in front of me people who are going to do just fine," he said. "If you take anything away from this training, it's that you're going to continue to do more training over the next 20, 30 or 40 years. Training is the key to our job and it's what we revert to in the most stressful times. Train, train, train."
Graduates satisfactorily completed 160 hours of training to become certified as a Local Corrections Officer, personnel that supervises inmates in county jails. There are 14 training modules and a comprehensive final examination in the academy curriculum. Training modules are taught by current and retired police, fire and corrections professionals.
Allison First of the Washtenaw County Sheriff's Office earned the class's High Academic Award, scoring 99.5%.
Caleb Church from the Monroe County Sheriff's Office, selected as the class's platoon leader, was also chosen to be the student speaker during the graduation ceremony.
"I'll be the first to admit, I was not excited to be here. I was not a huge fan of school growing up, and this sounded a lot like school," Church joked, before saying that his classmates made the experience an overwhelmingly positive one.
"I hope we all not only take care of each other at our own agencies, but also those of us in this platoon," Church added. "We all have each other's phone numbers now, so let's make sure we take care of each other's mental and emotional state so that we can all be sure to go home to our families at the end of every shift. If it's not something you can talk to your family about, talk to one of us."
WCC Corrections Academy Spring Class of 2023
Ingham County Sheriff's Office: Kaitlyn Foco, Vanessa Pyne
Monroe County Sheriff's Office: Rhonda Allen, Caleb Church, Emma-Lee Elya, Lydia Held
Washtenaw County Sheriff's Office: Sedale Benjamin, Ashley Bridgewater, Allison First, Chaz Polash