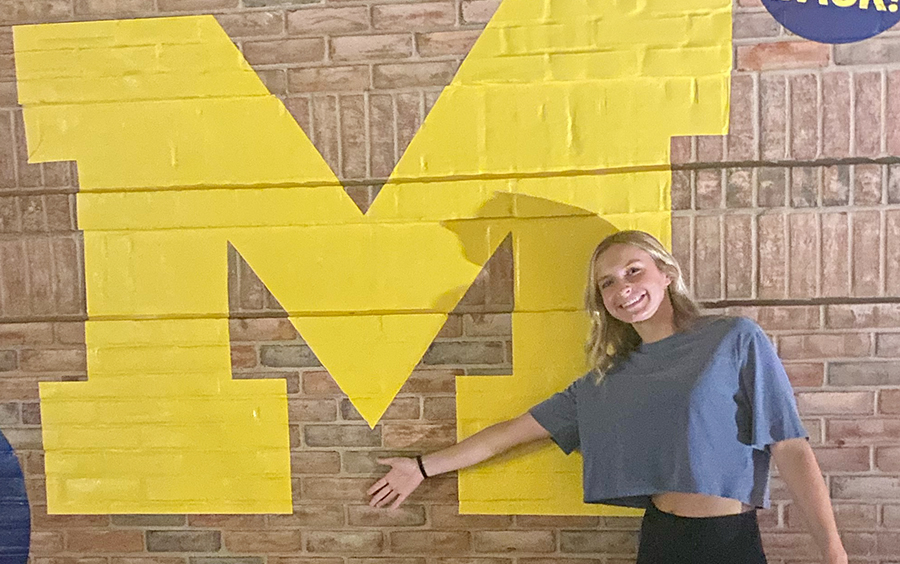 Washtenaw Community College welcomes thousands of guest students to its campus and online learning classes every year, with the Summer semester being the most popular time for such visitors.
Whether they're students at local four-year universities or Washtenaw County residents coming home from afar for an academic break, most guest students are seeking the same benefits from WCC: affordability, flexibility and smaller class sizes.
Emily Irish, a sophomore Biomedical Engineering major at the University of Michigan, recently enrolled in two WCC classes for the upcoming Summer 2023 semester: Calculus III (MTH 293) and Ethical and Legal Issues in Health Care (PHL 244).
"I take classes at WCC during the summer instead of at Michigan mainly because of the price difference. … It just makes sense," said Irish. "WCC also offers a lot more flexibility with classes, which helps because I work full-time and volunteer over the summer. It's also nice that there are smaller classes so I can get to know the instructor more easily."
This is the second summer Irish will spend with WCC. Last summer, when she completed Physics I (PHY 111) and Calculus II (MTH 192) courses, she was one of 1,443 guest students from the University of Michigan enrolled at WCC.
That means Wolverines accounted for more than half of the 2,461 summer enrollees who identified themselves as guest students at WCC. Eastern Michigan (156), Michigan State (150), Grand Valley State (59) and Wayne State (56) had the next-highest totals among the 202 different colleges and universities across the country and abroad where WCC guest students were pursuing credentials.
The summer semester is an ideal time for students to catch up with – or get ahead of – their academic progress. Irish, for example, is on a pre-med pathway at U-M, so taking classes at WCC over the summer will help her build up some flexibility as her schedule gets more challenging in the future while still meeting her expected graduation date.
Of course, the most appealing aspect of being a guest student at WCC is the face-to-face course tuition rate of just $95 for in-district students and $169 for out-of-district residents. WCC has created a Tuition Saving Calculator to help students determine how much they can save compared to taking classes at four-year institutions in the state.
(Note: Local university students who maintain resident status outside Washtenaw County are eligible for in-district tuition rates if they work 30 or more hours per week for one or more Washtenaw County employers.)
The Michigan Transfer Network database can help determine transferability, but WCC recommends students confirm with their home institution's course equivalency guide that a course will transfer back as intended.
WELCOME, GUESTS
Last summer, 2,641 students enrolled in WCC classes identified themselves as guest students pursuing a degree at 202 different colleges and universities. Here's where most of our guests came from:
University of Michigan (1,443)
Eastern Michigan University (156)
Michigan State University (150)
Grand Valley State University (59)
Wayne State University (56)
Michigan Tech University (45)
Western Michigan University (35)
Central Michigan University (29)
University of Michigan-Dearborn (26)
Indiana University (24)
Tags: Guest Student, March 2023, On The Record, Transfer