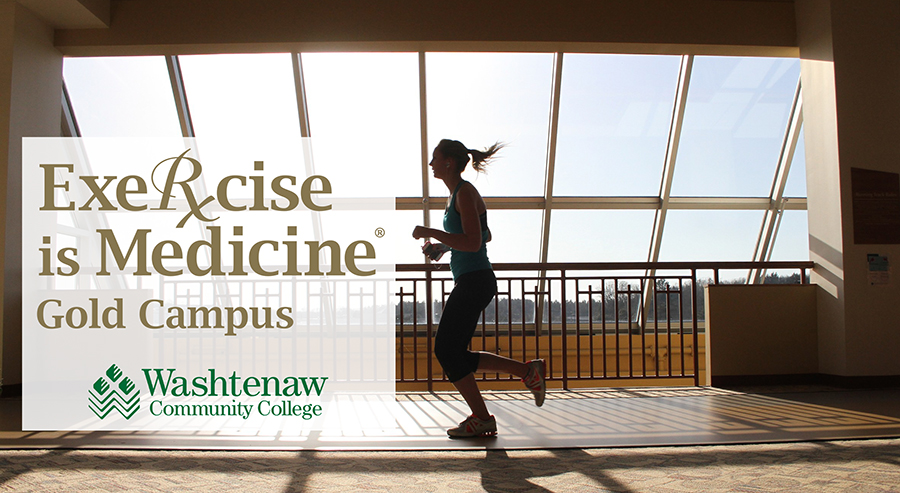 Washtenaw Community College is one of 73 colleges and universities worldwide – and one of just three community colleges – to be honored with gold-level status by Exercise is Medicine for its efforts to create a culture of wellness on campus.
After four years of attaining silver-level status, two new programs were introduced over the past year that pushed WCC to the highest ranking in the Exercise is Medicine On Campus (EIM-OC) initiative, which calls upon higher education institutions to promote physical activity and improve the health and well-being of students and employees.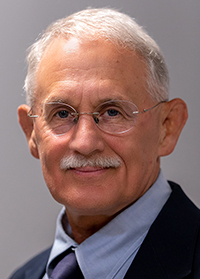 "This is the culmination of many years of individuals across the campus developing and honing activity programs to promote health and wellness," said Dr. Marvin Boluyt (right), a faculty member in the Math, Science & Engineering Technology Department who leads the EIM-OC initiative at WCC.
"WCC's commitment to health and wellness predates our involvement in the recognition program by decades. Achieving the gold-level recognition, however, required that we 'up our game' and ask people to take their excellent programs and make them outstanding. This award testifies that those responsible at WCC met that challenge."
Boluyt credits the college incorporating an Exercise Vital Sign (EVS) question at multiple touch points across campus and its creation of a new "To The Moon" physical activity tracking program with pushing WCC beyond the American College of Sports Medicine's criteria for gold-level recognition.
The Exercise Vital Sign question became part of the registration process at a variety of WCC services (Counseling Services, Dental Clinic, Fitness Center) and is part of the course feedback form that every student responds to at the end of each semester. Collecting data on how many hours per week members of the campus community are engaging in moderate to vigorous physical activity serves as a reminder of the importance to attain 150 minutes per week and allows the college to track changes over the years and react accordingly.
According to Boluyt, the EVS is "the single most informative question we can ask about a person's health prognosis." He said it can be used to assess the needs of specific populations to more accurately determine whether new campus initiatives have had an impact.
The college's To The Moon challenge was introduced at the beginning of the Winter 2022 semester. Students, faculty and staff are encouraged to contribute to the collective goal of traveling 238,855 miles – the average distance between Earth and the moon.
Boluyt, who developed the Exercise Science program at WCC, did the math to convert dozens of different physical activities to equal one mile of walking. The campus-wide, semester-long event asks members of the campus community to track their physical activity, which is then converted into miles walked.
"If we can get to the moon, I think we will have hit it out of the park and the ACSM would need to consider adding a platinum-level to their recognition program just for us," Boluyt joked.
Of the 149 total campuses recognized this year by EIM-OC, 73 received gold, 55 silver and 21 bronze. Those institutions will be officially recognized on May 31 during the 2023 ACSM Annual Meeting in Denver.
"We are thrilled to recognize these campuses' commitment to make movement a part of daily campus culture and give students the tools to cultivate physical activity habits that will benefit them throughout their lives," said Robyn Stuhr, Vice President of Exercise is Medicine. "These campus programs are nurturing future leaders who will advance a key tenet of Exercise is Medicine: making physical activity assessment and promotion a standard in health care."
The Exercise is Medicine health initiative was started by the ACSM to encourage primary care physicians and other health care providers to include physical activity when designing treatment plans. The group started its On Campus recognition program in 2014, honoring campuses for their participation and engagement in EIM.
Tags: American College of Sports Medicine (ACSM), Exercise, March 2023, Marvin Boluyt, On The Record