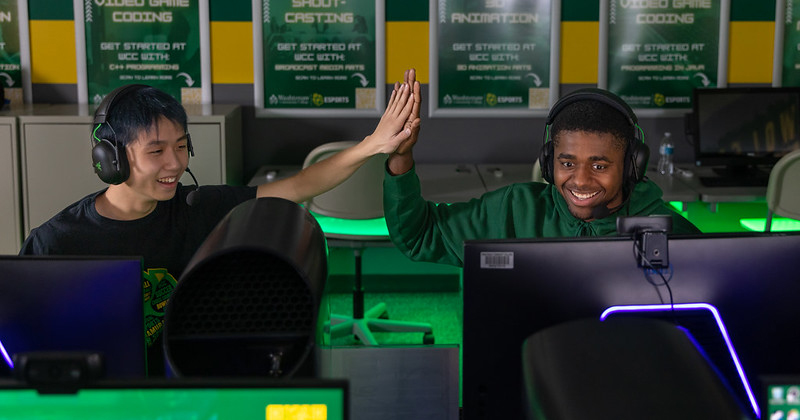 A new, state-of-the-art Esports Arena has opened on the Washtenaw Community College campus to provide enrolled students opportunity for recreation, competition and exposure to the academic and career opportunities associated with the growing Esports industry.
GALLERY: Take a photographic tour of the new Esports Arena
The new facility, located in room 239 of the college's Technical & Industrial Building, features a dedicated internet service provider, 14 high-speed gaming computer stations, a console game lounge with 65-inch 4K TVs, and the latest gaming consoles, including two Nintendo Switches, one Playstation 5, and one Xbox Series X.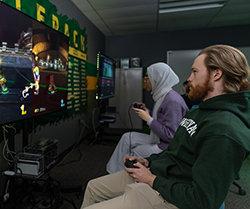 WCC Esports college club-level teams will compete in the space and other enrolled students have access to weekly free play.
WCC plans to start with four competitive club esport teams and expand as student demand increases. Teams competing in Super Smash Brothers and Valorant have already formed and suggestions are being accepted for future teams.
Local high school teams will also be invited to use the space for scrimmages, practices and tournaments.
WCC offers multiple academic programs for students interested in acquiring skills that can be used to gain employment in the Esports industry, including Sports and Entertainment Management, 3D Animation for Game Art, C++ Programming, Java Programming, Digital Video Production and Broadcast Media Arts.
Current or potential students interested in connecting with WCC Esports can do so on its Discord channel.
The WCC Student Development Office is working with the WCC Foundation to find a potential corporate sponsor for the arena. Interested parties can email [email protected].
Tags: Esports, March 2023, On The Record, Student Activities, Student Development