Washtenaw Community College was named a 2023-24 Voter Friendly Campus for its efforts to promote bi-partisan voter registration, education and engagement.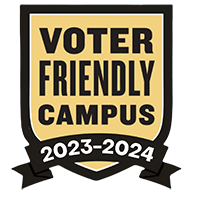 WCC is one of 258 college campuses across the country – and one of 41 community colleges – to earn the accolade from the Fair Election Center's Campus Vote Project and NASPA – Student Affairs Administrators in Higher Education. The initiative recognizes institutions that have planned and implemented practices that encourage students to register and vote.
"We're grateful for this recognition of our commitment to fostering civic engagement among our students," said WCC Director fo Student Development Pete Leshkevich. "This achievement is a testament to the hard work of our Campus Vote Project Fellows and their unwavering dedication to empowering their peers to become active participants in the democratic process.
"We remain steadfast in our missing to provide non-partisan voter education and registration resources to the WCC community and beyond."
WCC students Ana Andrade and Alysha Rossetto served as Campus Vote Project Fellows in 2022 and played a key role in the multiple events and activities that led to the Voter Friendly Campus designation. They includes:
Participating in the annual Student Voting Summit
Holding a registration drive for National Voter Registration Day
Developing a social media campaign for voter registration and education
Creating and posting voter registration awareness fliers around campus
Hosting an eight-day voter registration drive with the League of Women Voters
Promoting the wcc.turbovote.com website for registration, reminders and voter status checks
The mission of the 2023 Voter Friendly Campus designation is to bolster colleges and universities' efforts to help students overcome barriers to participating in the political process – every year, not just during years featuring federal elections. WCC was evaluated based on a written plan to register, educate and turnout student voters in 2022; the facilitation of voter engagement efforts on campus; and a final analysis of all efforts.
According to the Campus Vote Project, the institutions designated Voter Friendly Campuses represent a wide range of two-year, four-year, public, private, rural and urban campuses, collectively serving over 3.5 million students.
---
WCC is seeking a Campus Vote Project Fellow to join its team in September 2024. The individual must be a WCC student enrolled in credit classes for the Fall 2024 semester. More information can be found online.
Tags: Awards, Campus News, Student Development, Vote