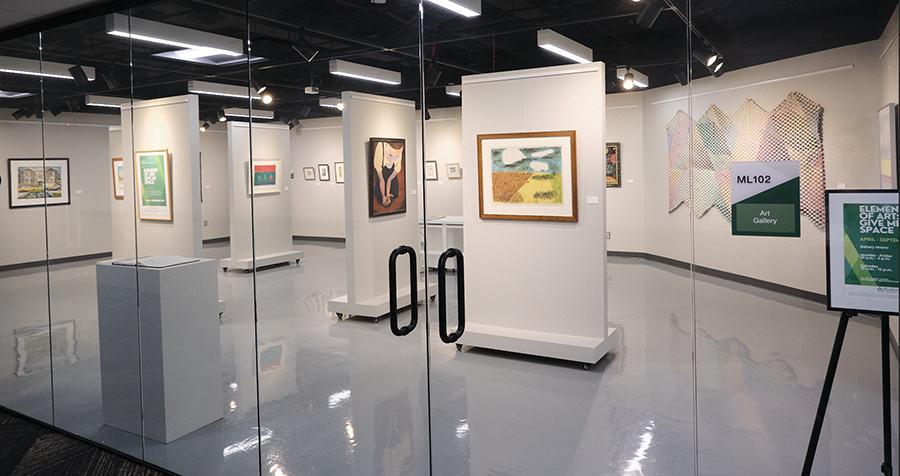 A new exhibit that focuses on the use of space in art is now open in The Gallery at Washtenaw Community College. The gallery and its exhibits are free and open to the public.
Elements of Art: Give Me Space features 22 selections from the WCC art collection — two fabric/tapestry pieces and 20 two-dimensional pieces in various mediums. Show curator Jennifer Lickers, a part-time WCC art instructor, chose each piece because it uses space in intriguing or unconventional perspectives.
"We don't necessarily think about space when we are viewing a work of art, yet the artist is always thinking of this fundamental component," Lickers said. "Artists manipulate space with the scale and placement, and this forces the viewer where to look."
The Gallery at Washtenaw Community College is located inside the Morris Lawrence Building (campus map/directions). Hours of operation are 10 a.m. to 5 p.m. Mondays through Fridays and 10 a.m. to noon on Saturday. The space is also open during any staffed event in the Morris Lawrence Building and by request outside of posted hours.
The WCC art collection includes works by students, local artists, WCC instructors and instructors from Eastern Michigan University and the University of Michigan. It dates back to 1985, when board member and philanthropist Dr. Harry Towsley donated funds for the sole purpose of purchasing works of art. The initial collection included 10 purchased items and a number of donated pieces.
Judith Hommel, who earned a Masters of Fine Arts in Printmaking from EMU and worked at WCC for more than 25 years before retiring in 2011 as executive associate of then-president Larry Whitworth, continued to build the collection over the ensuing years.
Two of Hommel's own works are included in the Give Me Space show. Other featured artists include:
Sherri Smith:

A 40-year art professor at the University of Michigan, Smith is internationally known for her jacquard woven textiles. Her work is composed of complex compositions or interlaced cotton webbing to strip-woven wall hangings with patterns derived from astronomy, mathematics and the sciences.

Richard Wilt:

Also a former U-M art professor, Wilt worked on themes of World War II, the Black revolution, Vietnam protests, abstracts and landscapes who worked in oils, watercolors and drawing. He died in 1981 of leukemia.

Emil Weddige:

An internationally known and highly skilled lithographer, Weddige was based in Ann Arbor with a studio in Paris for 10 years. He earned a Masters of Design from U-M before teaching there for 38 years. He died in 2001 at the age of 94.
Space is one of seven elements of art according to traditional curriculum, along with color, space, line, value, form, texture and shape. The Give Me Space exhibit is the first in a series of Elements of Art exhibits that The Gallery at WCC will present over the next several semesters.
Also currently displayed is a Micro Show that was first curated by WCC staff member Julie Gleich in 2020, but was never displayed because of the COVID-19 pandemic. These small works — which includes another Judith Hommel original — can often be lost on their own, but together have a large impact.
"Items in this collection can be held in your hand and the feeling is that they are precious," Gleich said. "The fact that they are small shouldn't diminish their effect on the viewer."
Tags: Art Gallery, Exhibit, Fine Arts