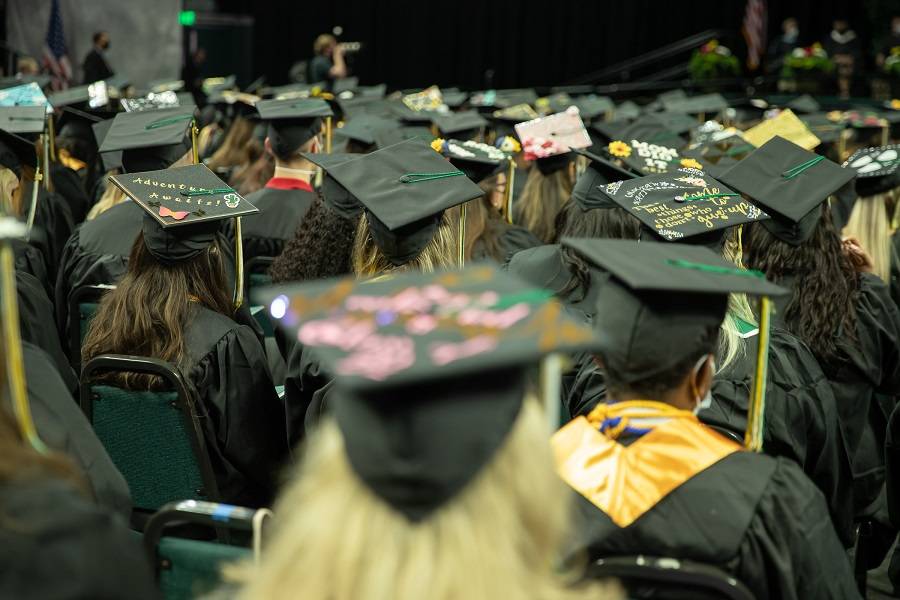 Washtenaw Community College (WCC) will award more than 2,500 degrees and certificates during its commencement ceremony on Saturday.
Nearly 500 graduates from the Fall 2022 and Winter 2023 semesters, as well as candidates from the current Spring/Summer 2023 semester, will participate in commencement.
The ceremony will begin at 9:20 a.m. at Eastern Michigan University's George Gervin GameAbove Center in Ypsilanti.
Randy Van Wagnen, a professional faculty member in the Digital Media Arts program, will deliver the faculty message and Leylan Kazi, a high honors graduate in the General Studies in Math and Natural Sciences program, will deliver the student message.
Leylan was a member of WCC's STEM Scholars program, served as president of Phi Theta Kappa Honor Society and worked as a Student Ambassador. Leylan is also concurrently earning her high school diploma this week from Washtenaw Technical Middle School, an early college high school located on WCC's campus.
Richard J. Landau, J.D., Ph.D. will receive an Honorary Associate Degree in community service. Dr. Landau is a trial lawyer and licensed clinical psychologist who served on the Washtenaw Community College Board of Trustees for 22 years.
Dr. Landau is the managing member of RJ Landau Partners PLLC in Ann Arbor and has been recognized as a Michigan "Super Lawyer" by Law & Politics Media, Inc. and as one of the "Best Lawyers in America" by US News and World Report for his work in business litigation.
Dr. Landau followed in the footsteps of his late father, Henry S. Landau, who served as an elected member of the WCC Board of Trustees from 1977 through 1982 and was a founding member of the WCC Foundation. The Henry S. Landau Skilled Trades Building on the WCC campus is named in his honor.
The ceremony will be livestreamed at https://youtu.be/Icj5TPsIY0g.
WCC will also host an Honors Convocation at the EMU Center at 4:30 p.m. today to recognize students with a 3.5 or higher grade point average.
Tags: Associate Degree, Certificates, Commencement, Graduation