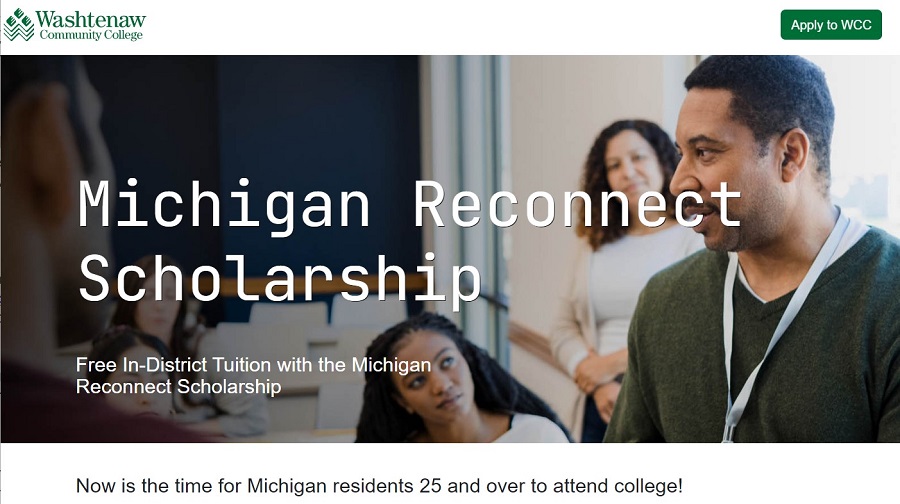 Adults age 25 and older who do not have a college degree are invited to information sessions July 17 & July 18 to learn how the state's Reconnect Scholarship can pay for their college education at Washtenaw Community College (WCC).
Washtenaw Community College's events are hosted in conjunction with the Michigan Department of Labor and Economic Development's (LEO) Michigan Reconnect Scholarship as part of a statewide campaign to connect working-age adults with postsecondary educational opportunities.
The Michigan Reconnect program will pay for in-district tuition, technology fees and contact hours not already covered by a Pell Grant or other tuition-only funds.
WCC's Monday, July 17, in-person event is geared specifically toward adult Ypsilanti residents as it focuses on Reconnect as a means to cover tuition for adults participating in the new Advance Ypsi job training and education initiative.
This free event will be from 6-8 p.m. Monday, July 17, at the Parkridge Community Center, 591 Armstrong Drive, Ypsilanti. Food will be served. Registration is required.
Advance Ypsi will launch this fall semester.
Adults from Ypsilanti will enroll as WCC students in an academic program – with the Michigan Reconnect Scholarship potentially covering tuition – and be paired with an industry partner who will offer training for careers in the automotive/mobility, IT and manufacturing sectors with an earning potential of at least $40,000.
Students will be supported every step of the way through a robust coaching model that will include mentors, tutoring, small class sizes for deeper learning opportunities and expert resources.
The Tuesday, July 18, live YouTube event is for any Michigan resident 25 and older without a college degree who is interested in finding out how the Reconnect Scholarship can pay their college tuition as they pursue an associate degree or certificate.
This live YouTube information session will be held from 6-7 p.m. Tuesday, July 18. Registration is required.
Attendees at the YouTube event will hear speakers outline the Reconnect program and how to apply for the scholarship, as well as the simple steps to become a WCC student. An interactive Q&A will conclude the event. Opportunities for one-on-one sessions via Zoom or in-person will be offered to assist prospective students.
At $99 per credit hour for in-district students this fall, WCC has the lowest tuition among colleges in the state. In-district students are those who live in, work in or own property in Washtenaw County. Out-of-district students attending WCC are eligible for the Michigan Reconnect Scholarship but pay the difference between in-district and out-of-district tuition rates.
WCC's Fall semester begins August 28. Four start dates offer students flexibility with scheduling. Courses with later start dates cover the same material at an accelerated pace. The Fall semester start dates are: Session I August 28; Session II September 20; Session III October 4; and Session IV October 20.
Prospective students may apply for admission here.
ABOUT ADVANCE YPSI
Advance Ypsi is an historic new initiative by WCC to strengthen pathways to prosperity for Ypsilanti residents through job training and education. To learn more about Advance Ypsi or apply for the program, visit www.wccnet.edu/advanceypsi
ABOUT MICHIGAN RECONNECT SCHOLARSHIP
The Michigan Reconnect Scholarship program will pay for in-district tuition, technology fees and contact hours not already covered by a Pell Grant or other tuition-only funds. To be eligible one must:
Be at least 25 years old when you apply
Have lived in Michigan for a year or more
Have a high school diploma, high school equivalency (GED), or certificate of completion
Have not yet completed a college degree (associate or bachelor's)
Learn more about Michigan Reconnect: https://www.michigan.gov/reconnect/community-college/apply