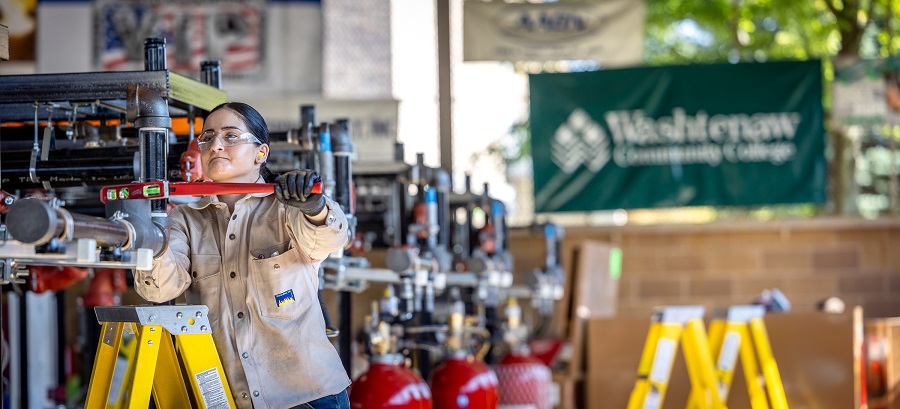 More than 200 members of the United Association of Journeymen and Apprentices (UA) of the plumbing and pipefitting industry in the United States and Canada earned certificates and associate degrees on Thursday, highlighting a week of training at Washtenaw Community College.
This marks the 34th year the UA has brought its renowned Instructor Training Program to WCC. Classes end today for the 2,300 members on campus this week.
The UA represents approximately 366,000 plumbers, pipefitters, welders, pipeliners, HVACR service technicians, and sprinkler fitters working in the construction industry throughout North America.
Other highlights of the week were Wednesday's Industry Day with 500 industry leaders and vendor partners visiting campus, and the week-long International Apprentice Contest.
Courses are taught by WCC faculty, UA members and industry professionals and cover various topics such as water quality, innovative welding techniques, plumbing code application, methods in teaching backflow prevention, fire protection, and inclusion and mental health awareness.
After completing the five-year program, instructors earn the UA Instructor Training Certificate and go on to train members at their local unions throughout the United States and Canada. UA members also have the opportunity to continue their studies to earn an associate degree from WCC.
"As educators and trainers of the current and future workforce, we know there is nothing more important than teaching the highest in safety standards. Safety is a hallmark of the UA, and we are proud of our partnership that sends trainers back out across the nation, ultimately protecting us all with the quality of their work," said WCC President Dr. Rose B. Bellanca.
Training is designed to present the latest techniques and equipment used in the field. Examples of new UA courses offered this year include "Semiconductor Orbital Tube Welding," "Industrial Rigging Technologies," "Mobile Technology for the Construction Industry," and "Advanced Valve Repair," to name just a few.
"The UA has the most admired training program in the industry, and much of that stems from the work our instructors do during ITP week. Our comprehensive training curriculum safeguards our memberships' employability, anticipates industry change, and prepares us for future challenges. We're proud to offer the finest training, including access to the industry's most innovative and relevant education and technology," said United Association General President Mark McManus.
The Instructor Training Program (ITP) has become an important fabric of the community, with an approximately 1,000 faculty, students, vendors and administrators on hand to support the week.
According to Destination Ann Arbor, the long-held partnership between WCC and the UA is an economic boom each summer to the community. WCC's training partnerships with the UA and four other skilled trades organizations have resulted in an estimated $20 million economic impact on the region this summer.
Tags: Graduation, Plumbers and Pipefitters, Skilled Trades, United Association