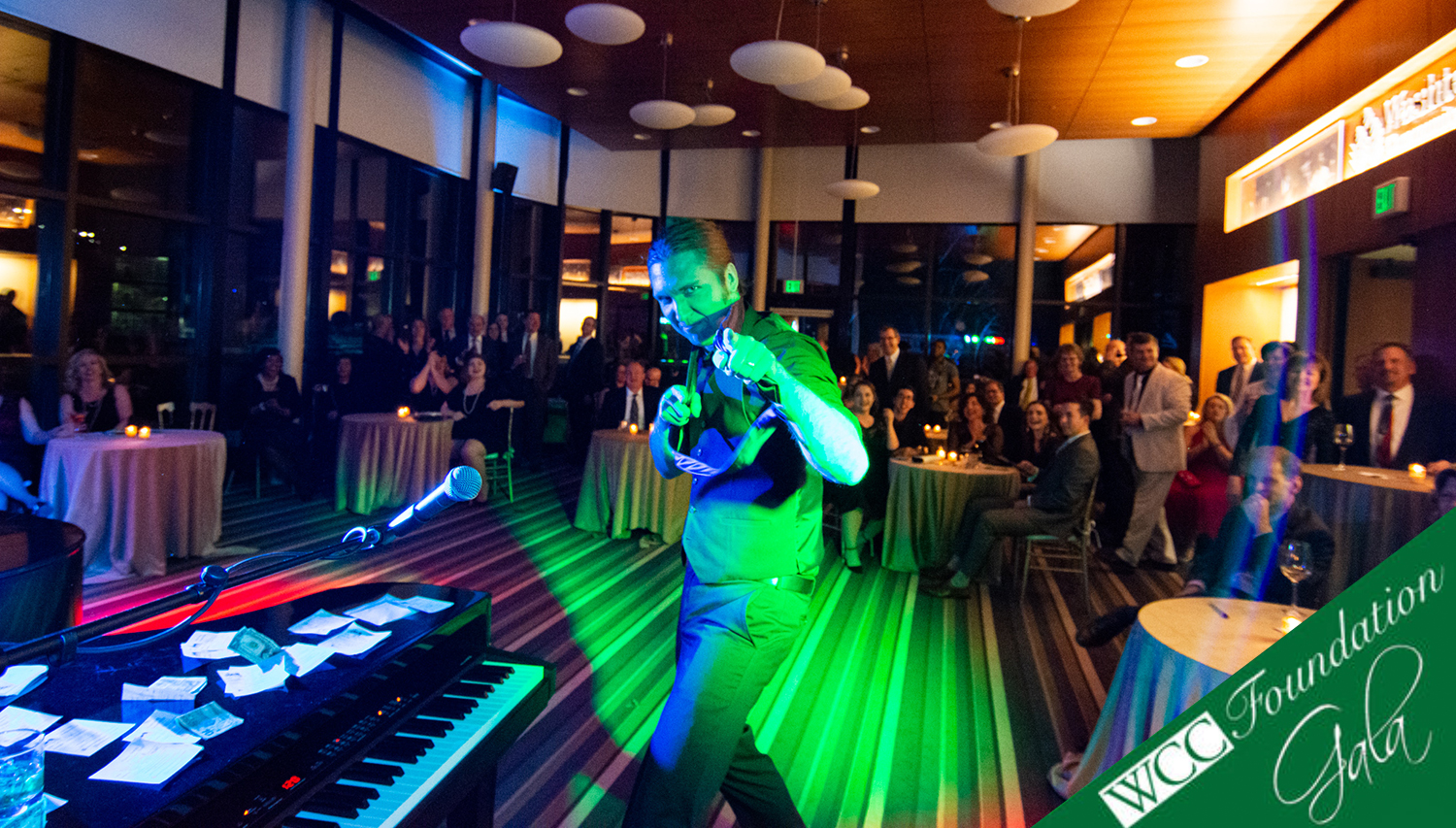 The Washtenaw Community College Foundation will host Gala 2023 to support the college's Student Emergency Fund and other programs. This year's presenting sponsor is Toyota.
The gala will be held from 6-11 p.m. on Friday, Sept. 29, in the newly renovated Morris Lawrence Building on campus (directions and map). Tickets may be purchased through the Foundation.
Previously an annual event, the Foundation gala is the back for the first time since the COVID-19 pandemic.
"We're beyond delighted to welcome nearly 300 guests to the Foundation's signature event, which supports everything from putting meals on the table and paying the rent to childcare, transportation needs and more," said WCC Foundation Association Vice President Tina Kashat Casoli. "Our students could not achieve their dreams without the generosity of our donors who truly care about the Foundation's mission."
During an elegant evening, attendees will enjoy a cocktail reception, a dinner and dessert stations. Entertainment will include a live auction of experiences for groups of up to 10, including a birthday party or team-building exercise in the WCC Esports Arena; rustic Italian group cooking with wine; yoga and massage at the WCC Health & Fitness Center; a group ballroom dancing night out and more. Participants can also join in a "Fund-the-Mission" activity to support student scholarship and other student programs.
Midwest Dueling Pianos will add to the festivities and take requests for sing-alongs and dancing in the building's atrium. The Todd Everett DJ Experience will play tunes on the outdoor terrace and dance floor.
"My heartfelt appreciation goes to all of the event sponsors and ticket purchasers. They are instrumental in driving our mission forward," said WCC Foundation Board Chair and Gala Co-Chair Bhushan Kulkarni. "Our community does a spectacular job of helping meet the needs of WCC students facing barriers. I am so proud to be part of this Foundation that works tirelessly to ensure students succeed."
The Student Emergency Fund assists WCC students during unexpected financial hardships. Of the students who have received assistance, 84 percent remain enrolled or graduate. Some of the hardships for students include childcare, housing, food insecurity, transportation and other unexpected costs that arise during enrollment.
Tickets to this year's gala are available online. Cocktail attire is recommended.
In addition to Toyota as the presenting sponsor, other sponsors include: Ellucian; Bank of Ann Arbor; Patti and Chuck Judson; Old National Bank; Power Wellness Management; S.I. Company, Norma and Richard Sarns; Laurie and Tim Wadhams; Ann Arbor Area Community Foundation; Eastern Michigan University; Gene Butman Ford; IBEW NECA 252; Katherine's Catering; Applied Innovation; John Darr Mechanical, Inc.; Golden Limousine; Daniel and Anne Kowalczyk; SensCy Inc.; Ted and Eileen Thacker; Ann Arbor SPARK; Michael Awkward and LaSonia Forte; Peter Basso Associates; Dr. Rose B. Bellanca; Lori Mouton Boeckler and Karl Boeckler; Stefani and Richard Carter; Katherine Farrell – Katherine's Catering; Patricia and Peter Fink; Michelle Julet; Bill Kinley; Mary Mostaghim; Sue and Rick Snyder, SensCy Inc.; Eileen and Ted Thacker; University of Michigan Credit Union.
WCC Foundation Gala 2023 Host Committee members include Lori Mouton Boeckler; Richard and Stefani Carter; Bob and Christine Euritt; Steven and Amy Gay; Howdy Holmes; Peg Talburtt and Jim Peggs; Rick and Sue Snyder; Ted and Eileen Thacker; Alina Verdiyan and Sean Duval.
IF YOU GO
What: WCC Foundation Gala 2023
Where: Morris Lawrence Building, WCC, 4800 E. Huron River Drive, Ann Arbor, MI
When: 6-11 p.m. Friday, September 29
Tickets: $250 for individual tickets; table sponsorships also available
Online: wccnet.edu/gala
Contact: [email protected] or 734-973-3665
Benefits: Proceeds benefit WCC's Student Emergency Fund, which helps students stay in school.
Tags: Foundation, Gala, Scholarships, Student Emergency Fund