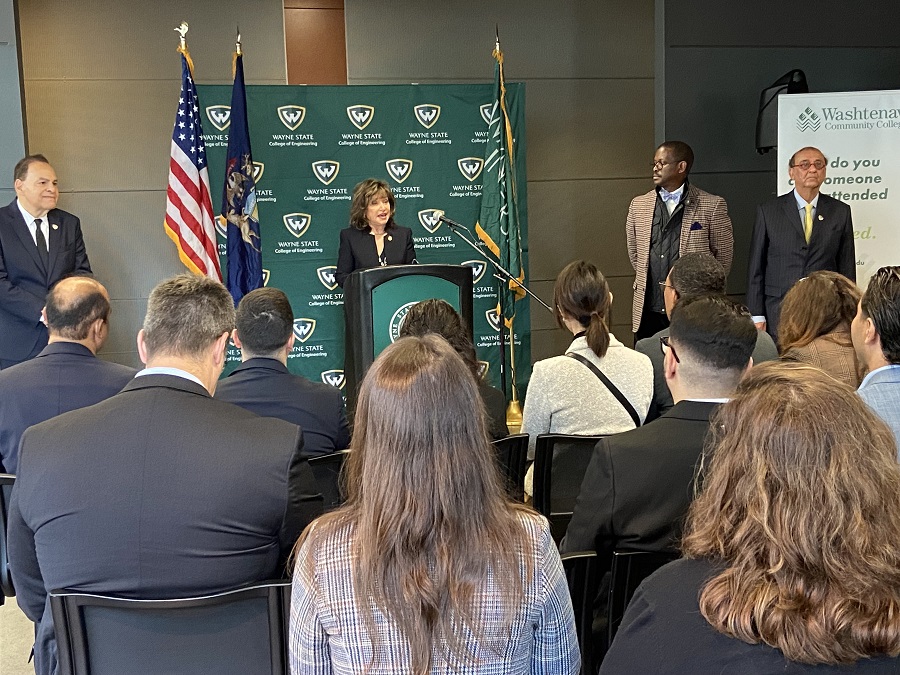 Washtenaw Community College joined with the Michigan Economic Development Corp. (MEDC) and other higher education institutions today in announcing the largest investment in state history to expand semiconductor education and training programs.
MEDC, in partnership with Wayne State University, University of Michigan and Oakland University and Washtenaw Community College, announced a combined investment of more than $3.6 million statewide of 2023 grants and matching funds with higher education institutions to promote semiconductor learning and career opportuntites.
"Today is another example that Team Michigan continues to make it clear that we don't just plan to be a player in the global semiconductor industry – we plan to be in the vanguard of driving this vital sector into the future. Collaborations and partnerships like we're announcing today are one of the many ways we're applying our state's culture of innovation to delivering the high-tech solutions our world needs in the years to come," Quentin Messer, Jr., CEO of the Michigan Economic Development Corporation, said during a news conference this morning at the Wayne State University College of Engineering Building in Detroit.
"Together, Team Michigan remains committed to ensuring students, researchers, employees and entrepreneurs recognize that when it comes to building a meaningful career in the semiconductor industry – they can make it high-tech and more here in Michigan."
Washtenaw Community College is using the MEDC's education investment to expand its outreach to middle school and high school students through hands-on activities and exploration that introduce them to emerging career possibilities.
The college's new short-term Semiconductor Technician Training certification program will launch over the next year in partnership with the Michigan Semiconductor Talent and Automotive Research (STAR) initiative, which was established by the KLA Corporation and imec, the Belgium-based global R&D hub uniting key players in the semiconductor industry.
"WCC will work with our valued partner, Ypsilanti Community Schools, and others to help students explore jobs and careers, to help them prosper not only today but for a lifetime," said WCC President Dr. Rose B. Bellanca.
Additionally, WCC will also expand its outreach to neighboring school districts which include Lincoln Consolidated Schools, also in Ypsilanti, with a continued focus on engaging non-traditional and underrepresented students.
Students will also be exposed to mobility careers with a special emphasis on WCC's Semiconductor Technician Training certification program through the new Advance Ypsi initiative, which will dually enroll approximately 100 high school students from Ypsilanti Community Schools.
Other immersive activities to be offered for high school and middle school students include tool kits to help students build chips and understand how they are used throughout the world, as well as tours of semiconductor factories.
"WCC will equip job seekers with the skills required to work in the semiconductor industry, filling a critical need for these high-demand jobs," Bellanca said. "It is essential to introduce these exciting career opportunities to young people early on. And our grant will help us do just that."
The statewide MEDC grants and matching funds include more than $1.1 million for Wayne State University, more than $320,00 for Oakland University, over $140,000 for the University of Michigan and $50,000 for WCC.
"I am proud to report that Wayne State University, along with our higher education institution partners and with generous funding support from the MEDC, will soon introduce state-of-the-art training programs that respond to Michigan's increased demand for skilled technicians and engineering professionals in the surging semiconductor industry," said Wayne State University President Dr. Kimberly Andrews Espy.
"Our vision is for Michigan to be the home of the leading educational institutions in America in semiconductor learning," Espy said.
Wayne State is utilizing some of its grant funding to introduce PCBCRAFT, a hands-on workforce training program in printed circuit board – PCB – design, manufacturing, and testing.
PCBCraft will be Michigan's first hands-on certificate program to train electrical and computer engineers and technicians in the design, manufacturing, and testing of printed circuit boards, according to Wayne State University College of Engineering Dean Ali Abolmaali.
A critical part of the semiconductor value chain, PCBs are electronic boards on which semiconductor chips such as microcontrollers, sensors, actuators, and wireless radios are interconnected, assembled, and packaged into functional modules, he noted. A modern vehicle has more than 100 PCBs containing more than 1,500 semiconductor chips that perform critical functions like engine and stability control, airbag deployment, climate control, infotainment, etc. The PCBCraft program is designed in direct response to the workforce needs of southeast Michigan employers such as Intel, NXP, Apple, Semiconductor Research Corporation, GM, Ford, Mercedes Benz, automotive suppliers such as Visteon and Magna, as well as DTE Energy.
"Michigan's automotive industry has a particularly strong need for PCBs," said Abolmaali. "As the industry transitions to electric and autonomous vehicles, the number and complexity of PCBs is expected to grow significantly, including high voltage PCBs for EV powertrains, high data rate PCBs for autonomous driving, and radio frequency PCBs for vehicular communication."
With its MEDC grant, the University of Michigan will develop hands-on training on topics centered on microelectronics and semiconductor manufacturing. The training course will be open to the public and advertised to high-school and community college students, and technicians from semiconductor-adjacent backgrounds.
The only background required to qualify for participation will be high-school-level knowledge of math, chemistry, and physics. The University of Michigan will team with Washtenaw Community College to calibrate the content and length of the training offered to fit the interests of their student population.
Participants will be actively recruited from high schools and community colleges in the region, including Washtenaw Community College, Wayne County Community College District, Macomb Community College, Henry Ford College, Schoolcraft College and more.
"We're thrilled at this opportunity to leverage the University of Michigan's world-class facilities to give our state's students unparalleled training," said University of Michigan Vice Provost of Engaged Learning and Professor of Electrical Engineering and Computer Science Valeria Bertacco. "At our Lurie Nanofabrication Facility, they'll have access to the same tools and techniques used in modern semiconductor prototyping and manufacturing."
With its MEDC grant, Oakland University is kicking off a training program on semiconductor technologies and devices. The objective of its program is to provide reskilling and upskilling opportunities for the current automotive and other engineers in Metro Detroit area and beyond.
The program is housed within Oakland University's extremely successful Professional and Continual Education program – also known as the PACE program – and executed by the School of Engineering and Computer Science. Oakland University's program will provide trainees with various learning documentations including certificate of achievements, credit certification, and much more.
"Thanks to the funding support Oakland University has received from MEDC, not only will the proposed program provide a long-lasting pipeline for reskilling and upskilling of our automotive and other engineers, it will also immediately materialize the MEDC Talent Action Team's great effort in semiconductor workforce preparation," said Oakland University School of Engineering and Computer Science Dean Louay Chamra.
"We estimate being able to serve up to 2,000 automotive and other engineers from the Metro Detroit region," Chamra said. "Oakland University is making tremendous strides to help cultivate a world-class semiconductor workforce in Southeast Michigan."
The MEDC's aim is to offer state-of-the-art learning and high-paying, high-tech career opportunities in the surging semiconductor industry with a focus on serving students and workers across the Metro Detroit region. The MEDC Talent Solutions division goal is to co-invest alongside partners dedicated to building the world's best talent pipeline for semiconductor roles in the state of Michigan.
MEDC's higher ed investments in Metro Detroit is designed to provide accessible and industry-relevant training to equip students and workers with the knowledge and skills necessary to excel in these high-demand sectors. ​ The target audience includes existing students in relevant degree pathways, adult learners seeking to change careers, current workers in need of semiconductor skills, underserved populations and high school students.
"The MEDC announcement today is just one example of the many ways we are working to ensure that the Michigan workforce has the skills necessary to transition to the technologies and industries of tomorrow," said MEDC Higher Education Partnerships Director Avazeh Attari.
"The Great Lakes State has launched the largest-ever campaign in state history to promote careers, recruit talent and attract new businesses to fill jobs in Michigan's thriving semiconductor industry," said Attari.