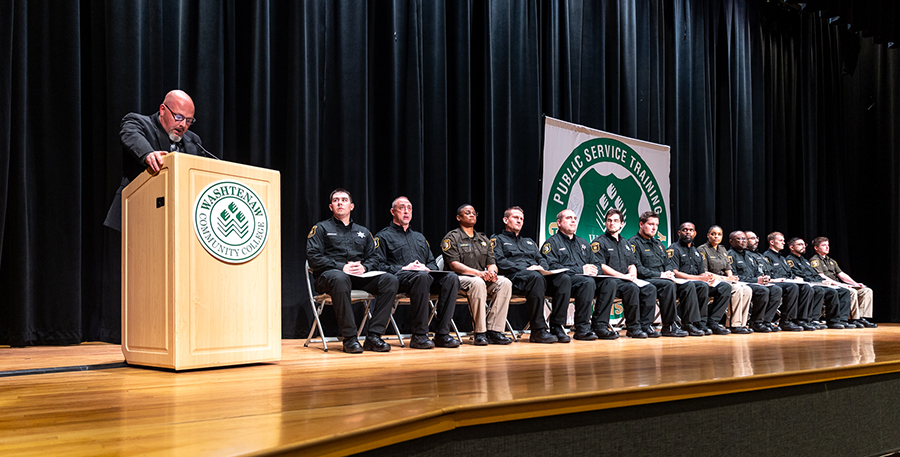 Family, friends and colleagues gathered in Towsley Auditorium on the Washtenaw Community College campus Friday to celebrate the graduation of the 14-member WCC Corrections Academy Fall Class of 2023.
RELATED: Photo Gallery (Coming Soon)
Academy enrollees were previously hired as corrections officers at sheriff's offices in Washtenaw, Jackson, Lenawee and Monroe counties. The Michigan Sheriffs' Coordinating & Training Council (MSCTC) requires officers to complete a four-week, 160-hour training at an approved academy during the first year of employment.
WCC's Public Service Training Department operates one of 10 approved academies in Michigan. There are 14 training modules and a comprehensive final examination in the academy curriculum.
Washtenaw County Sheriff Jerry Clayton was the keynote speaker at the graduation ceremony, giving him an opportunity to congratulate the six corrections officers from his department, including Johnny Torres, who earned the class's High Academic Award, scoring 99.5%.
Class president John Yowtz from the Jackson County Sheriff's Office also addressed the class, reminding them that while they were celebrating graduation from the Corrections Academy, the moment doesn't signal the end of education and training.
"As we embark on this career, never forget the importance of continuous growth and education. The field of corrections is ever evolving, and you must stay updated on current trends, techniques, and laws," Yowtz said. "Seek out opportunities for training, mentorship, and professional development to become an even better version of yourselves. Aspire to become leaders, not only within your departments but also within our communities."
WCC Corrections Academy Fall Class of 2023
Jackson County Sheriff's Office: De'lana Carter, Tarhaka McElroy, John Yowtz
Lenawee County Sheriff's Office: Nathaniel Hubbard
Monroe County Sheriff's Office: David Black, Gregory Franzen, Murad Rashdan, Trevor Tomkinson
Washtenaw County Sheriff's Office: Hunter Arbogast, Daniel Cervantes, Elijah Hoeker, Jacoby Jones, Uzoma Onyemaizu, Johnny Torres
Tags: Class of 2023, Correctons Academy, Graduation, Public Service Training