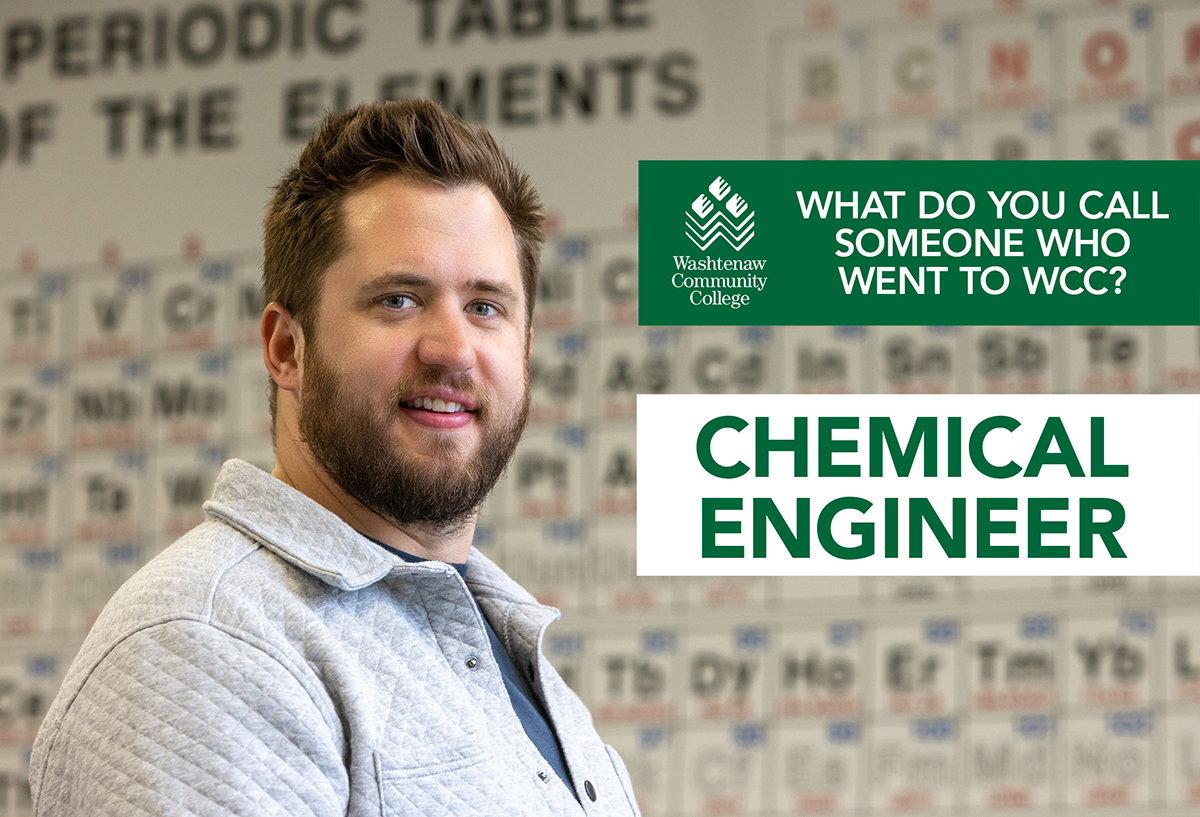 Jason Franchi never planned to go to college. He entered the Marines directly out of high school and served for five years. It wasn't until he decided to sign up for classes at Washtenaw Community College in January 2016 that he envisioned life with a college degree.
"There were never very high expectations for me academically in high school, and I wanted to change the narrative from what people had thought about me in the past," Franchi said. "Now, I'm a first-generation college graduate in my family."
Franchi is also now a DTE Energy engineer who plans and optimizes gas transmissions throughout the state — and a proud graduate of a hard-earned University of Michigan bachelor's degree in Chemical Engineering.
"I chose WCC because of the great things I had heard about it from friends who had attended and because it was the facilitator school to get into the University of Michigan," says the 31-year-old Brighton native.
After earning his pre-requisites at WCC, Franchi transferred to U-M, graduating in 2022.
"WCC equipped me with the knowledge and confidence I never thought I would have from an academic perspective," Franchi says, adding that the atmosphere offers a safe space to learn through mistakes as well as successes.
Dr. Tracy Schwab, a WCC chemistry instructor and interim Dean of the Math, Science & Engineering Technology Department, influenced how Franchi viewed his studies and his long-term plans.
"He is such an amazing and intelligent individual whose success is tied to his hard work and determination," Schwab said of Franchi. "Having to navigate the chemical engineering course work is already challenging — but Jason also had to deal with the pandemic. However, he persevered."
Franchi's DTE role is a change of pace from his days in the Marines, where he served as a military police officer and joined the Special Reaction Team (civilian SWAT team) as a marksman.
Franchi thinks back to the day he received his U-M bachelor's degree with gratitude.
"I was a little concerned that obtaining my chemical engineering degree was not going to live up to the hype that I had created in my head for that moment, but I was wrong," he said. "Becoming a chemical engineer after the years of grinding away at school was as glorious of a moment as I could have ever imagined."
MATH, SCIENCES & ENGINEERING TECHNOLOGY AT WCC

Learn more about the associate degrees, certificates, transfer agreements and pathways that full under the Math, Science and Engineering Technology Division, as well as the outlook for STEM-related careers:
Online: wccnet.edu/mathscience
Call: 734-973-3722
---
This story appears in the Summer 2023 edition of Launch magazine. See complete issue.
Tags: 2023, Launch, Mathematics Science and Engineering Technology, Summer 2023, Transfer, Veterans, What Do You Call