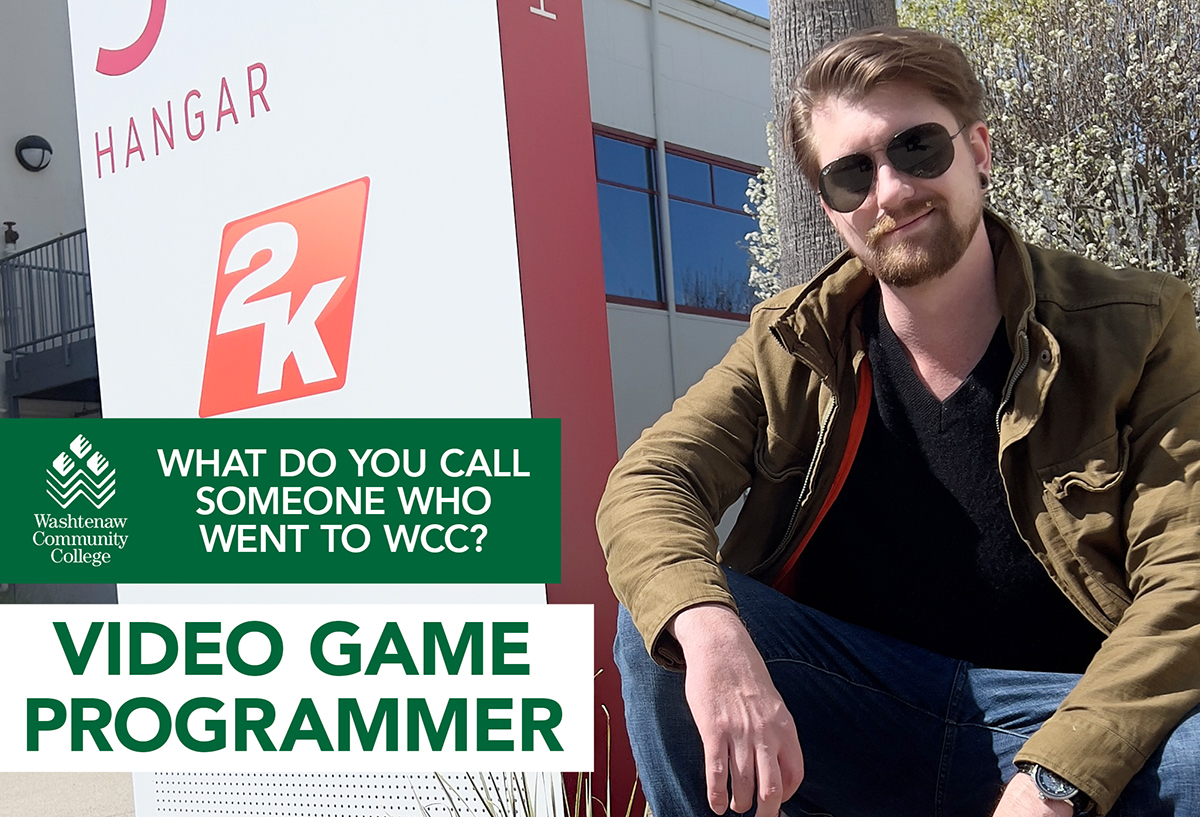 Tom Adams wanted something special to go alongside the animation credits he earned during his time at Washtenaw Community College — a portfolio that looked like no one else's. So he made it happen.
As a WCC computer programming student in 2010, Adams worked hard both in and outside of class to make sure he could snag a good job after college.
Originally from Ann Arbor and now living his dream in California programming video games, Adams says, "I'd say I've made it."
"Even though you're in school you have to build up your portfolio so it doesn't look like everyone else's," says Adams. He started programming video games in his own time, eventually releasing indie games for feedback.
Adams, now 32, graduated with a certificate in computer programming from WCC in 2012 and went on to earn a bachelor's degree in digital animation from Ferris State University in 2016.
WCC students interested in video game creation as a career path now have the option to complete the 3D Animation in Arts associate degree program, which features an Animation for Game Arts concentration.
Adams worked for several years at Grand Rapids firms, programming to create 3D office layout plans, boats and even Men's Warehouse suits.
In his own studio, though, Adams was able to do both the artwork and the programming to create gaming videos. In 2018, he released a virtual reality game called "Unhallowed: The Cabin."
"I worked on it for a couple of years, and it was really exciting," he said. "It was a big learning experience and helped me all the way down the line."
With his sights still set on the gaming industry, Adams eventually landed his dream job with Virtual Concepts Entertainment in California, the company that creates the popular NBA 2K, NFL 2K and WWE 2K games.
"WCC was for sure the foundation of my knowledge for what I do now," Adams says. "The classes and the teachers were fantastic and inspired me for the rest of my career. The environment is conducive to learning."
COMPUTER SCIENCE & INFORMATION TECHNOLOGY AT WCC
Learn more about computer programming and other pathways and academic programs that fall under the Computer Science and Information Technology Department:
Online: wccnet.edu/computertech
Call: 734-677-5431
Email: [email protected]
---
This story appears in the Summer 2023 edition of Launch magazine. See complete issue.
Tags: 2023, 3D Animation, Computer Programming, Launch, Student Success, Summer 2023, What Do You Call