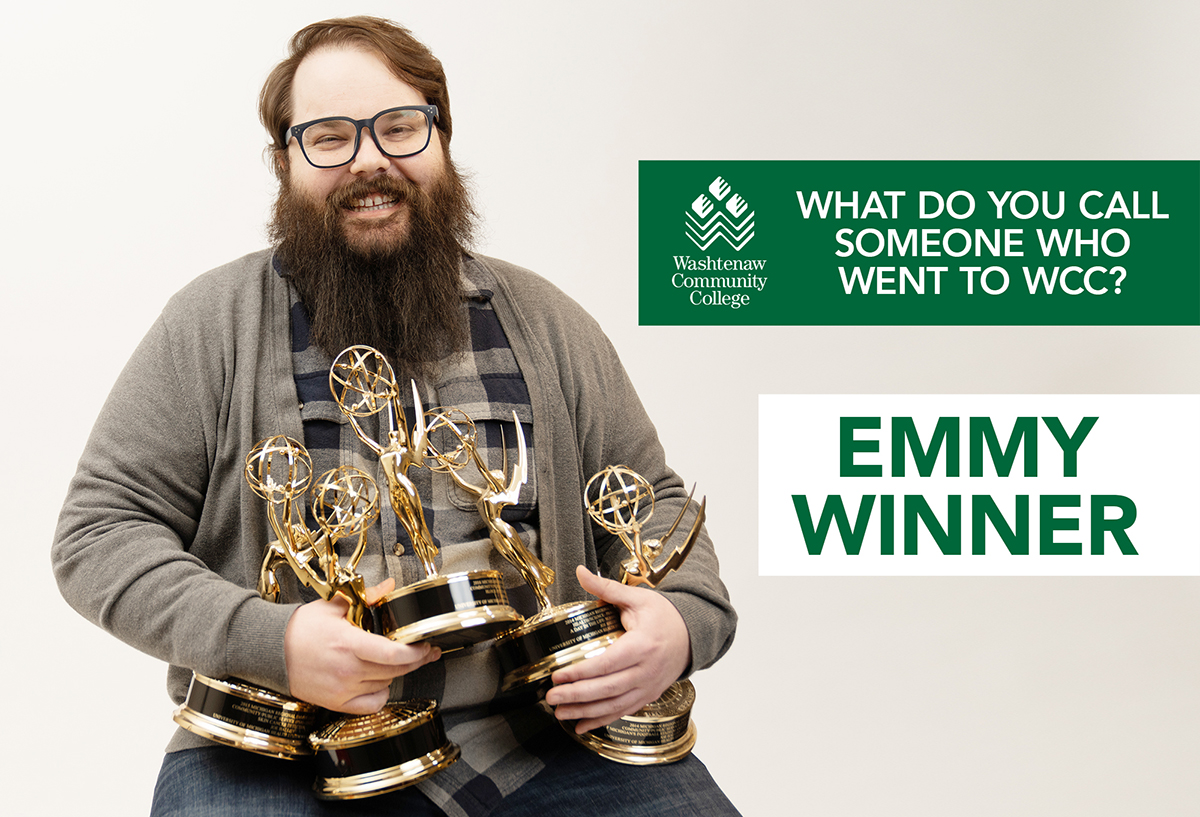 It was 2007, and Joe Hallisy was all over the place.
"I hadn't done well at a four-year university, I had switched to become a history major and I thought I might want to own a pizza shop," he says.
One day, it dawned on him that what he really wanted was to pursue a career where he could use his gifts and make a difference for others.
"I loved movies. I loved storytelling, but I found out in high school that writing wasn't for me," he says. "Video production, that was a storytelling medium that could work for me."
Fast forward about 15 years: Now 36 and a married father of three, Hallisy leads the Michigan Medicine Creative Services team at University of Michigan Health.
He's earned eight Michigan Regional Emmy awards for his work.
When Hallisy first enrolled at WCC, he thought he'd take some general education credits and transfer. The college was just starting to build a Digital Video Production program, and Hallisy decided to try an introductory course.
"I loved it. Unlike at a big university, they handed me a camera the first day and let me start learning right along with the theory that was being taught," he says.
Hallisy appreciated the approach to teaching the technical side of video production as well as the human and emotional side of capturing video. He puts those skills to use in his role as creative manager, collaborating with patients, faculty, hospital and university staff, executives, his own team and more.
Thirteen years ago while at WCC, Hallisy met a Michigan Medicine staff member who told him the hospital system was starting a video production team and asked him to join. He's been there since.
Eventually, Hallisy transferred to Eastern Michigan University, where he earned a bachelor's degree in Electronic Media. He is currently enrolled in a master's program for Arts Administration through Drexel University in Philadelphia.
"The WCC faculty had a lot of hands-on experience in the field and prepared me to jump in right away. There were people working who would come and teach and bring footage from real video they needed edited. That was amazing," Hallisy says. "Usually you're filming and editing video of your buddies, so having brand new footage was awesome."
Now, it's Hallisy who is eager to inspire others. He's hired several interns and staff from WCC, noting that when he sees Washtenaw on a resume, "I definitely take notice."
---
This story appears in the Summer 2023 edition of Launch magazine. See complete issue.
Tags: Alumni Profile, Career, Digital Media Arts, Digital Video Production, Launch, Student Success, Summer 2023, Video Production, What Do You Call