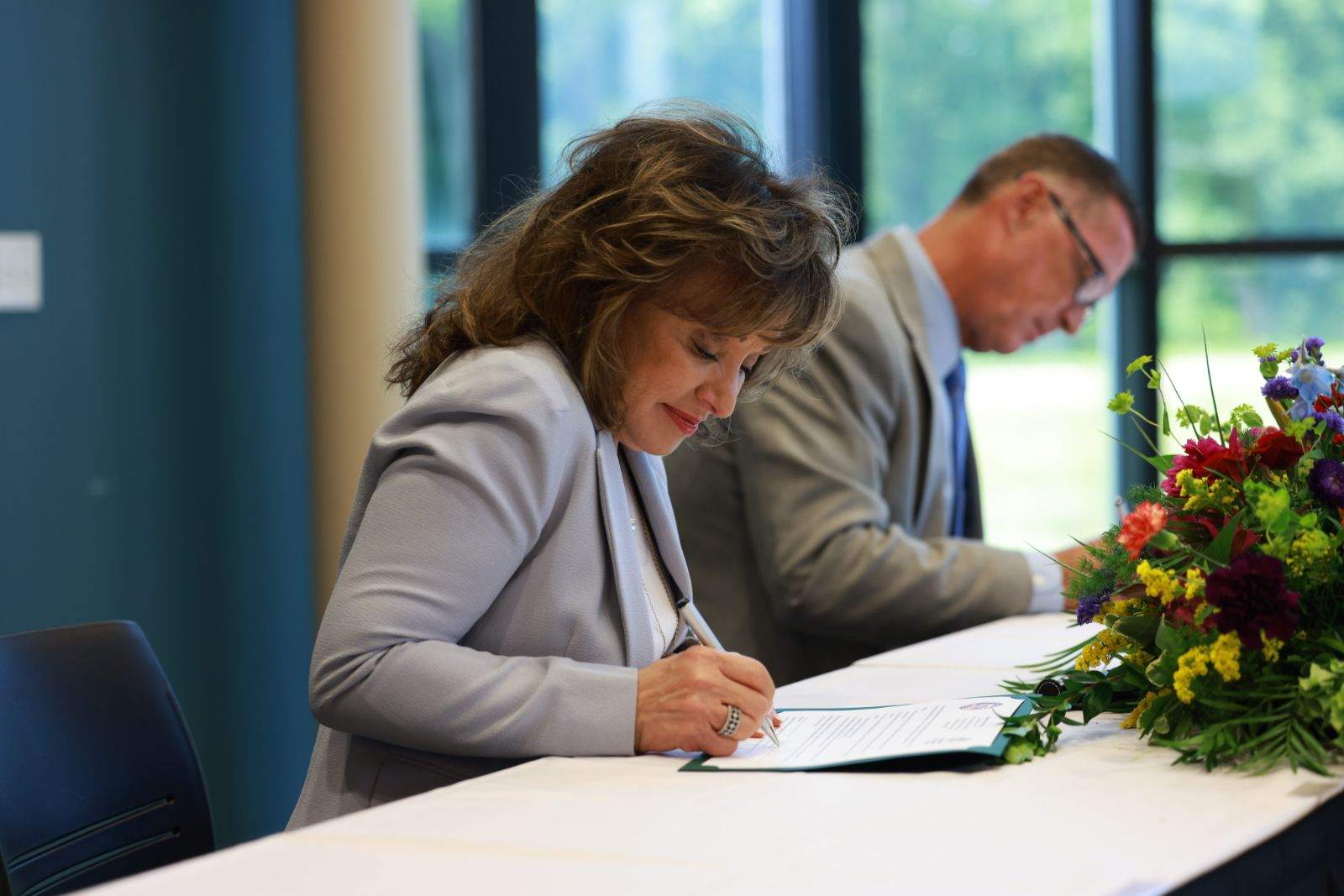 Washtenaw Community College and the International Association of Bridge, Structural, Ornamental and Reinforcing Iron Workers have extended their partnership to educate and train skilled tradespeople to meet workforce needs.
RELATED: Photo Gallery
The contract extension through 2030 was signed today by WCC President Dr. Rose B. Bellanca and Ironworkers Executive Director of Apprenticeship and Training Lee Worley. The signing occurred during the 39th annual Ironworker Instructor Training Program week, as the college hosts approximately 800 ironworkers and union representatives.
The Ironworkers moved their annual instructor training to WCC's campus in 2010 after joining hands in 2009. Since then, approximately 8,500 Ironworkers have trained at Washtenaw.
"There is no greater legacy than teaching someone a valuable skill, and we are very proud to partner with the Ironworkers to bring the latest in training and safety," Bellanca said. "Our world's facilities are built on the expertise of Ironworkers. We are grateful for the essential work they do every day, serving communities near and far and keeping us safe in our homes, at our work and as we travel on our roads and bridges."
The "Train the Trainer" program brings instructors from throughout North America to WCC for cutting-edge skills and procedures, hands-on safety and classroom training. Instructors then teach new techniques and knowledge to ironworker apprentices back at their locals.
"The WCC administrators, instructors and community members have always welcomed us with open arms. The facility is outstanding and accommodates the needs of our technical training. Year after year, we are increasingly impressed with the consistency of our care. For this reason, without hesitation, we will extend our contract to ensure the ironworker community continues to receive the best training in the industry," Worley said.
Ironworkers take courses ranging from architectural and ornamental techniques to professional development; from seismic requirements for structural steel welding to business manager training; from installing metal roof systems to computer technology.
Also, as part of the agreement, ironworkers have the opportunity to take WCC academic classes online year-round to earn an associate degree in construction supervision, with many credits for the degree granted for work and apprenticeship experience.
Tags: 2030, Contract, Ironworkers, Train the Trainer, Union