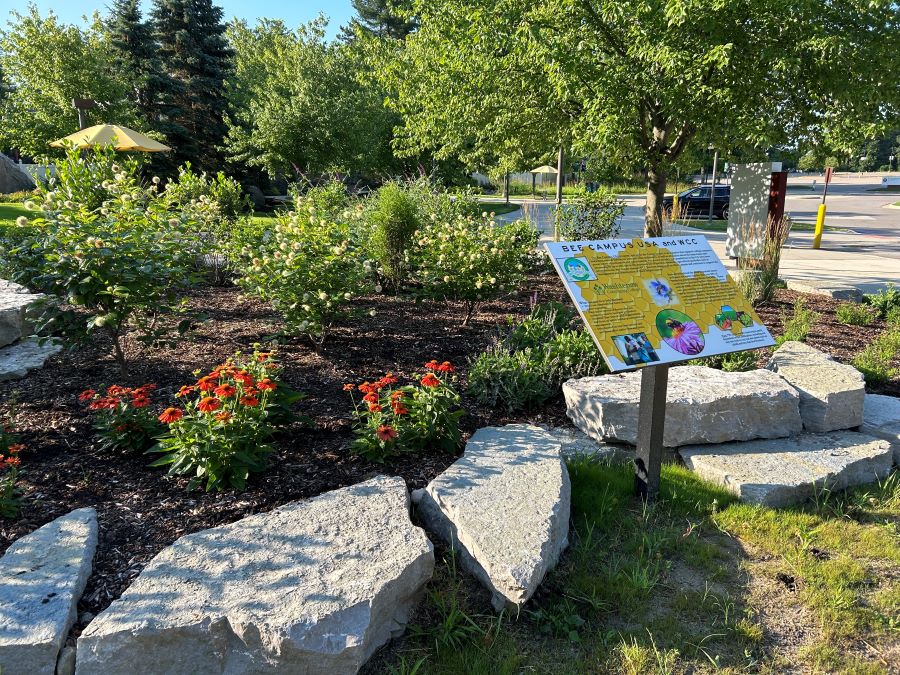 For the fourth consecutive year, Washtenaw Community College has been recognized as a Bee Campus USA affiliate by The Xerces Society for enhancing pollinator habitats, pesticide reduction and educating the community.
This year, WCC Bee Campus USA Committee introduces a new Pollinator Garden, located between the Crane Liberal Arts & Sciences and Gunder Myran buildings on campus. The garden was designed to attract all pollinators, including bees, butterflies, birds and more.
The landscaping includes Aronia melanocarpa (black), Hybiscus syriacus 'Red Heart', Hydrangea paniculata 'Little Quickfire, Cephalanthus occidentalis 'fiber optics', Buddleia 'Black Knight', Sedum 'Autumn Fire' (stonecrop), Rhamnus 'Fine line', Calamagrostis 'Overdam', Picea omorika (Serbian Spruce), Salvia 'May Night', Echinacea 'Sombrero Adobe Orange', Asclepias tuberosa (butterfly weed).
Additional information about the initiative can be found at Washtenaw Community College Bee Campus USA.
The WCC Bee Campus USA Committee includes co-chairs Sandy McCarthy and Holly Herman, Jeremy Podolak, Emily Thompson, Kimberly Hill-Edwards, Dave Wooten, Lisa Babe, and Monica Milla.
Tags: Bee Campus, Bee Campus USA, Bees, Pollinators, WCC