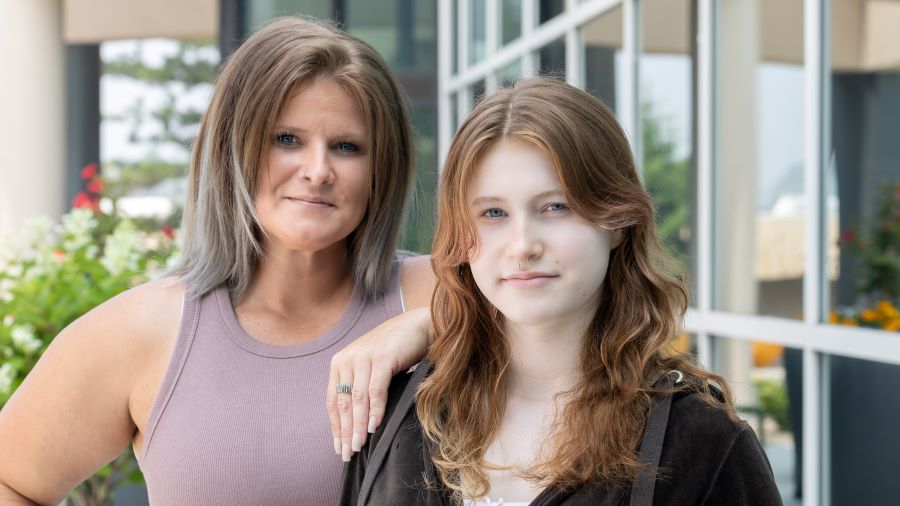 As one half of a rare parent-child duo at Washtenaw Community College, Stephanie Suchala cried when she got the news last summer that her 13-year-old daughter, Dylan, would be joining her as a WCC student.
"I was so proud of her; I couldn't even talk," says Stephanie, who had just returned to WCC to pursue a General Studies associate degree to bolster her landscaping business.
Entering her freshman year at Ann Arbor Pioneer High School, Dylan spent the last half of her middle school year as a part-time college student, taking two classes at WCC on top of her regular classes.
After attending WCC together for the past year, the two are blazing a trail for other families who might pursue a college education together.
Stephanie was operating a landscaping business in 2019 when she first enrolled in WCC's Paralegal Studies program. After a year and a half, she transferred to a four-year university, but decided it wasn't the right fit. She decided to take a year off.
It wasn't until a friend told her about the Small Business Development Center (SBDC) at WCC that she re-enrolled in welding classes to learn how to create ornamental garden art to add more value to her business. Now she's a full-fledged student again – already with more than 100 college credits earned.
A 10-week SBDC program helped Suchala shift her business to an LLC and put some of her paralegal skills to work as she navigated the legalities of owning and running a business.
"I just really like to learn a lot," Stephanie says. "And this time, I'm trying to shape my bachelor's degree toward what I'm doing in my business."
It's safe to say that Dylan also loves to learn. One of her first WCC courses was a five-credit Japanese language course. And while she appreciates that she's one half of a rare parent-child duo at WCC, she's shy about it. "I think it's cool, but I don't tell a lot of people," she says.
While she is dual-enrolled with a declared major of Computer Science, Dylan is a full-time ninth grader, simultaneously taking a complete load of classes at Pioneer and participating in typical high school activities alongside her peers.
Besides her academic pursuits, Dylan has a heart for adventure. She is currently in the Civil Air Patrol, taking private pilot lessons, and has traveled to 48 states and one territory. Ultimately, she hopes to earn a master's degree, travel abroad to teach English and someday train as a NASA astronaut.
Stephanie is hoping to impress upon her daughter that there's value in experience. College is not always about the grades– but also about learning, growing and digging in, she emphasizes.
"Being glued to TikTok and Instagram will not get her where she wants to go," Stephanie says. "She has to put in the hard work. Life is not easy, so it's about giving her tools and encouragement. I'm asking her what she's learning. If she falls, I'm assuring her it's not failure but, rather, an opportunity to get back up and try again."
---
This story appears in the Fall 2023 edition of Launch magazine. See complete issue.
Tags: Computer Science, Fall 2023, Launch, SBDC, Small Business Development Center, Student Success