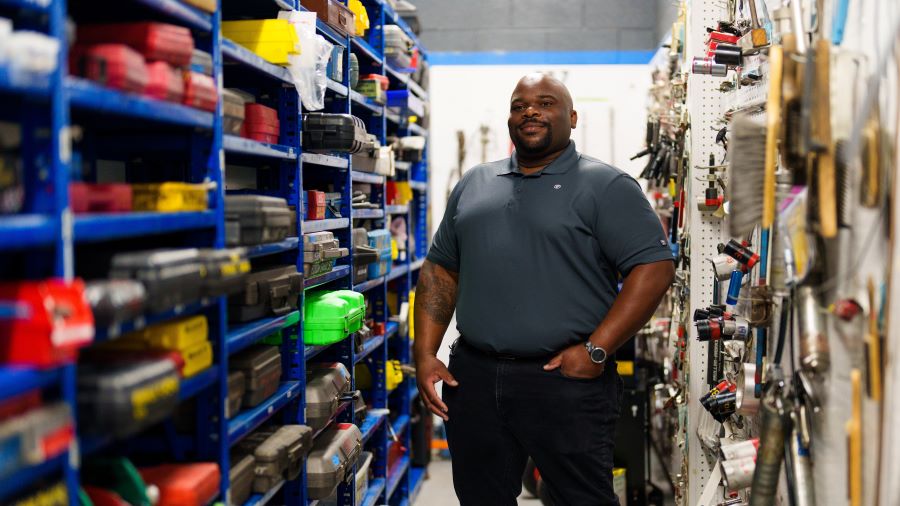 When Zach Van Buren enrolled at Washtenaw Community College in 2016, he wasn't sure where his career path would ultimately take him. But his pursuit of just one question helped to shape his trajectory. That is, how could he simply walk away from a rather nasty car accident he'd recently experienced?
"I really didn't have much vehicle knowledge. My background was in security," he said. "The fact that I walked away from a severe accident made me want to pursue vehicle safety and understand why I didn't die."
Van Buren's deep desire to understand and be a part of helping to protect other drivers and passengers has paved the road to a fulfilling career with Toyota Motor North America.
As a senior automotive technician in Toyota's Integrated Vehicles Division, Van Buren evaluates, tests and assists in the development of advanced driver assistance systems. Specifically, his work focuses on cameras and lighting systems.
"At Toyota, safety has always been number one – not just for the people in our vehicles, but also the safety of those who occupy the road with us as well," he says.
While a WCC student earning an associate degree in Powertrain Development, Van Buren interned with the University of Michigan Transportation Research Institute (UMTRI), where he worked in the Ann Arbor Connected Vehicle Test Environment, helping vehicles communicate with each other and everything around them.
That experience led to a job at May Mobility, an Ann Arbor start-up in the autonomous vehicle space, and, eventually, to his current dream job with Toyota.
Van Buren is also finishing up his engineering degree at the University of Michigan-Dearborn.
Van Buren is grateful for the opportunities WCC gave him through the college's educational programs, industry contacts and guidance from mentors like Al Lecz, the director of WCC's Advanced Transportation Center and a retired Ford engineer.
"There are more than just a few people I can name. Al is who I want to be like when I grow up. He's the perfect example of being excited and staying up on technology, and he's a lifelong learner," Van Buren says.
Though he's busy with his career at Toyota and finishing up his bachelor's degree, Van Buren continues to give back to WCC and its students, including serving as a Toyota mentor in the new Federation of Advanced Manufacturing Education (FAME) program with WCC.
FAME offers a premier work/study program, providing students with an opportunity to earn an associate degree in Mechatronics and certification as an Advanced Manufacturing Operation Technician.
Students attend classes two days a week at WCC and work at least 24 hours a week for a sponsoring employer, gaining valuable experience and a competitive wage.
---
This story appears in the Fall 2023 edition of Launch magazine. See complete issue.
Tags: FAME, Fall 2023, Launch, Student Success