April 26, 2020 WCC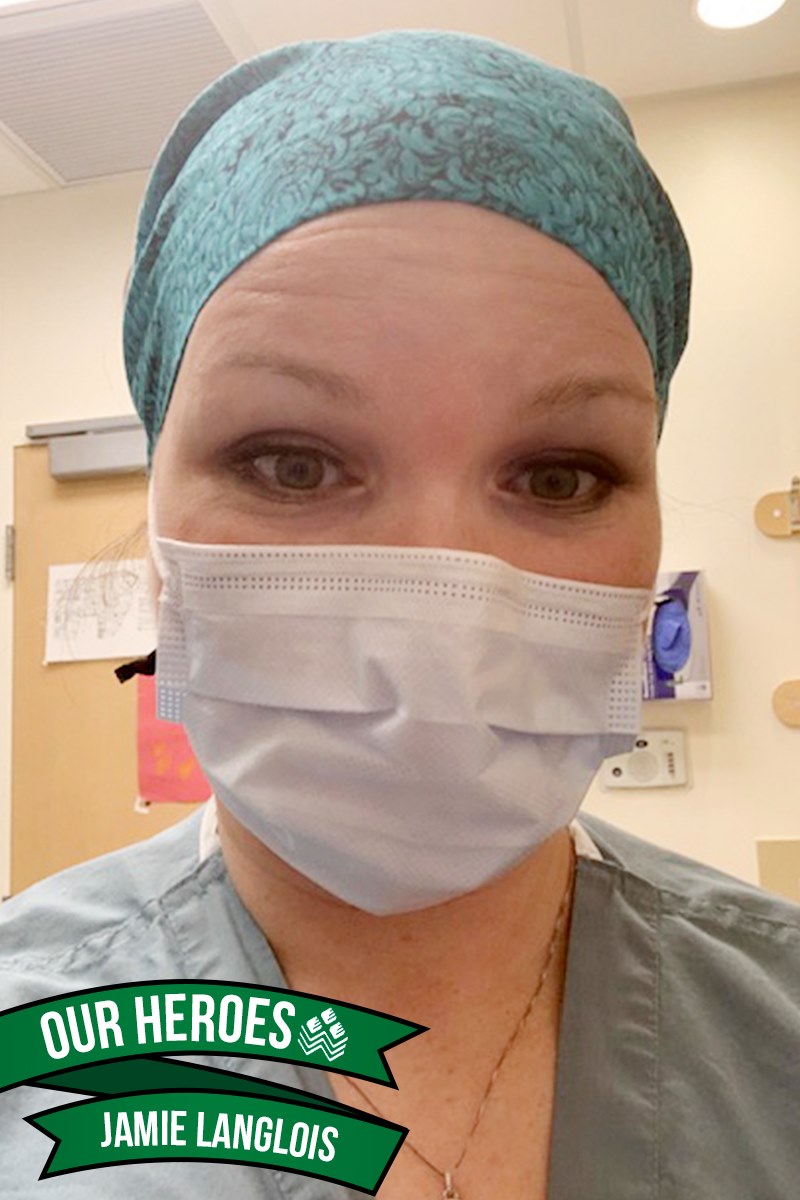 Jamie Langlois
Occupation/Title: ICU RN
Place of Work: Michigan Medicine
WCC part-time nursing faculty
How did your job change?
I'm a Pediatric ICU nurse. I care for critically ill patients from infants to 20-somethings. PI care for patients requiring critical care for various reasons: trauma, sepsis, orthopedic surgery, hematology/oncology, neuro surgery, transplant patients ... really anything requiring critical care. I work as part of a team — including Physicians, respiratory therapists, techs, Child Life, PT/OT — to care for these patients and their families. Since COVID, I volunteered for reassignment to our Regional Infectious Disease Containment Unit (COVID unit) caring for COVID-positive adults that require critical care. I started my nursing career caring for adults and thankfully the pediatric population isn't seeing a lot of patients so I was able to be reassigned.
How has your life changed?
As a critical care nurse, I have experienced the loss of life. I have seen trauma and unimaginable tragedy throughout my career. This experience has been something no one could ever be prepared for. The number of deaths is emotionally challenging but the fact that these patients are alone is profoundly sad. Many of us are having trouble sleeping and it's hard because everyone (healthcare or not) is having a hard time right now. We can't be with our families to comfort them or be comforted.
What's the hardest thing to deal with?
The most difficult thing to deal with has been watching people die alone. By far. And we aren't watching, we are there, we hold their hands but their families aren't there. We are worried about getting sick and we are worried about our families.
One thing the public should know about healthcare workers?
At work, we are focused on trying to get people better. It is important to know that as emotionally and physically difficult as this work is, the skill, compassion, and dedication of every single person I work with is what motivates me to keep going. We all try to lift eachother up and we celebrate each victory. When a patient goes to the floor or is able to breathe without a ventilator, it is something to celebrate and that keeps us going, too.
One thing the public should know about COVID-19?
I am glad the general public doesn't have to see what I see every day, but I do want people to take this seriously. I want people to understand that the sacrifices we are making now are working.
Scroll through more Our Heroes photos below. Read more Q&As with Our Heroes at wccent.edu/news/heroes.
We invite all WCC students and alumni working in healthcare, as a first responder or in other essential work roles to participate in "Our Heroes" by submitting a photograph, name, place of work, WCC program and year of graduation (or expected graduation) to WCC Director of Communications [email protected].