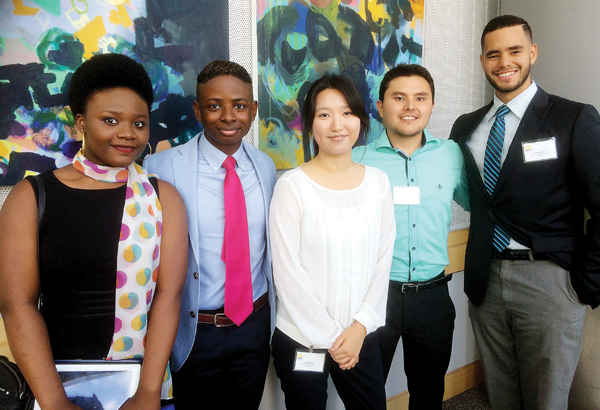 For five Washtenaw Community College students, there wasn't much down time this summer.
Taiwo Adeniyi, Angel Izaguirre, Nicole Lang, Davon Shackleford, and Ederson Tobisawa spent most of their summer participating in the University of Michigan (UM) Undergraduate Research Opportunity Program (UROP).
With opportunities available in all fields, including arts and humanities and engineering, this 10-week paid program is designed for community college students who plan to transfer to UM–Ann Arbor. According to UM's website, the program provides students with the opportunity to complete individual research projects, learn firsthand about what it's like to be an academic researcher, explore academic and postgraduate careers, all while developing mentorships with faculty and staff and friendships with their peers.
"The best thing about the program is that we worked directly with staff and became more familiar with UM's campus because UM can be very intimidating if you're not already there," said Shackleford, a WCC sophomore, whose major is general studies. "It provided a bridge to transfer and it made me feel more comfortable and more at ease to apply. In fact, I've already started my application."
The program concluded with poster presentations at a symposium, where students explained their lab, research and findings to a group of judges. One of the many highlights included the moment when Izaguirre, Shackleford and Tobisawa walked away with blue ribbons.
"It was very thrilling because we spent a lot of time researching," Shackleford said. "It showed that I had passion for the research I was a part of, and it was just a rewarding feeling to know that you are among the best."
Kristin Good, WCC's dean of the Math, Science and Engineering Technology division and acting dean of the Humanities, Social and Behavioral Sciences division, said the symposium showcased the great foundation that WCC provides for its students while making them more competitive when it's time to transfer to four-year universities.
"This was such an amazing opportunity for our students to be able to do some real content research in areas they might be interested in studying," she said. "They get great hands-on experience, they get to meet and work with people who are highly regarded in their respective fields, and they get to use state-of-the-art technology and equipment. Overall, it's a great program."
Recent WCC graduate and economics major Taiwo Adeniyi, who is set to transfer to UM in September, had already been accepted when UROP began, but she said that learning how to critically analyze research papers will come in handy when examining scientific articles at UM. "It takes a lot of patience and commitment to carry out strong research," she said. "Being a part of a research project is one of the best ways to experience firsthand knowledge on a particular subject."
Shackleford offered some words of advice to future UROP participants: "Make the most of it and once you get there, take advantage of every opportunity and of the friendships and the mentorships. Be a sponge and take it all in."
UROP launched back in 1988 and since then, more than 1,300 students and 800 faculty researchers have participated, according to UM's website. The program is open to any student attending a Michigan community college.
For more information about or how to apply for UROP, visit www.lsa.umich.edu/urop.