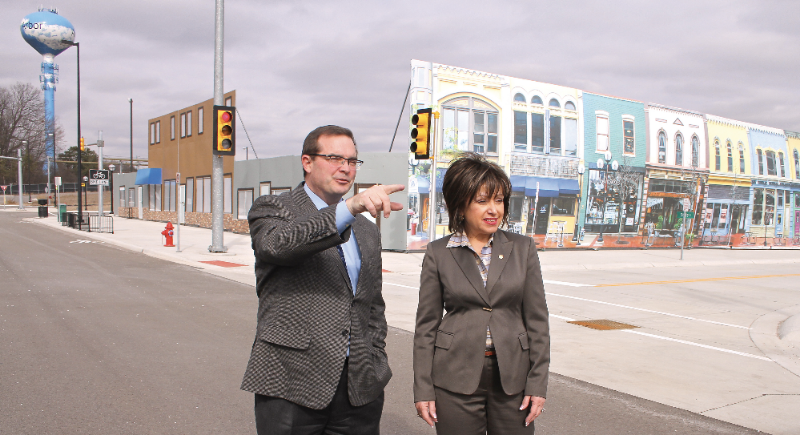 Connecting WCC students to the future of transportation
Following a recent visit to the University of Michigan Transportation Research Institute (UMTRI), WCC President Dr. Rose B. Bellanca is encouraging all Washtenaw Community College students, faculty, staff and their families to get involved in the next phase of connected vehicle research.
Dr. Bellanca met with UMTRI Director Dr. James R. Sayer, who explained the different types of technology needed to equip cars to participate in the connected vehicle research study. They also discussed the value of a continued partnership between WCC and UMTRI by involving WCC students in the study and continuing to expand the WCC curricula to train students for jobs that will require an understanding of how advanced technologies are radically reshaping the transportation landscape. Currently, several WCC fleet vehicles are equipped with the UMTRI technology.
Through its Advanced Transportation Center, WCC is preparing students with the skills needed to acquire jobs in the field.
"We want to be sure WCC students have access to the sophisticated technology inherent in the advanced transportation systems industries, an ambitious and rigorous curricula, and options for a continuum of learning designed to grow over the next several decades," said Dr. Bellanca. "Once a student completes a program within the Center, they will be job-ready and able to assimilate immediately into the workforce and support the state's largest industry – transportation."
"There is a significant need to have individuals who are trained in connected vehicle technology," said Dr. Sayer. "In order to meet the need, we must have professionals who are familiar with it; who can equip vehicles, maintain them and who understand the importance of this technology on the future of transportation."
Dr. Bellanca toured the Ann Arbor Connected Vehicle Test Environment (AACVTE) as well as Mcity, a 32-acre connected and automated vehicle test facility located on the U-M North Campus, about three miles from WCC's main campus.
UMTRI is looking for drivers and vehicles to participate in its research. For more information or to sign up, email [email protected]
By Susan Ferraro, APR
Director of Media Relations