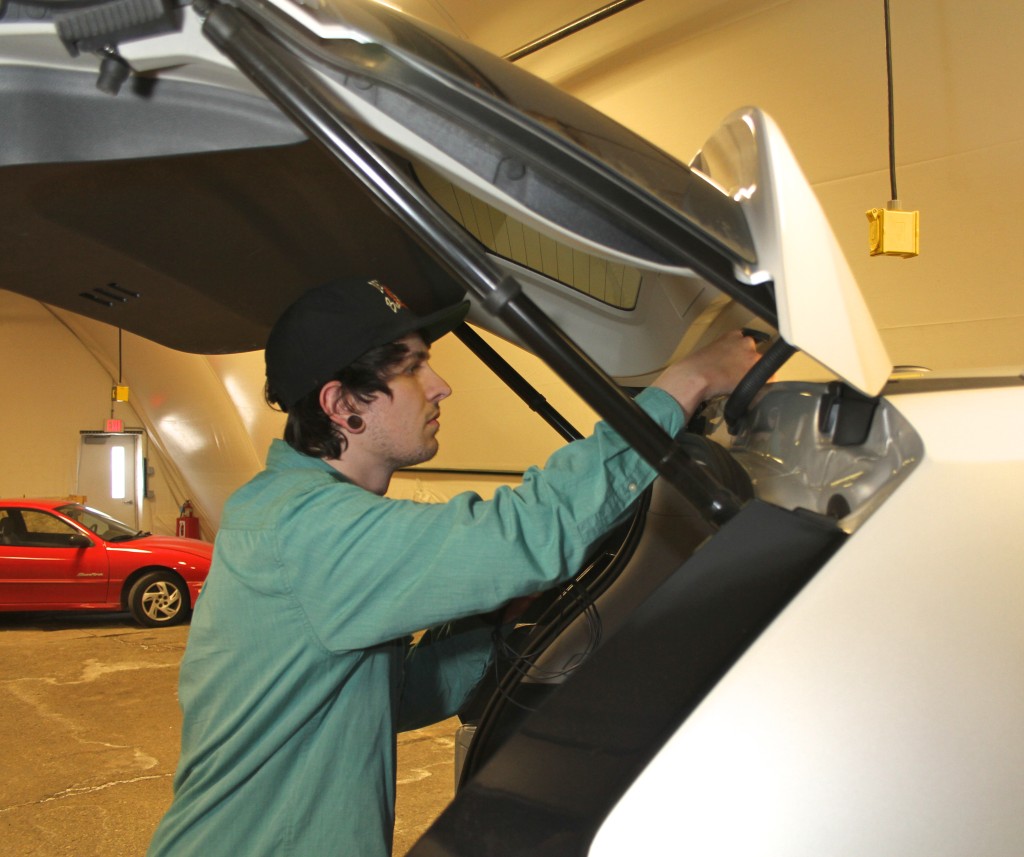 Washtenaw Community College student Calvin Tuttle understands the value of connectivity.
As a technician for connected vehicle research study at the University of Michigan Transportation Institute (UMTRI), Tuttle spends his days installing Dedicated Short Range Communications (DSRC) technology in automobiles. Tuttle learned first-hand how the skills he acquired as a technician, combined with the information he learned about autonomous and connected vehicles, have served as a springboard to connect him to his goal of a degree in computer programming.
Tuttle's connections to WCC came from his parents, who both attended the college as they prepared for their professions.
"I've heard some people say that community colleges aren't as good as a four-year university, but you can get the same or better quality of education at a community college like WCC," said Tuttle. "Some of my best teachers have been right here. And I've been able to learn from them at an affordable price point. The money I saved attending WCC is allowing me to further my education at Eastern Michigan University."
His exposure to UMTRI's connected vehicle study has given Tuttle great insight into the value of driverless cars that communicate with each other.
"We all should be proud that the future of transportation is being studied right here in Ann Arbor," said Tuttle.
"I'm honored to be a part of the connected vehicle study. The data being collected will help us better understand safety and environmental issues – ensuring accident prevention as well as a respect for the environment. I encourage everyone to participate in the study."
Tuttle hopes to find work as an application designer after he graduates.
"Computers were always my thing," he said. "I'd like to develop an app that moves the data off the vehicle awareness device (VAD) – allowing for quick and easy access to analyze and interpret the numbers."
Rick Byrd, Electronics Tech Intermediate for the Ann Arbor Connected Vehicle Test Environment at UMTRI, serves as Tuttle's supervisor. Byrd has been instrumental in giving Tuttle the knowledge to be able to install the equipment and also instructed him about the value of diagnosing and repairing equipment. "Tuttle has been great to work with as we learn together about the rapidly advancing world of connected vehicle technology," said Byrd. "The connected vehicle study has given us a good opportunity to really begin to understand the technology involved. This knowledge is vital as the as the field of connected vehicles is growing immensely."
"It's a real community at WCC," says Tuttle. "My experiences on the WCC campus have connected me to people, places and knowledge that have enhanced my life and will shape my future. It doesn't get much better than that."
UMTRI is looking for drivers and vehicles to participate in its research. For information or to sign up, email [email protected].
By Susan Ferraro, APR
Director of Public Relations