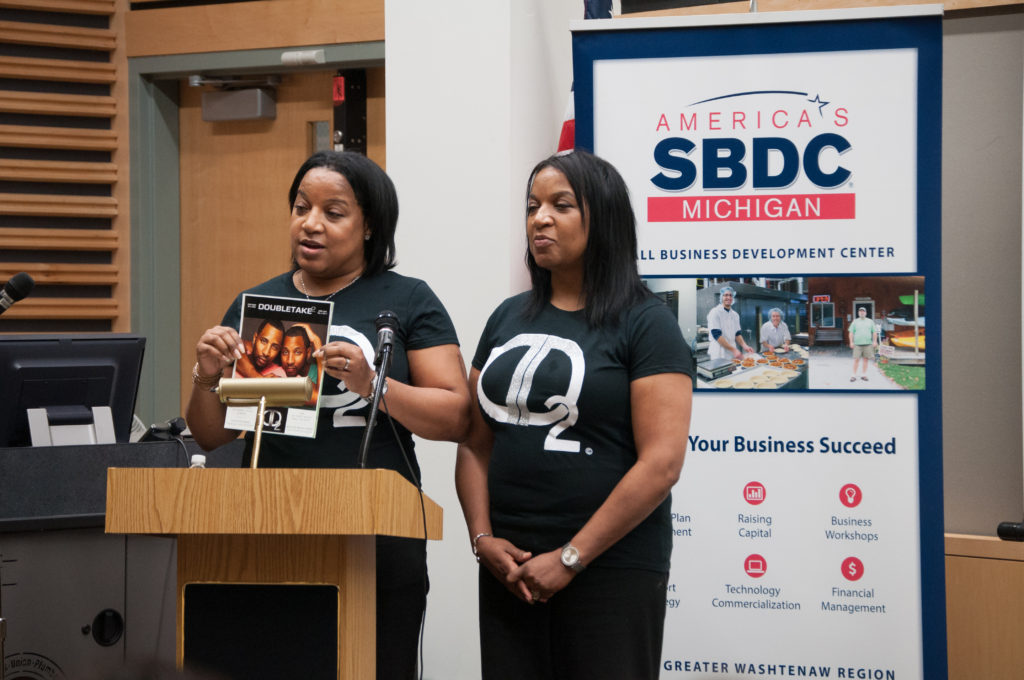 The stakes were high at the Entrepreneurship Center's first "[email protected]" competition at Washtenaw Community College.
Though the competition was intense, Dr. Kimberly M. Hurns, dean of Business and Computer Technologies at WCC, injected some humor into the event.
"How many of you have seen 'Shark Tank'?" she asked the audience—a nice mix of WCC and non-WCC folks. "This is not 'Shark Tank.' We want this to be fun and entertaining, as well as a learning experience for our presenters."
"Shark Tank," for those who don't know, is a reality television series on ABC, in which aspiring and existing entrepreneurs pitch their business ideas to a panel of sometimes-brutal investors, a.k.a. "sharks." After listening to the pitches, they then choose whether to make the investment.
And so, after months of practice and preparation, the moment came for eight entrepreneurs to pitch their business ideas to four judges for the chance to win cash prizes that ranged from $250 to $1,500.
WCC alum Aaron Richison, who founded Rich Decisions Professional Detailing in Ann Arbor, emceed the event.
There were two categories: Start/Grow, for those still in the idea phase and for those in business for six months or less; and Grow, for established businesses with several clients.
All pitches were followed by a three-minute Q&A session during which judges challenged presenters to further think about their company's mission and audience, marketing strategy, and the next steps needed to grow their businesses.
"Each pitch was filled with passion, hard work and creativity. I was extremely impressed that every single business concept was on the right path to successfully hit the marketplace or gain market share," said Peter Leshkevich, director of Student Activities and part-time WCC business instructor, who also served as a judge.
"The participants in the com-petition should be extremely proud of their work and keep moving forward to turn their dreams into reality."
Bernadette McClair, WCC student records transcript and evaluation specialist, was one of the evening's presenters. McClair, who is an identical twin, pitched Double Take 2 LLC — an international magazine dedicated to twins and those who've lost a twin — with her sister Antoinette by her side.
"I'd recommend the competition for the process alone," she said. "What's involved before the pitch is just as important. We were required to attend two workshops and meet with the counselors from the (Michigan) Small Business Development Center. Watching the other presenters and seeing the steps they've taken to grow their business was an eye-opener as well."
Winners were: Matt Beadle from Moonlight Games, first place for Start & Build category; Carol Ullmann from Washtenaw Wool Company, runner-up for Start & Build category and Audience Choice Award winner; Karen Driggs from Sleepy Cricket Healthy Vending, first place for Grow category; and Priya Dass from Nirmal for Disruptive Eating, runner-up for Grow category.
Shortly before the winners were announced, past Entrepreneurship Center clients shared their successes with the audience in a pass-the-mic setting.
Dr. Hurns also announced that another pitch competition is planned for next year and that an Entrepreneur Club is in the works at WCC.
"Our presenters came through and really shined. They did the homework and it showed, and the judges seemed genuinely interested in their pitches," said Kristin Gapske, director of the Entrepreneurship Center.
"To see the presenters start off with an idea and then boil it down to four or five minutes was very rewarding. We can't wait to do it again next year!"
By Princess Gabbara
Writer, Public Relations