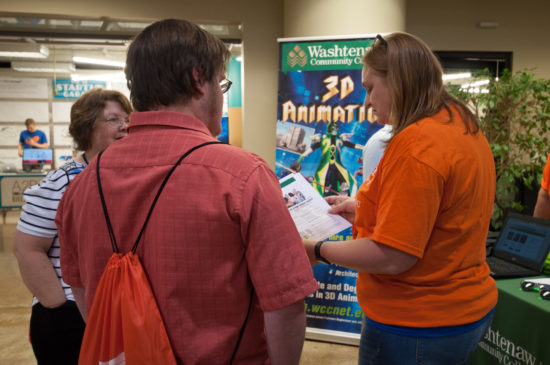 On a beautiful Friday afternoon, downtown Ann Arbor was abuzz with curiosity over all-things tech.
Ann Arbor SPARK, Ann Arbor's engine for economic development, hosted the 2nd annual A2 Tech Trek, an open house of tech companies and incubators.
"The goal is to inspire students to become future entrepreneurs, job seekers to find new opportunities and others in the community to support the entrepreneurial community," states the Ann Arbor SPARK event website. "These are the businesses that are driving the economy forward in the Ann Arbor region."
Washtenaw Community College's Computer Information Technology Department co-sponsored the event and was onsite to answer questions and provide program information about its various tech certificates and degrees.
"Participating in Tech Trek is extremely important for WCC," said Dr. Kimberly Hurns, Dean of Business and Computer Technologies at WCC, "As Ann Arbor grows as a tech hub, we are a key part of the local industry as a pipeline for talent and retraining opportunities for IT professionals."
More than 1,600 people signed up to visit more than 60 tech companies, incubators, and institutions, all within walking-distance in downtown Ann Arbor.
WCC representatives answered questions and provided program information about its various tech certificates and degrees.
Prospective students and those seeking employment at WCC stopped by to learn about their options. Ann Arbor youth were invited to don a graduation cap and gown and "try on being a WCC grad."
With many programs in Information Technology and Digital Arts, WCC offers a broad range of classes from 3D Animation and film-making to Java and web database programming.
For a complete list of programs, visit http://tech.wccnet.edu.
By Jessica Bibbee
Intern, Public Relations