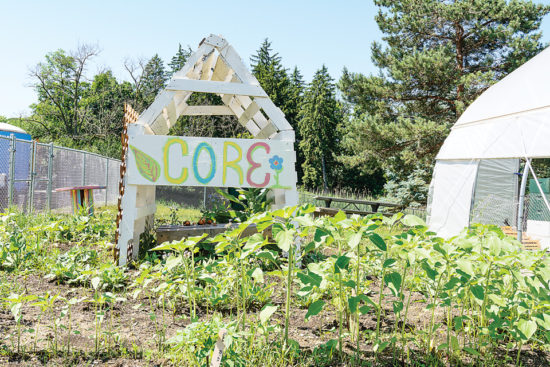 WCC's 'Hoop House CORE Garden' grows healthy food for campus and community
If there is a program out there that truly serves not just the college community but the community at large – it is producing good, healthy food.
Yes, food production, but production in the most holistic of ways. In 2014, WCC's "Hoop House CORE Garden" [a greenhouse garden] was built and produced a bumper crop of seven varieties of tomatoes, collards, kale, green beans, squash, chard, beets, sweet peas, lettuce, arugula and a variety of herbs. Not bad for the inaugural planting. More than 400 pounds of produce was distributed during the 2014-15 academic year.
Come harvest time, these tasty and healthy vegetables and herbs made their way to students in the college's Culinary Arts department for their student-run Garrett's restaurant. But there was more than enough to also provide these healthy foods for the clients of the WCC Harriet Street Extension Center in Ypsilanti.
"The Hoop House CORE Garden's produce contribution makes a significant difference in the lives of our customers who don't have access to fresh herbs and vegetables," said Madelyne Bernard-Diab, employment services manager at the Harriet Street Center.
The Center offers credit and non-credit classes in areas such as basic skills building, GED prep and basic computer classes.
WCC's "Hoop House CORE Garden" found its origins with Kimberly Groce, a WCC Division counselor, who, in an earlier interview with ON THE RECORD, said she looked around campus and noticed an unsettling sight. Most students were sitting alone connecting with the outside world via their smart phones, tablets or laptops. She observed very little interaction among the students.
It struck Groce that perhaps all the new technology, despite its wondrous advantages, might have as an unintentional negative effect – and that is, isolating students. She began to think about a type of activity that would bring students together and create an environment where they would put their technology down and do something physical that would get their bodies moving and minds and souls nourished – while fueling her passion for gardening.
It took a village before it became real: community residents who volunteer on a regular basis, support from WCC's President Dr. Rose B. Bellanca, and contributions from WCC faculty and members of its Sustainability Council.
Most importantly, WCC students are involved year-round with the garden. Many are enrolled in a class called Farm Harvest and Management which is taught by Groce. The class instructs students on how to grow food properly, using organic practices from seed to harvest. At times, students from the Washtenaw Technical Middle College [located on the WCC campus] visit the garden and do short term projects under Groce's guidance. Many students use their experience to further their educational studies – specifically those who are interested in horticulture or careers in environmental science.
The underlying purpose of the garden remains unchanged – to use the produce to help those in need of healthy food. WCC's Student Resource Center has, in the past, been able to provide non-perishable food to students in need, but not fresh vegetables. Students are encouraged and welcome to go to the garden and pick their own.
Over the past year, the garden has grown to produce more than 57 different varieties of vegetables, herbs and now, edible flowers. The garden volunteers and students have added unique varieties of vegetables, such as black cherry and pear cherry tomatoes and purple and Italian basil herbs.
Seeds from this year's harvest will be shared with the WCC seed library – one of just five in the state of Michigan. Students, staff and the public are welcome to browse the library of seeds for planting at home.
The WCC "Hoop House CORE Garden" has big plans to expand this summer and into the 2016 Fall semester – with the desire to reach out to those in need, both on campus and off.
Once again, under the direction of Groce, plans call for the addition of traveling food carts to be placed in key low-income neighborhoods near the college.
"Introducing healthy produce to people who ordinarily would not have this option reminds me of why we started the garden in the first place. It brings people together – in person, in ways that connect them physically, emotionally, spiritually – and with compassion for others," said Groce. "It has surpassed every expectation that I had when I conceived the garden. It truly is a work of art and a haven of peace."
By Susan Ferraro, APR
Director of Media Relations