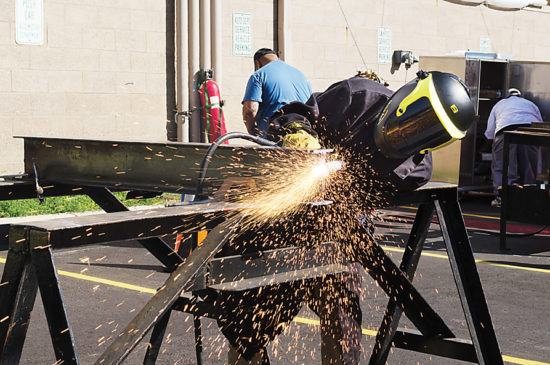 For the seventh consecutive year, the International Association of Bridge, Structural, Ornamental and Reinforcing Iron Workers Training program will be held at Washtenaw Community College from July 18-22.
Nearly 800 instructors, contractors, business managers, business agents, and owners from the U.S. and Canada attended last year and just as many are expected to attend this summer.
Ironworker attendees receive training in welding, structural steel erection, architectural and ornamental ironwork, concrete reinforcement, rigging and machinery moving and installation, as well as blueprint reading, computer skills and a number of other trade-related subjects.
"Ensuring that we have the most qualified instructors will help us continue to meet the needs of the construction industry and allow us to maintain our reputation as the most skilled and highly trained workforce in the industry," said Ironworkers International General President Eric Dean.
Additionally, several new and upgraded courses will be offered this year, including "Bar Joists, Decking, and Erection Drawings," "Installing Metal Roof Systems," "Contracting Business Fundamentals," and "Construction Profitability."
In March 2015, WCC and the Iron Workers Union signed a five-year contract extension. Besides providing valuable training, the trade union's annual event generates nearly $5 million in economic impact into Washtenaw County.
The Ann Arbor Area Convention and Visitors Bureau provides hospitality services and events for the attendees during their stay.
"The Washtenaw County CVB and Washtenaw Community College are incredibly fortunate to find such amazing partners in the Ironworkers," said Mary Kerr, Ann Arbor Area Convention and Visitors Bureau President and CEO. "They return to our community because they know they are appreciated and that our partnership fosters a climate, which produces broad economic success for our community and ensures that their workforce is well prepared for the future.
"When the Ironworkers recently committed to returning to WCC for years to come, it was a testament of the training opportunities available at WCC and the amazing job done by all."
By Princess Gabbara
Writer, Public Relations