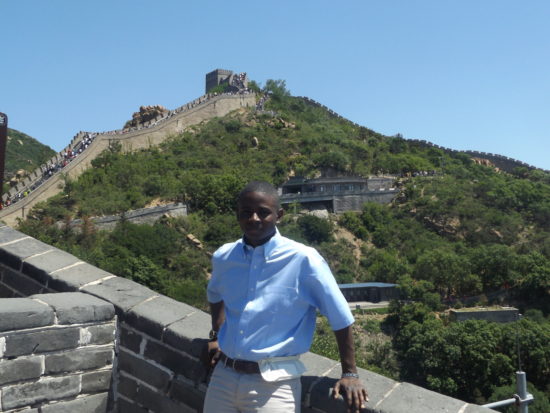 Trip to China inspires WCC student pursuing a career in medicine
"It was nice being the foreigner for once," said Washtenaw Community College student Davon Shackleford about his recent, 12-day trip to China.
Last month, Shackleford traveled to Xi'an, Shanghai and Beijing, where he climbed the Great Wall of China, making it all the way to the top.
Shackleford's recent adventure may sound like a classic "no work, all play" trip. But it was much more. He was among a select number of students who were part of the International Scholar Laureate Program (ISLP). According to ISLP's website, the program gives college students the opportunity to gain international perspectives on their future careers.
The students were separated by career fields. Because Shackleford aspires to become a physician, his specific focus was on the Medicine & Science Delegation. He learned about China's health care system by visiting hospitals, clinics and universities and meeting and working with Chinese doctors, practitioners and administrators.
"The world is becoming increasingly globalized and we can learn a lot from each other," Shackleford said. "Having cultural competency in the health care field is very important."
Shackleford was nominated for the program by WCC's chapter of Phi Kappa Theta —an honor society for community college students who have achieved academic success—where he also serves as president. Not one to pass up once-in-a-lifetime opportunities such as this one, Shackleford immediately accepted, but there was one problem: choosing between China and Australia.
Ultimately, Shackleford decided on China because "it was an ancient civilization and we hear about China in the news often, but I wanted go there myself and see it with my own eyes."
By doing so, he forged connections and friendships with students from other parts of the country and world, including California and Washington, D.C. and was wowed when a student from South Africa showed him the selfie she had taken with a cheetah.
"I was surrounded by top students and that was a unique experience within itself," Shackleford said. "To be surrounded by so much talent was inspiring."
But he also made time to socialize with the locals and since one of the best ways to experience a city is through its food, that meant eating fried snake.
"It wasn't that bad," Shackleford said.
While he understands that not everyone is adventurous enough to eat fried snake, he recommends that other students seek out opportunities to travel abroad. Shackleford's trip to China marks his first international experience.
"Don't think you're limited just because you're at a community college," he said.
The summer marks Shackleford's final semester at the college. This fall, he transfers to the University of Michigan, but in typical Davon Shackleford fashion, he will first complete a research co-op at U-M this summer.
Being from a small town in South Carolina, Shackleford never thought he would see Washington D.C., let alone China, but says he's grateful for all the wonderful opportunities the college affords its students.
Last summer, as a member of the WCC Political Science Club, Shackleford traveled to D.C., where he met Congresswoman Debbie Dingell and visited the Washington Monument, Lincoln Memorial and Martin Luther King Jr. Memorial.
"WCC opened doors for me that would not have been possible otherwise," he said. "Finding WCC is the best thing that could have happened to me."
For more information about the International Scholar Laureate Program, visit www.scholarlaureate.org.
By Princess Gabbara
Writer, Public Relations