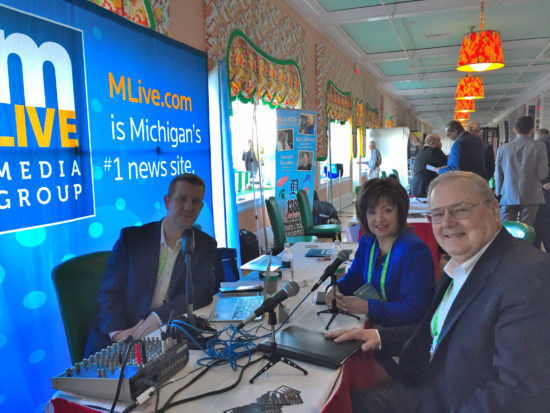 In a venue where motorized vehicles are prohibited, there was no shortage of discussion about cars, trucks and buses and their future in society.
It was the annual Detroit Regional Chamber of Commerce's Mackinac Policy Conference at the famous Grand Hotel last month and Washtenaw Community College was well represented.
WCC President Dr. Rose B. Bellanca and Al Lecz, director of the WCC Advanced Transportation Center, were among approximately 1,700 of Michigan's top business and government leaders who were in attendance, including Gov. Rick Snyder and Detroit Mayor Mike Duggan. The themes of this year's conference were Entrepreneurship, Investing In The Future, and Urban Education.
Dr. Bellanca attended a leadership roundtable discussion titled, "Auto On The Island" which included presentations on dynamics shaping the automotive industry, specifically in the area of mobility, self- driving cars and a skilled workforce.
Dr. Bellanca and Lecz were interviewed by several media outlets including Crain's Detroit Business, MLive and WWJ 950 AM.
They spoke about WCC's Entrepreneurship Center and Advanced Transportation Center, citing the college's commitment to training WCC students for a variety of skills, including how to open their own businesses or securing technician jobs in the areas of intelligent transportation systems.
"A key component of a community college is how we respond to the economic needs of the area," Dr. Bellanca told MLive.
"We are nimble and quick to adapt our programs to the workforce needs of business and industry. We continue to learn as much as possible to remain on the forefront of what skills employers are looking for in our graduates."
By Susan Ferraro, APR
Director of Media Relations