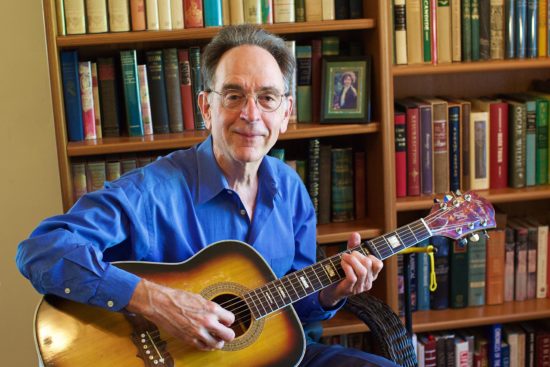 It's not every day that one has the opportunity to study under a nationally recognized and published author, but at Washtenaw Community College, it's just another day for students enrolled in Jas Obrecht's creative writing course.
For every student that walks into his classroom, Obrecht sees an opportunity, "How can I transform your writing into something that can get published, that can open the door for your career?"
Most students realize the power of writing every time they submit an essay in an application to college or for a scholarship. When students share their story, it can have a profound effect on their future path.
"One of the things I love about teaching is that I can take all of the lessons I've learned throughout my life and impart them to a group of people to go farther, to better their lives," said Obrecht.
One of those life lessons is how he helped launch the career of rock guitarist Eddie Van Halen. Van Halen has credited Obrecht's 1978 Guitar Player magazine interview, his first, with helping to kickstart his musical career.
Obrecht is proud of being a part of that pivotal moment for Van Halen. As a result, other musicians sought him out, knowing that he had the ability to unleash their career potential.
Having written for most national music publications, Obrecht offers a wealth of knowledge about the writing process.
This has proved to be a goldmine for his students. In more than 15 years of teaching at WCC, Obrecht can count on his fingers the number of students who didn't complete his course.
"There's a human drive to have us make our lives matter. I think that's why people go to school. I think that's why people go to WCC," says Obrecht. "One of the ways we can make our lives matter is by writing."
Obrecht encourages students to dig deep and tap the inspiration that lives within each of them. While music was his guiding influence, he encourages students to write about their own topics, ranging from personal tragedy to heartbreak to joy.
The responsibility that he feels in sharing his knowledge and experience is evident in his writing and in his teaching. His years of experience are passed on to his students, helping them to build their own futures.
It is said that those who write control history, and Obrecht believes that the written word is transcendent, that writing is a tool that empowers us to shape our own futures.
"If you have a passion for something and can combine that with the skill of writing, you can create a career for yourself and open the door to a lifetime of opportunities."
When he is not sharing his love of writing with students at WCC, Obrecht can be found authoring books and articles. In addition to having written hundreds of magazine cover stories, he has six books that are currently in print and essays featured on the Library of Congress' National Recording Registry. Obrecht co-wrote a book with James "Al" Hendrix, father of the late musician Jimi Hendrix.
Most recently, Obrecht published Early Blues: The First Stars of Blues Guitar (University of Minnesota Press, November 2015) and his next book, a collection of interviews entitled Talking Guitar: Conversations with Musicians Who Shaped 20th Century American Music, will be published by the University of North Carolina Press in April 2017.
Obrecht plans to teach at WCC for as many years as is possible. You can find more of Obrecht's writing at www.jasobrecht.com.
By Jessica Bibbee
Intern, Public Relations