August 13, 2018 Richard Rezler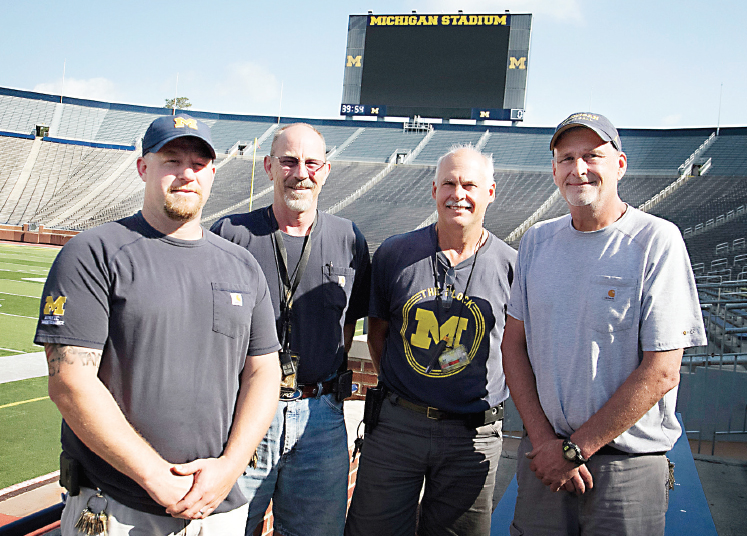 When four maintenance technicians from the University of Michigan Athletics Department completed an HVAC class at Washtenaw Community College on August 2, they became the first graduates of a new apprenticeship program created by the two Ann Arbor-based institutions.
Kevin Wilkins, Tim Larsen, Phil Stanny and Jim Turner are four veteran members of a nine-person team that spends its days (and often nights and weekends) maintaining more than 2 million square feet of U-M Athletics facilities; everything from venerable Yost Ice Arena to the brand new track and field building to the rowing team's boat house on Belleville Lake.
They perform year-round preventative maintenance and are the department's first responders when corrective maintenance is required — like last fall, when a bathroom pipe burst while 110,000 fans were packed into Michigan Stadium for a football game. It was closed, fixed and reopened before fans streamed toward bathrooms at halftime.
"Events are what funds this place," Larsen says. "You can't just shut things down."
For the past 15 months, the same foursome — which has a combined 56 years of service with the department — have been pioneers in an apprenticeship program they conceived and helped to develop.
Upon successful completion of two HVAC classes, an electrical class and a welding class at WCC, they're eligible to be bumped up one grade level in U-M's employment structure and receive the associated hourly pay increase.
The program came together through input from the technicians, their union, U-M Athletics, the university's human resources department and WCC's Apprenticeships department. The result is curriculum that will be offered to all current and future U-M Athletics maintenance technicians interested in advancing their careers with the department.
It's a win-win situation for employees and the department, according to U-M Executive Senior Associate Athletic Director Rob Rademacher.
"It's an opportunity for our employees to further their careers, gain a higher-level skill set and make themselves better," Rademacher said. "On the other hand, it benefits the department with higher-skilled employees who can do more, and it helps to create a culture where people want to work here."
All four technicians said returning to school made them nervous at first, but said the instructors at WCC have made the experience a positive one.
"They challenge us a little bit, call us 'The U of M Guys,'" Turner said. "Some of the students in the class are coming in really green, so they challenge us a little harder because we've been around and done a little bit. But all four instructors we've had have gone above and beyond and done a fantastic job. Their skill level is awesome."
Tags: Apprenticeship Programs, August 2018, Electrical, HVAC, On The Record, University of Michigan, Welding, ousearch_News_On The Record