October 15, 2018 Richard Rezler
Washtenaw Community College has been a leader in cybersecurity education since it became the first institution in the state to offer a cybersecurity degree in the early 2000s.
The college recently took that visionary approach to the next level. WCC is believed to be the only college in the nation with its own mobile hacking workbench, which allows students hands-on experience with an exact replica of an automobile's complete communication and computer systems.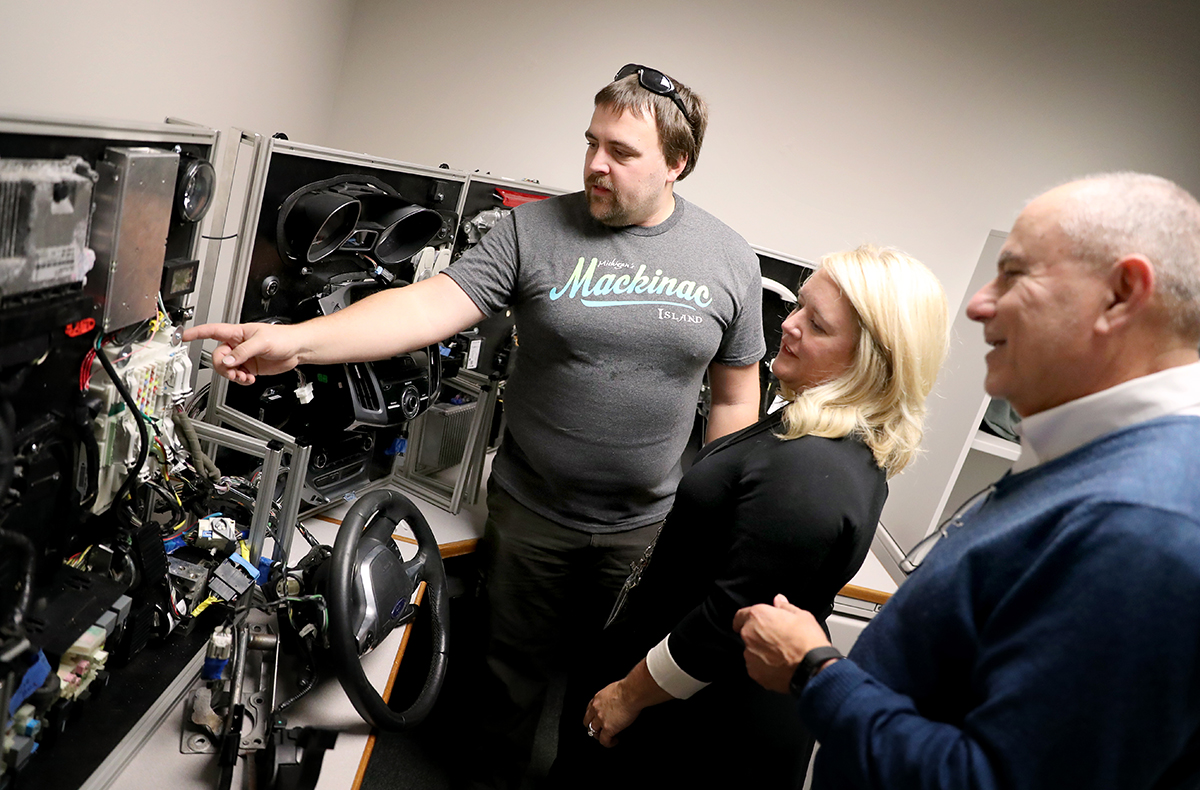 "This keeps us on the leading edge of new technologies," said WCC Business & Computer Technologies faculty member Mike Galea. "We can integrate this workbench not only into our cybersecurity program, but other credit programs and also into non-credit programs in Workforce Development and potentially make it available to local businesses."
The United States Department of Transportation approved the college's purchase of the mobile hacking workbench using funds from the Center for Connected and Automated Transportation (CCAT) grant. WCC partners with the University of Michigan and four other universities on CCAT, which promotes transportation safety through research and development of connected and autonomous vehicles, intelligent infrastructure and traffic control systems.
The unit arrived on campus in October and became the latest in a long line of state-of-the-art equipment within the college's Advanced Transportation Center (ATC).
The ATC was established to help build a talent pipeline for the mobility industry, as well as meeting the needs of incumbent workers to stay up-to-date on rapidly developing advanced manufacturing, intelligent transportation and automotive technology.
Galea was first introduced to the unit — designed and built by cybersecurity and consulting firm GRIMM for its own purposes — at a cybersecurity conference and started imagining its benefits in an educational setting.
GRIMM is not in the business of producing or selling the workbenches, but agreed to custom-build a version for WCC.
The workbench is essentially a mobile replica of the computers, microcontrollers and wiring infrastructure for the communication systems of a modern vehicle, typically found tucked away inside the dashboard and under the hood. Galea refers to it as "a Ford on a board."
"A car today can have as many as 200 ECUs (electronic control units), which means there are as many as 200 points of entry in terms of the ability to hack," Galea said. "Exposing our students to them is going to prepare them for the opportunities that are available today and the many more opportunities that will be available tomorrow."
The key educational element of the unit is to learn how to ethically hack — or reverse engineer — the systems to prevent breaches. The automotive industry today is seeking to employ ethical "white hat" hackers to test the integrity and robustness of its vehicle software programming, and where necessary, close the gaps and vulnerabilities through preventive actions before releasing their products to the public.
"In the computer world, hacking has been a positive phrase until recently," Galea said. "Hackers are the ones thinking up new ideas, better ways to do things. It's the whole purpose of what we're going to be teaching and there are going to be good jobs available in the field.
"I have a former student who is working for a German auto supplier right now whose job is penetration testing, hacking cars."
Proving his point, one day after saying those words in a discussion about the mobile hacking unit, Galea forwarded a story from the Detroit Free Press with the headline "GM to hire hackers to find bugs in car computers."
Galea and fellow WCC faculty member Cyndi Millns are working on ways to incorporate the mobile hacking workbench into classes and other training.
"We will be engaging faculty in the Automotive Department to collaborate in the development of this program that will benefit students in both areas," Millns said.
"We're looking at how we can support the industry surrounding us and be part of the creation of a program that allows us to train and credential these students and prepare them for the workforce.
"There are very few academic programs in this discipline right now."
Millns said another of her initiatives is to incorporate the workbench into WCC's existing K-12 level partnerships.
Changing of the guard
Business & Computer Technologies professional faculty member Mike Galea, who played an integral role in making Washtenaw Community College a leader in cybersecurity education, will retire in August 2019, following his 21st year at the college.
Galea was part of the search committee to find his replacement, Cyndi Millns. Before leaving the college, he'll work with Millns to develop curriculum around the recently-purchased moble hacking workbench.
Millns joins WCC after helping to launch the Pinckney Cyber Training Institute, the first such program in the nation created by a school district. It operates in conjunction with the Michigan Economic Development Corporation and Merit Network.
In that role, Millns helped build a dual-enrollment program with WCC that currently has more than 20 students who have an opportunity to earn a cybersecurity associate degree just one year out of high school.
Galea said he believes Millns' long list of industry contacts and relationships with state agencies will be a big benefit for the WCC cybersecurity program.
Tags: Advanced Transportation Center, CCAT, October 2018, On The Record, Workforce Development, autonomous vehicles, connected vehicles, cybersecurity, mobile hacking workbench, ousearch_News_On The Record