December 15, 2018 Richard Rezler
When Washtenaw Community College faculty member William Nelson won the Technologist of the Year Award from the Michigan Society of Radiologic Technologists last month, a familiar face was there to pin the award on his lapel – his father, Robert Nelson, who won the same award in 1986.
This wasn't the first time William Nelson had followed in his father's footsteps. He's currently the director of the same Radiography program at WCC that his father founded in 1966.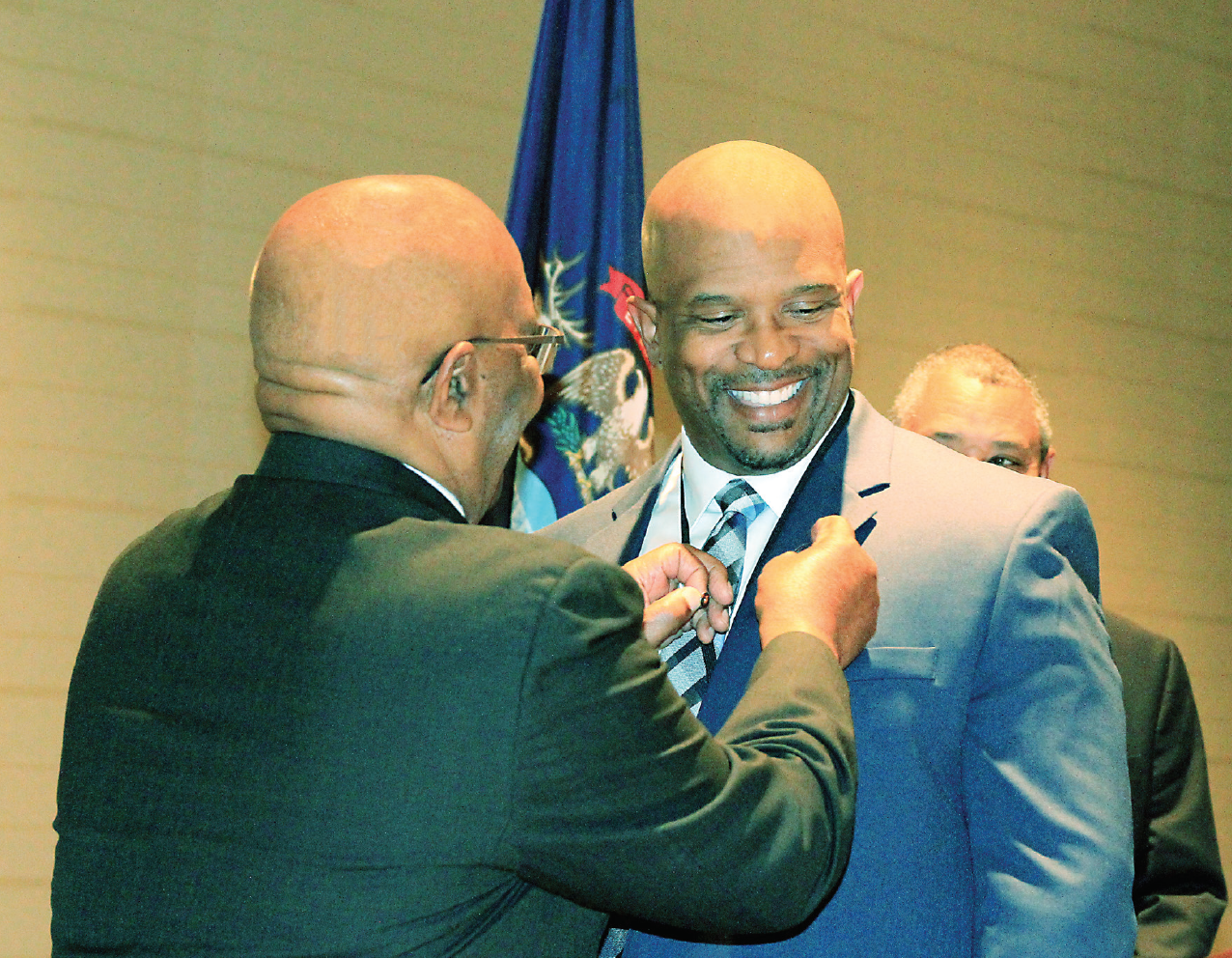 Robert was a technologist in the radiology department at the University of Michigan Hospital when rumors started swirling that a community college was being created in the Ann Arbor-Ypsilanti area and that there were plans for radiography classes to be among its original offerings. His supervisor suggested he should apply to run the program.
"I hesitated about doing it, because I wasn't an educator," Robert says. "But I was intrigued by the idea of being able to use my skills to teach others and to share my passion for the field."
He was hired as one of the college's charter faculty members. While the WCC main campus was still in the planning phase, 13 students enrolled in his initial Radiography classes, which were held in the basement of an Ann Arbor church.
Robert, now 84, led that WCC program for 28 years before retiring in 1994 and returning to his hometown of Fort Scott, Kansas. He has served on the Board of Trustees at Fort Scott Community College for the past 19 years.
Midway through his career at WCC, a student named William Nelson – one of six children born to Robert and Evelyn Nelson – enrolled in his program.
"I was surprised when he decided that was what he wanted to do," Robert says of William's choice to follow him into the radiography field. "It caught me totally off guard."
William says his father never pushed the career choice at home and that he never really considered it until he graduated from high school and started exploring careers. Robert insists he was no easier nor harder on his son in the classroom than he was with any other student.
"I enjoyed it, actually, because I saw the potential in him. He understood that he could be great, just like all the other students," Robert said. "There was an understanding, nothing we had to talk about. He wouldn't want any extra assistance from me that I wouldn't give to other students."
William earned his WCC associate degree in 1989 and started working as a radiographer at Bronson Hospital in Kalamazoo and St. Joseph Mercy Hospital in Ann Arbor while pursuing a bachelor's degree in Allied Health from Western Michigan University.
He joined the WCC staff in 1992 as the Radiography program's full-time clinical coordinator and completed a Master's of Education degree program at the University of Michigan simultaneously. He would then become full-time WCC faculty before being promoted to program director less than one year ago, replacing the retiring Connie Foster.
"When I look at the program, I see it continues to be well run and continues to educate students at a high level, which is verified by the high percentage of students that pass their certification exam," Robert said. "Certainly, there's a pride factor knowing it's a well-respected program throughout the state."
That was evident at the Michigan Society of Radiological Technicians (MSRT) annual meeting and educational conference, held in Bay City. William Nelson is quick to point out that him receiving the coveted Technologist of the Year award wasn't the only hardware earned by WCC that day.
Competing against 45 second-year students from five other radiography programs, WCC students Viktor Cakmak and Christine Williams finished first and second, respectively, in an academic student bee.
In the same manner as a spelling bee, students are asked one question and are allowed 20 seconds to give an answer. If they give the correct answer, they continue in the completion. Categories included imaging physics, radiographic positioning, radiation biology and protection, patient care and imaging exposure.
WCC students Besan Noor and Joseph Randazzo also earned second place in the scientific display competition for their work, titled "Alzheimer's Disease: Medical Imaging."
Completion of the Radiography associate degree program at WCC not only prepares students for an entry-level career in that field – which itself has a median annual salary of $58,400, according to the U.S. Department of Labor – but also opens multiple doors to other specialties.
Radiography graduates may pursue certificates in MRI, computed tomography (CT) or mammography imaging at WCC. The college also has an articulation agreement with Eastern Michigan University for students who wish to pursue a Bachelor's of Science degree in Health Administration.
The Technologist of the Year Award has been presented since 1968 to "outstanding models of the profession" who have "greatly contributed in the advancement of the professional society by their actions toward those they meet while carrying out the duties of a Registered Radiologic Technologist and a member of the MSRT.
Tags: December 2018, On The Record, Radiography, Robert Nelson, William Nelson, ousearch_News_On The Record