April 13, 2019 Susan Ferraro
The transformation to connected and self-driving vehicles requires a highly trained workforce.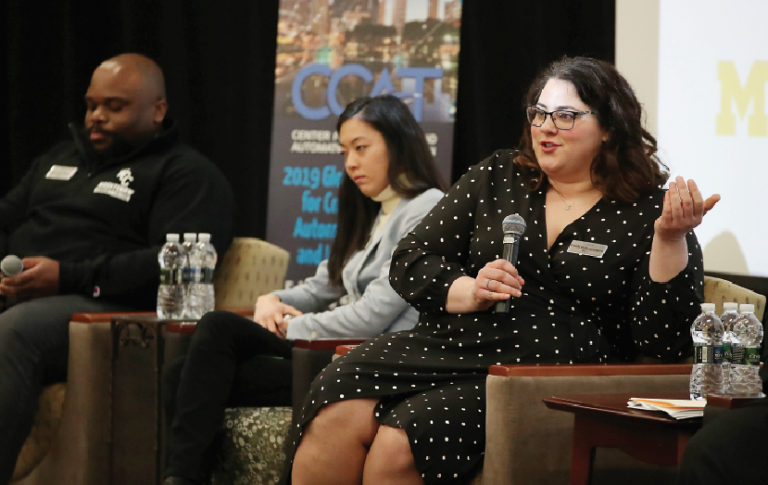 A wide array of engineers, scientists, researchers and educators interested in the future of connected and self-driving vehicles and an intelligent infrastructure gathered at the college for the second annual Global Symposium on Connected and Automated Vehicles and Infrastructure on Feb. 26 and 27.
Sponsored by the United States Department of Transportation's Center for Connected and Automated Transportation (CCAT) at the University of Michigan, the event focused on a comprehensive range of topics which touched on how connected and driverless (autonomous) vehicles will reduce traffic accidents, preserve the environment, increase personal mobility and make travel more cost-effective.
WCC President Dr. Rose B. Bellanca gave opening remarks and spoke about how connected and autonomous vehicles have the potential to revolutionize transportation and society in a way that is similar to how vehicle mass production and affordable personal vehicle ownership changed society a century ago.
"The promise is great, but so is the challenge," said Bellanca. "It will require a sustained commitment to research, technology, testing and deployment as well as education, training and workforce development to realize the benefits of a self-driving vehicle."
WCC was well represented at the symposium by both its staff and students. Al Lecz, director of the college's Advanced Transportation Center, moderated a panel discussion on the crucial nature of career pathways designed to meet in-demand industry product development standards and competencies in the connected and autonomous vehicle workforce.
The panel was composed of Hideki Hada, executive engineer for advanced safety at Toyota Motor Engineering & Manufacturing, North America, WCC staff members Dr. Kimberly Hurns, vice president for instruction and Dr. Michelle Mueller, vice president of economic, community and college development.
Rounding out the panel were WCC alumna Emily Hatsigeorgiou and current students Rosa Lechartier and Zach Van Buren. Each student spoke about how the college has prepared them for their chosen career paths within the connected and autonomous vehicle job sector.
Hatsigeorgiou said her time as a student in WCC's Automotive Service Technology department prepared her for a job as a hydraulic safety technician at the General Motors Milford Proving Grounds.
"My projects involve simulating crashes and recording results. This type of information is crucial for engineers to know as the automotive industry continues to evolve into the realm of self-driving vehicles," said Hatsigeorgiou. "I feel obligated to share my passion for this research and pass along what I've learned to my colleagues."
Keynote speakers included Marcy Klevorn, executive vice president of mobility for Ford Motor Company and Shailen Bhatt, president and CEO of the Intelligent Transportation Society of America.
CCAT partners include the University of Michigan Transportation Research Institute, the University of Akron, Purdue University, Central State University (Ohio), the University of Illinois at Urbana-Champaign Center For Transportation and WCC.

For information about the CCAT consortium visit ccat.umtri.umich.edu.
For information about the WCC Advanced Transportation Center, visit wccnet.edu/atc.
Tags: April 2019, On The Record, autonomous vehicles, connected vehicles, ousearch_News_On The Record