April 13, 2019 Richard Rezler
BY MARK S. SCHLISSEL
President, University of Michigan
On behalf of the University of Michigan, I am honored to join our friends, neighbors and colleagues at Washtenaw Community College in celebrating National Community College Month.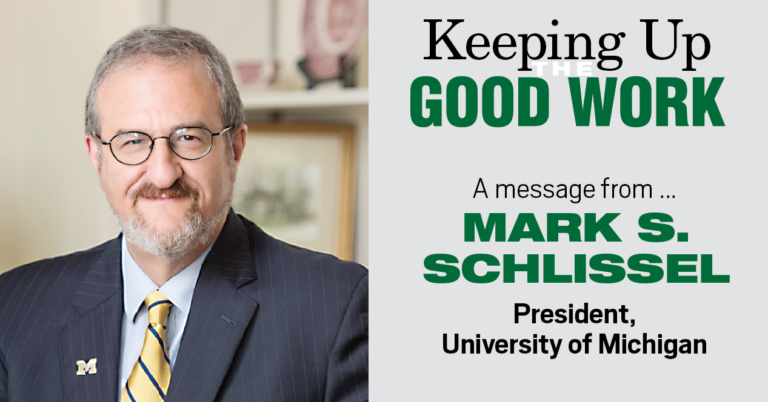 Our decades-long partnership is providing tremendous opportunities for the people we serve.
WCC sits atop the list of schools that transfer students to U-M. In the past 10 years, nearly 3,800 students from WCC have enrolled at our Ann Arbor campus, pursuing their educational aspirations and enhancing our intellectual community. We continue to strive to increase transfer pathways, including efforts in our College of Literature, Science, and the Arts.
Our successful recruiting legacy at WCC is a testament to the excellent work of your students, faculty, staff and supporters. U-M's admissions counselors regularly praise the talent, commitment and preparation of WCC's students, and academic programs throughout U-M cherish their contributions. Our Undergraduate Research Opportunity Program, Transportation Research Institute, and Louis Stokes Alliance for Minority Participation are initiatives that work in collaboration with WCC to foster student success.
It is heartening to know that for more than half a century, Washtenaw County has been home to a community college that opens the doors to quality, affordable education. WCC adds immeasurably to the quality of life in our region. I hear it from U-M students and see it first-hand in the community.
I believe the future of our state and its economic prosperity depend on our ability to perpetuate and enhance the great work we are doing as premier educational resources for people in our community.
Thank you, WCC, for your commitment to making lives better through education, and I look forward to our continued collaborations in the years ahead.