October 1, 2019 Anita LeBlanc
It's the same place, but a changed man working at Michigan Medicine's University Hospital. In the rooms where he was once responsible for cleaning, polishing, vacuuming and mopping, Carlos Vasquez now cares for patients, performs diagnostic tests, administers medications, and provides emotional support to patients and their families.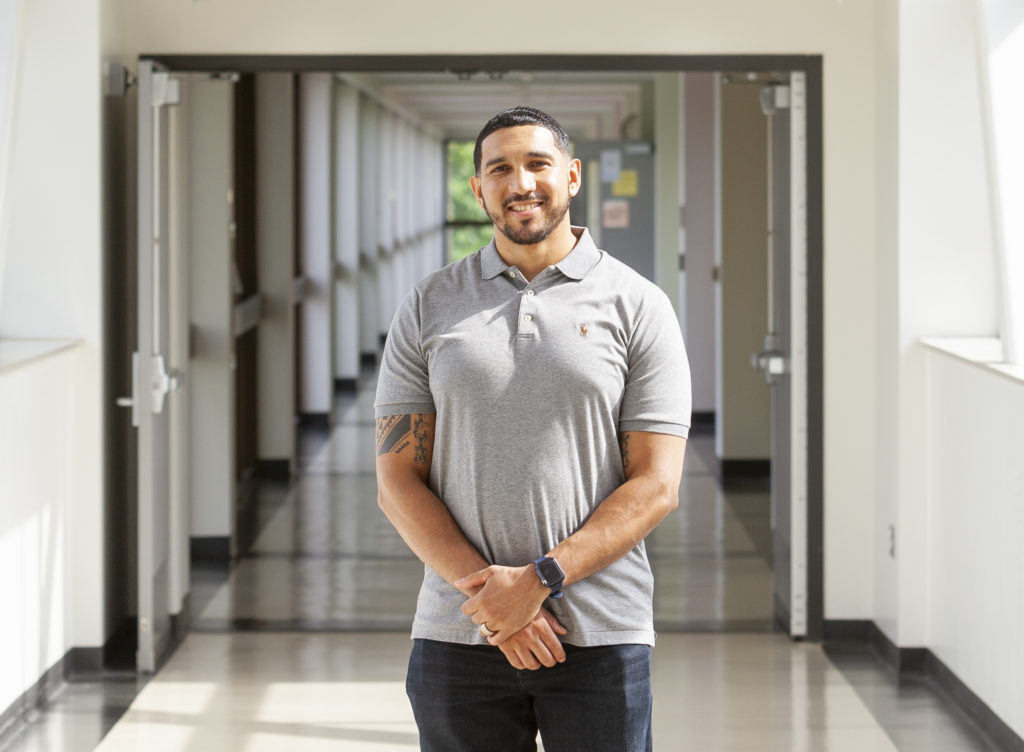 Four-year-old Vasquez and the rest of his family came to the United States ("legally," he emphasizes) after his father, a human rights activist, left Honduras for Michigan in 1988 after receiving political asylum.
Vasquez, by his own admission, frequently got into fights and trouble until he took up boxing in high school. He credits the sport for helping him to "learn to focus and do better," and inspiring his dream to become a pro boxer. He was at a loss when a shoulder injury destroyed any chance of his making his living in the ring.
He had no idea about a new career, path and took a custodial position at Michigan Medicine University Hospital. The medical staff he worked with there piqued his interest in a nursing career. He remembers an ER radiology nurse, with over 20 years at the hospital, encouraging him to "go for it, man!"
He was happy to begin classes at Washtenaw Community College, but found he needed to tackle his learning challenges.
"I had to take the lowest-level chemistry, math and biology classes, and work my way up until I was ready to get into the nursing program," he explains. "I was pretty nervous, not knowing if I was actually going to succeed, but I was determined to work hard, and I was able do it."
He says if he was able to go the distance, anyone can.
With a wife and infant daughter at home, Vasquez began taking classes and studying during the day while continuing to work as a full-time custodian on the midnight shift at the hospital, catching a brief nap in his car before his morning classes.
He calls the scholarships he received through the Washtenaw Community College Foundation "a real blessing," one that made it possible for him to attend school full-time, adding that the aid further blessed his young family from having to accrue debt.
After earning his associate degree in nursing at WCC, Vasquez began working as a nurse at the hospital. He's continuing his education at Eastern Michigan University, and hopes to eventually become a nurse practitioner.
He says his parents are "super proud" that he's the first to graduate from college in their family.
"I see a lot of people I used to work with when I was a janitor," he says. "Some of them were surprised that I was working as a nurse. One guy I worked with before told me that I inspire a lot of people to do more with their lives."
Tags: Anita LeBlanc, Carlos Vasquez, Nursing, October 2019, On The Record, WCC Foundation, ousearch_News_On The Record