December 18, 2019 Brendan Prebo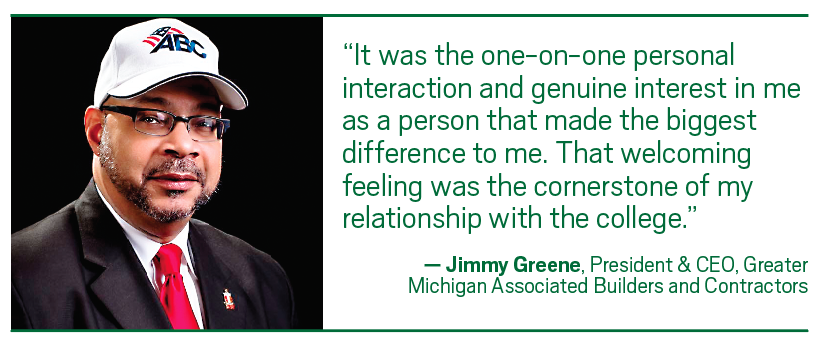 Jimmy Greene, president and CEO of the Greater Michigan Associated Builders and Contractors, credits Washtenaw Community College for his success as a businessperson and a community leader.
"I don't think high school prepared me for Washtenaw, but I know Washtenaw prepared me for what became my career," he says.
Greene was born and raised in Flint, where he admits to having a tough childhood and lacking grades for college when he graduated.
"I spent a year in the hospital and lost sight in my right eye," says Greene. "Subsequently, I had academic problems and planned to start at a community college before matriculating to a four-year college."
Coming from Flint, Greene had the option of going to Mott Community College, but two things brought him to WCC: He did not want to stay in Flint, and a friend that was attending Eastern Michigan University told him about a college right down the road.
"Washtenaw was the first campus I stepped on," he says. "It was really small back then, and I just fell in love with it right away. I also loved Ann Arbor and Ypsilanti and the whole area."
"It was the one-on-one personal interaction and genuine interest in me as a person that made the biggest difference to me. I felt like someone wanted me there. I've never forgotten that in all these years. That welcoming feeling was the cornerstone of my relationship with the college."
Greene's grandparents inspired him to pursue his interest in business at Washtenaw.
"My grandparents ran a funeral home in Flint," he says. "I wasn't interested in mortuary science, but I was interested in the business side."
After leaving WCC early to move to Saginaw, get married and seek a career, Greene got a job as a management trainee at Second National Bank and eventually enrolled in the Wisconsin College of Banking and Finance through Delta College before graduating from Saginaw Valley State University.
Greene credits his WCC classes for helping him land that job at Second National Bank. And those same classes helped later in his career, too.
Greene spent seven years at Second National Bank, moving from management trainee to loan officer then branch manager before becoming a stockbroker at Merrill Lynch.
"Many of the lessons I learned at Washtenaw, particularly in economics, I used in banking and finance," says Greene. "Understanding the underlying fundamentals of the economy, which I got exposed to at Washtenaw, was a strong suit of mine and helped me at Merrill Lynch."
Greene spent seven years at Merrill Lynch before starting his own business, Total Solutions Group, providing management consulting. Greene says it was his experience at Merrill Lynch and Total Solution Group that brought him to the Associated Builders and Contractors (ABC) organization.
"ABC found me, because they were looking for someone to run their membership association of builders and contractors," he says. "I had experience running a team at Merrill Lynch as well as running my own business, and they really wanted that kind of governance and management."
Skilled Trades: The Other 4-Year Degree
We couldn't let Greene go without asking him to share his thoughts on skilled trades, considering he advocates on behalf of builders and contractors across the country. He wants people in the skilled trades to get the recognition and respect they deserve.
"We call skilled trades, 'the other four-year degree,' because a four-year apprenticeship program commands the same amount of ability and commitment," says Greene. "Becoming proficient in the skilled trades requires the expertise that you would expect from a surgeon, CPA or anyone else you put your trust in. We are relying on skilled tradespeople to build infrastructure, bridges and buildings, so we need to give them the same kind of respect and reverence."
According to Green, he sees his own career come full circle from banking and finance to skilled trades, when he talks about the economic impact of the skilled trades to local communities.
"We spend thousands of dollars educating our kids to prepare them for a college education. Then they go off to a university, and when they come out, we spend thousands more trying to get them to come home," says Greene. "Communities are earning very little return on that investment. On the other hand, kids who learn a trade stay and work in their communities. They shop there. They buy houses and cars there. They send their kids to school there. We need to put our economic value behind these 'they stayed' kids."
Tags: Alumni Profile, December 2019, On The Record, ousearch_News_On The Record