February 28, 2020 Anita LeBlanc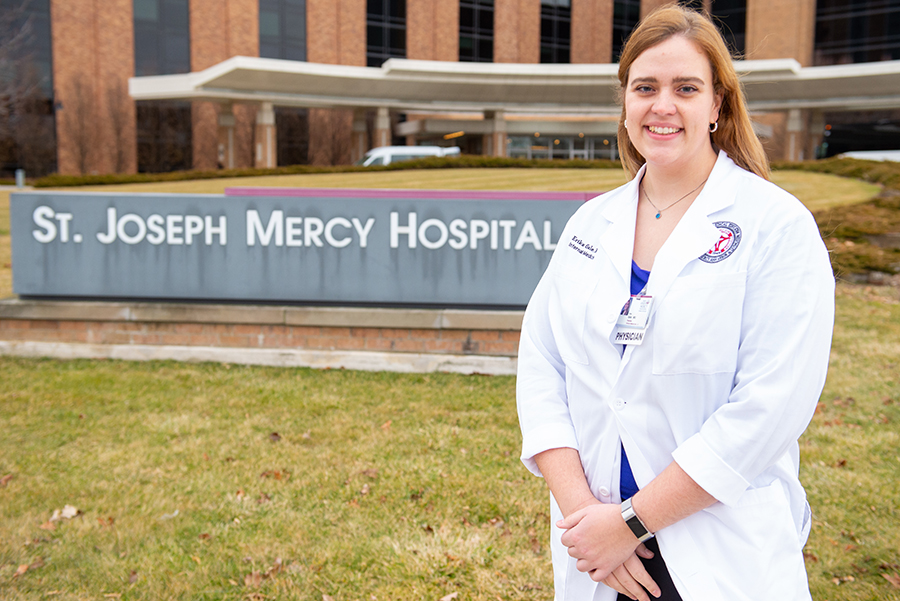 As an adolescent, Erika Gale spent summers with her grandparents in Luxembourg where they ran a small humanitarian organization.
Through them, she met physicians from Doctors without Borders who shared some of their life-changing and life-saving experiences. "I was in awe of them!" she said.
The doctors' stories stoked her desire to someday work in health care. Today, she works 60 to 80 hours per week at St. Joseph Mercy Hospital, completing her residency in internal medicine. She'll receive her board certification in 2021, and hopes to practice medicine in the Ann Arbor area.
Because their father's engineering career took the family to other European countries and, eventually, California, Gale, her twin sister, Anastasia and older brother, Isaac, were homeschooled.
The sisters, who were just 16, and their brother, began attending Washtenaw Community College in 2006. They moved to Michigan 1n 1997.
"Everybody knows Washtenaw Community College!" she said. "It was the best option for us."
While at WCC, she also worked at St. Joe's as a nursing assistant and patient care tech, eventually earning her nursing assistant certification and liberal arts and science associates degree in 2009.
"You've got to have a firm foundation in order to build your knowledge and experience. I felt like Washtenaw gave me that," said Gale. "Washtenaw made me more comfortable in my abilities and opened my eyes to what I could pursue. I'd had issues with self-confidence when I was younger, and had planned to go into nursing, as I didn't feel I had what it took to become a doctor.
"I feel like Washtenaw Community College made me more comfortable with who I was. The college gave me the confidence to pursue the career I really wanted."
For those who doubt their ability to exceed their expectations, she advises: "You don't always have to be the smartest person in the room, but if you work the hardest, ultimately you'll get where you want to be. I certainly haven't always been the smartest person in the room, but I've always put in the work."
Gale went on to earn her bachelor's degree in human biology in 2011 at Cornell University. After two years of being waitlisted for medical schools in the United States, she made the decision to attend the University of Queensland in Australia.
"I felt it was serendipitous," she said, adding that the experience opened her up to a different way to study, learn about alternative medical and country cultures, and provide an opportunity to connect with her mother's home country. She graduated from Queensland with bachelor of medicine and bachelor of surgery degrees in 2018.
She offers advice to former students who got their start at WCC: "If you've got a career and you're doing well, it's important to support WCC's Foundation because it helps others who may not have the resources for their education. I can't wait until I'm in the position to do so."
Tags: Alumni Profile, February 2020, On The Record, WCC to MD, ousearch_News_On The Record