February 28, 2020 Kelly Gampel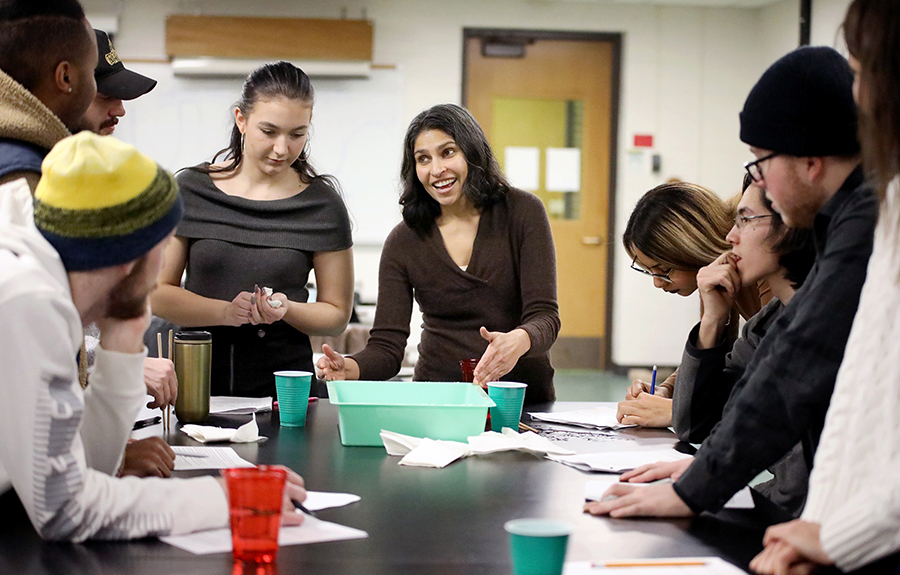 It's her real-world experiences across a dozen-plus countries that Smita Malpani brings to her classroom. And her students love it.
Prior to joining the Washtenaw Community College faculty in 2015, the Ann Arbor resident spent a decade working on projects funded by the United States Agency for International Development (USAID) and, before that, with the World Bank. Both organizations work globally to help re-build countries, deal with epidemics and disasters and teach sustainable practices to foster thriving communities.
Malpani has worked in more than 15 countries in her international development-focused career. In Liberia, she delivered a lecture to foresters about how their progressive forestry laws could help marginalized people such as women, youth and those with disabilities. In Uganda, she worked on a team to strengthen the role of local government as it relates to social inclusion.
With a bachelor's degree in anthropology and biology from Wellesley College and a master's degree in environmental science from Yale University, Malpani now teaches environmental science at WCC, covering the effects of both natural and human-made problems in the environment.
"I try to bring my background into teaching." she said. "These are environmental challenges and this is how they play out in the real world for some of the poorest people in the world. We can't be the disposable society we are without someone taking in all of our trash. We can't enjoy smartphones without people working in mines in Africa or the electronic waste we throw away in Asia."
Her experience mentoring and teaching professionals led her to WCC after moving to the state of Michigan when her husband started working at the University of Michigan.
"WCC isn't just about being cheaper. I think we give students an excellent education," Malpani said, pointing out the caliber of faculty members who possess first-hand experience in the subjects they teach and the devotion they show to their students.
One of the most rewarding parts of being an instructor is seeing students evolve in their thinking through a semester, Malpani said. She recalled a student who doubted the validity of climate change. By the end of the semester, Malpani said "I think the full gravity of what we are up against had really hit home with her.
"When we talk about climate change, I don't think people understand the severity," she said. Students' reaction once they learn about current and future impact "is not anger but a righteous feeling of how we change it. You see it on their faces: What do we do? How do we act?"
Those are the questions and this is the thinking that Malpani loves to hear in her classroom.
One late January Wednesday morning, down a corridor inside the Occupational Education Building, Malpani's students gather for instruction and a hands-on lab. The Winter 2020 semester was the first time Fenton resident Sara Debolski met Malpani.
"It's really validating to have an instructor who can not only read from a book and teach from it but to have someone with first-hand experience on that subject," said Debolski. "It just makes it so much more interesting because they have personal stories to go along with whatever they're teaching. That experience helps people understand the material better."
Tags: Distinguished Faculty, Faculty Profile, February 2020, On The Record, ousearch_News_On The Record